Leading with Heart
04 Sep 2020
Joe Elmore takes the reigns at Charleston Animal Society
Photo by Jeanne Taylor Photography
By Teri Errico Griffis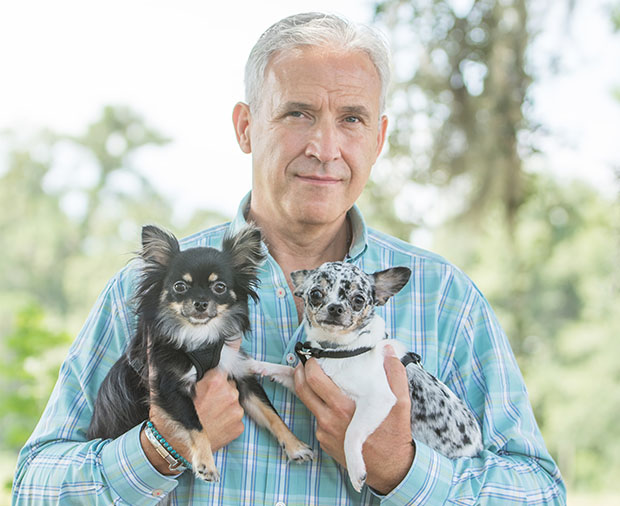 Joe Elmore is good in a crisis. He's worked with disaster victims since the 1980s, at-risk youth and prisoners of war. In the early 2010s, he led the Charleston Animal Society through its own crisis and turned the organization into a history maker.
Under his leadership, the organization built the first No Kill Community in the southeast, where every healthy or treatable animal is saved. The Charleston Animal Society launched a similar statewide effort—No Kill South Carolina.
It almost comes as no surprise that while he announced he would step down as CEO in 2018, the Board of Directors never could quite find someone to fill his shoes.
"We have done some unprecedented things, broken records, and in February 2018, I decided I wanted to transition on to the next stage of my career," Elmore explained. A year later, and without a candidate that really stood out, Elmore and the Board both thought he was still the best fit to lead the organization on Remount Road.
"I have such a wonderful relationship with the Board and our constituents. And there are always challenges ahead. I never foresaw COVID as the next challenge when we began to make plans for 2020," he said.
Elmore first became involved with Charleston Animal Society in the early 2010s while working with the American Society for the Prevention of Cruelty to Animals. He was working on a two-year project partnering with animal shelters to improve live release rates and Charleston County was one of his main partners—and also the most successful.
Coincidentally, toward the end of the project, the organization was looking for a CEO and Elmore expressed interest.
"I had worked closely with them over the years and as my background is in crisis management and organizational turnarounds, it felt right," Elmore said. "We could keep the momentum going."
That momentum Charleston Animal Society had towards leading Charleston County to become a No Kill Community was unprecedented at the time.
In the Deep South, the plight of animals had traditionally been devastating, but the Animal Society was soon proving what other struggling shelters could achieve. "It really was an opportunity to demonstrate that communities in the Deep South could build no kill communities, as opposed to buying into the notion that it would be decades before we could ever get there."
In fact, the initial plan was that it would take three years to achieve a No Kill community—and Elmore and his team accomplished it in one.
Compassion for All Life
Born in Columbus, Georgia, Elmore has a hard time pinpointing "home." He has worked in nine states and three times overseas. Since taking the CEO role, this is second time living in Charleston—joined by his three dogs Little Man, Birdie and Wells.
"I have never stayed in one place for so long," said Elmore. "I'm very project oriented in my work. I have a clear focus and my whole thing is developing strategies that help us realize that focus or vision—then I grasp on to another project."
Elmore has spent most of his career in the human services sector—working with refugees, HIV and AIDS victims and the elderly in past roles—but the transition to working with animals felt natural. "I had a background in engineering, but I followed my heart instead of my head," he said with a laugh. "I really have always been drawn to the defenseless, people and animals that are more vulnerable. Animals are probably more at risk than any other living creature."
This passion is what fueled his mission to build a No Kill community. Charleston Animal Society, South Carolina's first animal organization, takes in over 90% of the animals throughout Charleston County and has sustained the No Kill Community every year since 2013. His next goal is building up toward a No Kill state.
A Call to the Community
The story of how Charleston Animal Society built a No Kill Community is inspiring. Breeding season for animals begins every spring, overwhelming shelters come May and June and significantly increasing euthanasia rates.
In 2013, Elmore said shelter staff decided to "go for broke" to break the cycle. They put their trust in the community and placed a full-page ad in Post & Courier asking for help. "We never threatened to euthanize animals if the community wouldn't adopt them. But we asked for help," Elmore said.
The community responded en masse.
The shelter staff were averaging at best four hours of sleep as within days they emptied the shelter. "Everyone was exhausted, but instead of locking up and going home, we started reaching out to other areas, like Columbia, who had high euthanasia rates, and asked them to send us their animals," Elmore recalled. "They did and we got them adopted."
Elmore credits the staff, the volunteers, the donors and Charleston Animal Society's "courageous" Board of Directors who committed to the challenge. "What better risk than becoming the first No Kill Community in the Southeast and inspiring others to take up the mantle and run with it in their communities."
Animals regularly rescued include everything from hamsters to horses, birds and pythons, even pigs.
"When we take in pigs, or animals like that, it's usually because folks got them when they were really little and then they grow big and the owners can't manage them," Elmore said. "There are always things that happen in people's lives and we do not judge. Our goal is to make it as easy and guilt-free as possible to separate from your animal for whatever reason."
Should the owner want to keep the pet, but has to surrender due to struggles with vet bills, food insufficiency, or training needs, the shelter is more than willing to help. The overwhelming majority of animals taken in, however, are strays.
An Unforeseen Crisis
Charleston Animal Society is one of the lucky ones not to have shuttered during this unprecedented time, but it still feels the pull financially and physically. While it hasn't had to do a reduction in force, as of August the shelter was down 20% of its staff through attrition in addition to the loss of hundreds of volunteers. The shelter also has scaled back on elective services—and donated as many supplies as they can to Charleston's VA Hospital.
"It's mentally and emotionally exhausting," said Elmore. "We're projecting somewhere around a $1 million shortfall this year. That's going to hurt. But every business is going through hardship."
So much of that shortfall comes from the countless events Charleston Animal Society has had to cancel, including its annual gala and its famous fall chili festival.
"Our community is our lifeblood. Our contributions are overwhelmingly what support us, along with our program revenue," said Elmore, noting that while the shelter receives government funding, it only accounts for around 20% of the budget, far short of what it actually costs to save lives The other 60% is contributions.
Now it's more important than ever for the village that supports the shelter to rally around it. In turn you can count on Elmore to rise to whatever challenges the shelter faces ahead.
After all, he's good in a crisis. Some might say the best.
BIO
Joe Elmore
Education: University of Alabama
Hobbies: Gardening and spending time with his three dogs, Little Man, Birdie and Wells (not pictured.) These puppies, Doodlebug and Domino, were two of over 100 chihuahuas that were rescued from a puppy mill in Anderson, South Carolina.