Shopping for a Cause
04 Sep 2020
Lowcountry retailers that give back
By Monica Kreber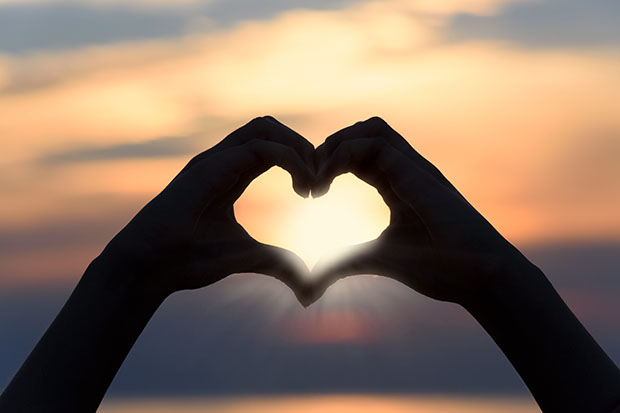 Shopping for a cause has never been easier. With a number of companies partnering with important organizations to help support their missions, there's no shortage of heart in the Lowcountry.
Check out these homegrown companies that help make a difference in the local community with every purchase.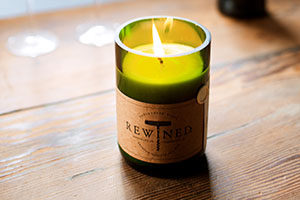 Rewined Candles
Recycling glass + helping employees thrive
Adam Fetsch was working in a restaurant as a manager in 2009 when he had the idea to make something out of the used wine bottles that piled up each day.
Fetsch started cutting glass at home but said he quickly realized he did not quite have the skill or tools to make anything interesting; all he could do is cut a bottle in half – "and it was a rough cut at that," he said.
After weeks of thinking about what he could do with these cut bottles, the idea of candles came to him.
Leaning on the wine knowledge he had picked up from the restaurant business, he worked to pour his first batch of candles, blending fragrances to match the tasting notes of his favorite wine varietals. He then packed up the batch and started popping into stores to gauge interest.
It took off from there. Fetsch is now the owner and founder of Rewined Candles.
An expert team of candle makers pours wine-inspired scents into recycled bottles from its North Charleston location. The most popular fragrance is Rosé, along with seasonal fragrances and a cocktail collection (think Bloody Mary).
The company has done more than utilize recycled material; Fetsch's core team members were hired through South Carolina Vocational Rehab. He said most of them had trouble finding work for one reason or another.
"Hiring them was one of the best moves we could make as they have been some of the hardest working people I have met, and helped us continue to meet new challenges," he said.
The popularity has expanded beyond the Lowcountry. Rewined candles can be found at several thousand locations in the country and around the world.
Products can be found online at www.shop-rewined.com, in its sister company Candlefish on King Street and at the Charleston City Market.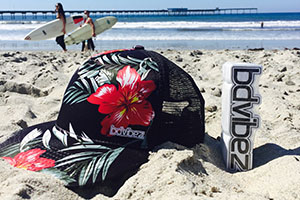 bdvibez
Supporting mental health awareness
If someone takes a good look at bdvibez's logo, there is a reason why all the letters are actually lowercased.
A small "b" and "d" kind of resemble the shape of hats—the business's specialty—and there's three such letters in the logo, which owner Bryan Derrickson said represent "mind, body and soul." The name itself stands for "beat depression through positive vibes."
This online shop goes beyond selling hats; it is about promoting positivity and spreading a message on suicide prevention.
As soon as he launched his shop three years ago, Derrickson was eager to team up with the College of Charleston, one the shop's early partners, to send a portion of proceeds to the school's mental health programs.
Suicide is the second leading cause of death for young people between the ages of 14 and 25, and suicide has a direct effect on Derrickson, who had a best friend succumb to depression.
"It was one of the toughest, most eye-opening things that occurred in my life," he said.
In the first two years of launching bdvibez, the shop donated close to $20,000 to the College of Charleston and the Medical University of South Carolina to help those on the front lines for mental health awareness.
In the past year, the business has sent more than $10,000 to help other various mental health organizations, locally and nationally, including the American Foundation for Suicide Prevention.
Derrickson has also had the opportunity to speak publicly on his platform to different audiences.
"It's still so sheltered, people still don't like to talk about suicide," he said.
bdvibez's hats can be found at Bert's Market on Folly Beach, Blend Juice Bar and Tasi Bites and Blends in Mt. Pleasant, and online at www.bdvibez.com.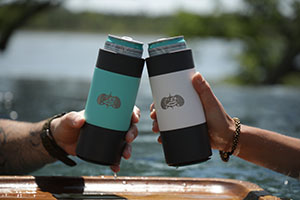 Toadfish
Helping restore Lowcountry oyster beds
Growing up in South Carolina, the founders of Toadfish had lives that circled around being on the water.
With that lifestyle came witnessing the massive explosion of growth that came to the Lowcountry, and the realization that more needed to be done to protect oyster beds.
Toadfish was established by Casey Davidson, founder and CEO, along with co-founders William Trask, Hunter Scott and Thor Rhodin.
Davidson decided to start a company for those who spend time on the water that would give back and protect something that builds the foundation of a healthy ecosystem.
Toadfish Outfitters has been built around coastal preservation. It sells a variety of coastal products – though it is very well-known for its non-tipping can coolers that can stick to any smooth surface. Since opening nearly four years ago, Rhodin said the company has since experienced a whirlwind of growth for fishing gear and clothing from its warehouse in James Island.
"We like designing products that enhance the coastal lifestyle, while giving back at the same time," Rhodin said.
Toadfish has donated funds to different programs to help build new oyster beds. Last year the company launched its nonprofit, Toadfish Conservation Coalition, through which the company plans to allocate funds to replant oyster beds all over the country.
Oysters help keep oceans clean; a single oyster filters up to 50 gallons of water a day, removing toxins and creating healthy habitats for other marine life. If someone builds a bed of 1,000 oysters, then that is up to 50,000 gallons of water being filtered in a day.
Toadfish has helped replant close to 80,000 square feet of oyster beds total all over the country, including locally.
Check out products and information on how to donate at toadfishoutfitters.com.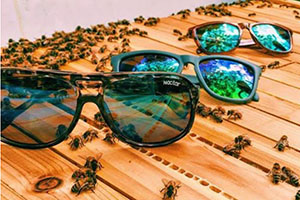 Nectar Sunglasses
Over 1 million bees saved and counting
The name for Nectar Sunglasses came before the business had established a philanthropy.
"Nectar" represents living the sweet life, sending out good vibes, enjoying the outdoors and doing what one loves to do, and owner Sean Holmes said it became a very marketable name to grow because it represented the company's lifestyle.
First came the name, and then came helping the bees.
"It made a lot of sense from the name standpoint," Holmes said.
Nectar Sunglasses launched in February 2012. Holmes is originally from Virginia but moved to Charleston six years ago. The company is well known for its sunglasses, particularly its selection of polarized and blue light-blocking lenses. They
After moving to Charleston, Nectar Sunglasses made contact with the Savannah Bee Company, and wanted to get involved with saving bees because of the critical role they play in the ecosystem; Holmes said about one-third of the foods people consume are pollinated by bees.
Nectar Sunglasses has sent proceeds to Savannah Bee Company to establish beehives. As part of their efforts to promote the need to protect bees, Savannah Bee Company to goes into elementary schools to further educate students on the importance of these pollinators and also helps schools establish their own beehives.
Nectar Sunglasses' efforts have saved about 1.5 million bees; Holmes said beehives can have at least 10,000 bees in them each.
The business is looking for additional ways to give back to the community as 2021 approaches.
"It feels great as a business owner. We are always looking to give back in different ways," he said. "I want to make sure we're leaving something behind that's good."
Head to nectarsunglasses.com for more information on its products.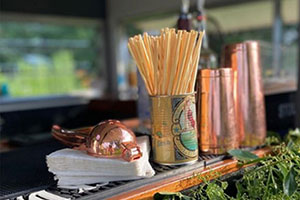 Holy City Straw Co.
Supporting the S.C. Aquarium Sea Turtle Rescue and helping go plastic-free
When Tom Crowley got together with friends for a drink a while back, they noticed the paper straws in the drinks started to disintegrate.
It was right around when Charleston was aiming to become plastic-free, and the friends wanted to provide an eco-friendly straw that would work well in drinks.
After conducting market research and analyzing straws all over the world, they found straws made out of wheat have the most benefits: they are renewable, they are 100-percent bio-based and marine degradable, and they do not require composting like other straws. They can be handpicked in small batches with diameters that are 30 percent wider than other providers.
Holy City Straw Co., launched in July 2019 with an online store. Zero plastic and zero manufacturing makes this farm-to-table product one that leaves a minimal carbon footprint behind.
Also, the straws are not going to hurt sea turtles if accidentally discarded into the ocean.
A percent of sales from Holy City Straw Co. goes toward the South Carolina Aquarium's efforts to save sea turtles. The company's efforts have led them to join the 1% for the Planet, a charitable organization that introduces businesses to reputable charities.
In addition to the wheat straw, the company is also producing a reusable, washable smoothie straw out of a reed stem. One could even brand the straw with someone's name or logo.
It recently partnered with Home Team BBQ to provide straws. The company is hoping to expand to other restaurants as well.
Crowley said most people do not know that these types of straws exist, so the group is trying to spread the word that this eco-friendly option is available to consumers.
"We want to think globally and act locally," Crowley said.
Check out www.holycitystrawcompany.com for more information.