Living the Dream
15 Mar 2015
Max Crosby Construction builds a charming vintage style home with open, casual living spaces designed to take advantage of the panoramic views of the great outdoors builds a charming vintage style home with open, casual living spaces designed to take advantage of the panoramic views of the great outdoors
By ROB YOUNG » Photos by JIM SOMERSET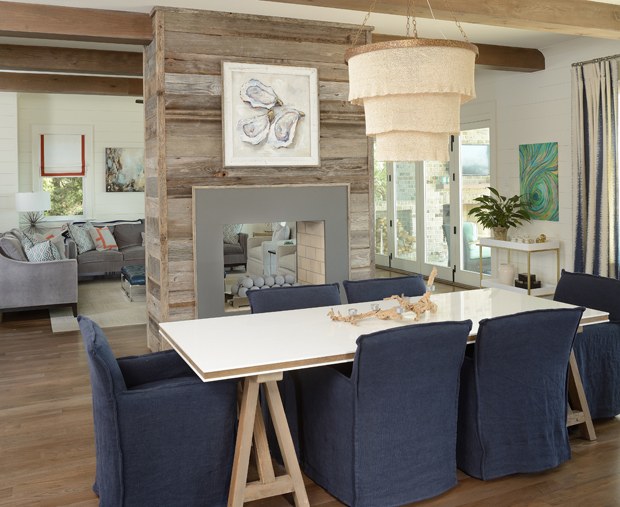 Growing up along the coastline in New Jersey, it was always Art Rudolph's dream to own a home on the shore. He wanted his children to experience the same lifestyle he enjoyed as a youth. Only now, it's no longer a dream.
Rudolph, his wife Maggie, and their two children moved into their brilliant waterfront home on Daniel Island in October. Max Crosby Construction and Catalyst Architects provided the craftsmanship and customization, enabling Rudolph to fulfill his lifelong wish. "It's just the style and the openness that I love. I enjoy the fact that it's elevated and has a beautiful view from the back," says Rudolph, an executive at energy giant Kinder Morgan. "We're from the Northeast, so we've always enjoyed the Northeast shore, the coastline look. That's what we were striving to gain."
Most importantly, the home, situated on Ralston Creek, provides ample space and the perfect panorama. "The second floor, the master bedroom, has the most beautiful view of the back river. The back deck overlooks the water, and the back porch allows it to be open. The pool is elevated as well, so it feels like it's all connected. It flows very well. The whole first floor is an open space – and that's what we wanted. We like it open and flowing."
Second Home
The build actually represents the second pairing for the Rudolph family and Max Crosby principal Jamison Howard. Max Crosby Construction built the Rudolphs' previous home, also on Daniel Island, in 2008. "It's a great personality match," Howard says. "There is no greater compliment in this business than to have a past client call you to build another home for them."
Their relationship actually began fortuitously. Call it serendipity. "The first house, we were looking for a builder, and we were looking for a designer," Rudolph recalls. "We met a couple that was working with Jamison, but they had to relocate. And when they relocated, they were trying to sell their lot, and trying to see if anyone was interested in the plans for their home. My wife knew the couple, and she showed us the plans and it was very similar to what we were looking to build."
And perhaps more significantly, they knew Howard – and trusted him. "Jamison is the type of person that if there's an issue, he says I'll take care of it. There's never an argument from Jamison," Rudolph says. "It's very easy to trust him. He looks out for our best interests. He's very honest. If he sees us going in a direction that we might not enjoy, he's not just a yes man. He'll give his input, and my wife really enjoys working with him. He treated my wife with the greatest respect, and it was just a very good connection."
Max Crosby Mission
For Howard, the build is a continuation of Max Crosby's mission. Crosby founded the firm with his wife, Jackie, nearly four decades ago. The company has grown substantially since then, becoming a well-known name in the customized home market in and around Charleston. The agency is selective, building three to eight homes per year, as it adheres to its early-year philosophy as a small custom home builder committed to the smallest details and customer support. More recently, Coastal Living selected Crosby as an Official Builder of the 2013 Showhouse, publishing a pictorial in its October 2013 edition.
Howard, a native of Marietta, Georgia, came aboard in November 1999. While at the College of Charleston, he began working with framing and construction crews during the summer. Upon graduation, Howard attended the Savannah College of Art and Design's three-year Masters of Architecture program. He met Crosby near that time, and began learning about the business. He found a warm and receptive mentor in Crosby, landing a full-time position. Crosby passed away from cancer in September 2009, but Howard carries on, continuing the company's goal of focusing on consistency and exceeding client expectations.
Pleasant Partnership
It's safe to say that Howard succeeded here. Catalyst Architects, a firm with offices in Lexington and Georgetown designed the plans, as company principal Heather Stallworth and Howard worked seamlessly to provide an ideal home. "I think Catalyst, the architect, did a phenomenal job. We didn't give them any examples; we just told them what we were looking for. And they nailed it, first shot," Rudolph says.
The house itself, presents a pleasant entangling of styles, both classical and current. "It's more contemporary than their previous home," Stallworth says. "We really just sought to take advantage of the view and outdoor living space. As to the exterior, they really liked the idea of a classic look, but with a nautical feel. There's a rounded tower piece on the corner near the back of the property that extends, and makes for some really nice, large spaces to capture the view. It was just a really fun project. It was fun to do something on the inside that was a little more modern as materials go."
In fact, one of the showcase items relates to Rudolph's "boat bar," which resembles the stern of a vessel. "There's an elevated room on the right side of the house that has an open carport below it than can be used for entertaining, oyster roasts, and things like that," Stallworth says. "The room is a casual game room, and Art has this cool boat bar we designed one of the rooms to accommodate. It has a nautical feel, too, and it looks like the back of a sports fishing boat." Plus, it even has "fighting chairs as the bar stools," Howard adds.
Other special features include cedar shake siding and a metal roof mixed with shingles. The trim work is also traditional, featuring shiplap and simple lines. The interior contains some reclaimed products, such as barn siding that Max Crosby interior designer Widney Pierson obtained for the couple. "It has a very Northeastern feel to it," Howard says.
It also features custom staircases and white oak flooring, which was creatively presented. "Rather than introduce a stain to it, we created a driftwood color through a process called fuming. This produces a color through a chemical reaction with the wood," Howard says. "We had some oak beams that were in the family room, and we used the same process to create the consistent color."
"It's a complicated house in its structure," Howard adds, "with multiple levels for the outdoor living spaces. That was a challenge in the construction because you have to make sure to get that right from the start. But it's really a fantastic living space with a pool and fishing boat on the dock."
Rewarding Process
The Rudolphs' reaction, too, made the project rewarding. "They were really pleased and excited. Maggie mentioned that we should leave a stack of business cards because they had received lots of inquiries about the house," Stallworth says. "It's just a phenomenal site. The views are just incredible. It represents great craftsmanship, and Jamison was so wonderful and easy to work with. It was a really great project."
"We are really proud of what we made together with the Rudolphs and Jamison," Stallworth continues. "To me, the home reflects what so many of our clients are looking for – the charm of a vintage house, combined with open, casual living spaces and connection to the outdoors that people value today."
It was truly a shared endeavor, one that will have the Rudolph family grinning for years to come. "It was a great team effort, between the architect, landscaping company, and Jamison," Rudolph says. "We just had a great team that worked very well together."