Tacos meet sushi in this Mount Pleasant eatery that is sure to have something for every taste
By WENDY SWAT SNYDER
Photos by JAMES STEFIUK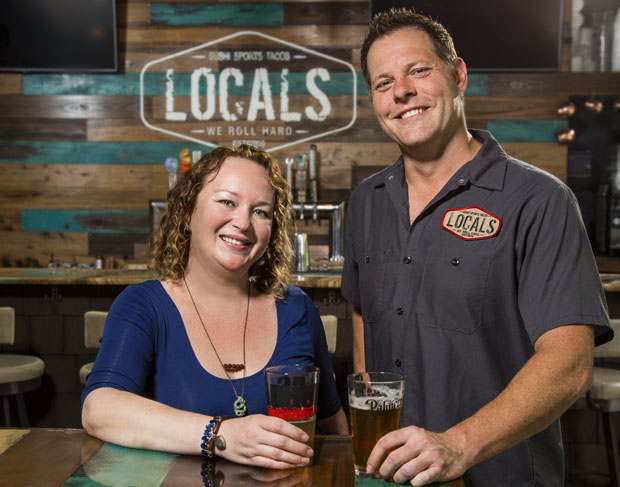 There's a place in Mount Pleasant where cuisines converge, customers defy labeling and the vibe is pure comfort. As it nears a decade in business, Locals has matured from its sports bar beginnings into an upbeat gathering place for guests seeking fresh, innovative flavors, specialty cocktails and brews, and entertainment that includes live music and, yes, a game or three. Where the eatery has deftly filled a niche is with its unconventional combination of sushi and tacos: an unlikely fusion of Asian and south of the border classics, transforming Locals into a local favorite.
"The trend started about fifteen years ago," says assistant general manager Krista Pernell. "Sushi bars were popping up all over the place, but we'd never seen one in a sports bar." Pernell's credentials lie in marketing and special events but she claims hospitality "runs in my blood" thanks to family who'd been in management at Hilton Hotels.
"When the craft taco craze took hold," she continues, "we realized that sushi and tacos were the absolute core of comfort food for our generation. We wanted to provide a relaxed atmosphere for people to enjoy both while watching a game."
The brainchild of forward-thinking founders Jessen Cooke, Art Martin and Harris Nussbaum, Locals opened its doors in 2009 on the heels of the "great recession." The novel fusion menu grabbed the imagination of the surrounding community and found success in spite of a depressed economy, years of construction on Johnnie Dodds Boulevard, and an off-the-beaten-track location in the Queensborough Shopping Center.
"Our average guest is eight to eighty," notes Pernell with a smile. "We are puppy friendly, and really try to cater to our community. And we've grown more so into a restaurant since Shawn took over," she adds, referring to managing partner Shawn Sherman. "We want families to feel comfortable in a place packed with TVs."
Sherman agrees, noting, "We've become much more family-friendly, and more mature in terms of the beverage program and menu."
The evening of my visit, my partner and I arrived at 5:30 p.m for an early meal and the dining room was already gaining momentum with a mix of young families, couples and sports fans. The vibe was laidback and animated throughout the bar and surrounding dining area. Tables and high tops backed up to walls covered in rustic wood planks in brown tones highlighted with turquoise. Televisions strategically yet unobtrusively placed kept eyes on the scores. The entire crowd—both the young and young at heart—coexisted amicably. Folks also spilled out onto an exterior, climate-controlled and covered patio for al fresco dining accompanied by live Lowcountry bands like One Kool Blow and Band of Brothers.
The menu we found was an intriguing fusion of Japanese, South American and American cuisines producing unique flavor profiles. Sushi, sashimi, nigiri and hibachi dominated a list that also showcased a dozen craft tacos—many spiked with Asian flair—bringing unexpected complexity to the table.
Executive sushi chef Mark Thomas says composing the menu is a team effort—everyone in the kitchen has input. Originally from Micronesia, Thomas began his culinary career as a teenager, working for his family first, as a dishwasher and busboy, and eventually mastering the preparation of sushi at the elbow of his father, who he says is a "great cook."
"I have been making sushi for about fourteen years, under head chefs," notes Thomas. "My father was the one who taught me the basics. I took over the Locals kitchen when he departed."
We started with several samplings from the appetizer list: a tender asparagus-wrapped filet drizzled with house-made kimchi sauce with avocado, jalapeño, fried onion, Sriracha and spicy mayo was a novel combination with the perfect level of spicy heat. Beautifully hand-folded crab wontons had a crisp and flavorful bite. The lightly battered tempura chicken (said to be the best chicken tender in town) was a perfect bite of moist chicken with a deep-fried crunch. The tuna and beef tataki dishes were delicate preparations that allowed the lightly seared slices to shine.
We moved on to the taco list for a taste of the Korean pork taco. Seared bits of tender pork tossed with Korean barbeque sauce and finished with house-made kimchi and pickled vegetables was a fusion with all the right elements: sweet, savory and acidic.
Our samplings from the specialty roll list included two heart-healthy offerings: a tuna sashimi roll with snow crab, cucumber and avocado wrapped in soy paper and topped with tuna sashimi, tobico and ponzu sauce. The refreshing low-carb salad roll featured crab, shrimp, asparagus, avocado and lettuce wrapped in cucumber and topped with ponzu sauce.
Other specialty rolls that became instant favorites included the Locals tower: crab, tuna, cucumber and avocado sprinkled with three types of masago, kimchi, spicy mayo, wasabi aioli, Sriracha and eel sauce.
The torched salmon and Caribbean rolls were both stunning presentations. The first, disks of tempura shrimp, crab and cream cheese topped with salmon; the Caribbean paired shrimp with avocado and topped it with a layer of sweet plantains.
Completing the menu was a selection of salads that included more familiar offerings such as a signature chicken salad given an Asian twist with Sriracha, spicy aioli and sesame seeds.
Happy hour starts at 4 p.m. and Locals features a winning combination of daily food and beverage specials such as half-price sushi on Mondays and "triple T Tuesdays" with savings on tacos and select tequilas along with team trivia, which starts at 7 p.m.
Locals also has in place an outreach program dedicated to raising funds for a variety of non-profit organizations—one per month, every month of the year. The restaurant donates $1 from every cocktail sale to charities supporting causes such as vesicular prostate cancer, breast cancer and, during the holidays, a giving-tree sponsorship for children.
The team at Locals hit it out of the park with innovative fusion cuisine and great service. My New Year's goal for 2018? More sushi sports tacos.
Locals
1150 Queensborough Blvd., Mt. Pleasant
(843) 388-5114
localssushi.com