Resolutionary!
04 Jan 2018
Brave new tastes for a brand spanking new year
By KIM BYER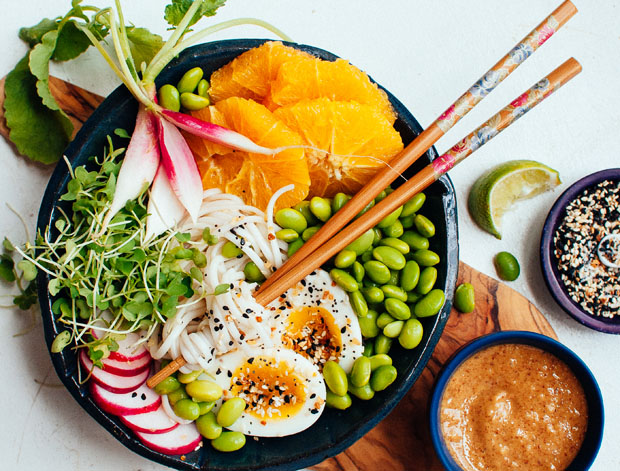 Is any object shinier than a brand-new year? No matter how wonderful (or not so) your 2017 was, the possibilities for 2018 are infinite, like wishes whispered into a night of shooting stars.
For most of us, "eat healthier" (read: lose weight) is resolution #1, on a yearly repeat. We are in a mad rush to reinvent our bodies and ourselves.
Detoxes, cleanses and fasts, oh my!
No matter your dieting tribe, these recipes are about shaking you out of your comfort zone and into a brand-new, healthy mindset. Slow-food wins the race. And before you know it, somewhere, over the rainbow of color piled high on your plate, is a brave new you.
Pomegranate & Beet Hummus
Yields approximately 1½ pints
2 large or 4 small red beets
12-15 ounces cooked garbanzo beans, rinsed and drained
½ cup freshly squeezed lemon juice (or less, to taste)
¼ cup olive oil + more for drizzling
3 tablespoons tahini paste
Pinch of sea salt
1 pomegranate, arils dislodged
Handful of pistachios
Zest of one lemon
Vegetables for dipping
Preheat oven to 375°F degrees. Clean and scrub beets, removing the roots and greens. Rub with olive oil and wrap separately in foil. Bake for one hour or until beets are soft enough to pierce with a knife.

Remove from oven and cool. Wearing plastic gloves, remove skins with a paring knife, then quarter beets.

Place beets, garbanzo beans, lemon juice, olive oil, tahini and salt into a blender or food processor and blend until smooth. Season to taste and refrigerate.

To serve, place dip in a low bowl. Generously sprinkle pomegranate arils over dip along with pistachios, extra olive oil and lemon zest. Serve with a variety of vegetables, such as carrots, sweet peppers or radishes.
Tip: Beet hummus will last for 5-6 days, tightly covered and refrigerated. Spread on sandwiches, pair with grilled vegetables, or hand-swirl into yogurt and smoothies.
Sesame Buddha Bowl with Citrus Tahini Dressing
Serves 1 + ½ cup dressing (enough for 2-3 bowls)
1 cup noodles (such as udon)
1 teaspoon sesame oil
Orange, peeled and segmented
1 cup edamame, cooked and shelled
1 egg, soft boiled
Raw vegetables, such as radishes and/or sliced avocado
Sesame seeds
Microgreens and/or cilantro (optional)
Citrus Tahini Dressing
¼ cup tahini
¼ cup warm water
1 tablespoon orange or lemon juice
1 small garlic clove, smashed and minced
1 teaspoon maple syrup
1 tablespoon finely minced parsley
¼ teaspoon kosher salt
Cook noodles according to instructions. Drain and toss with sesame oil.

In a small bowl, whisk tahini and water together. Add citrus juice, garlic, maple syrup and parsley. Season with salt to taste.

Place noodles and remaining ingredients in a small bowl and drizzle on dressing.
Grilled Romaine Salad with a Creamy Anchovy Aioli
Serves four
2 large or 3 baby heads romaine lettuce, rinsed and split lengthwise
Olive oil
1 red bell pepper, seeded and sliced lengthwise
Several spring onions
½ cup good quality olives
Pickled okra or caper berries
½ cup feta (brined), cubed
1 tin of Spanish or Portuguese sardines or sugar-free bacon, cooked and chopped (optional)
Coarse kosher salt and freshly ground pepper
Anchovy Aioli
1 clove garlic, minced
1 anchovy, minced
½ cup mayonnaise (homemade or Duke's)
Heat flat griddle or grill to medium high. Baste inside of split romaine heads, bell pepper slices, and onions with olive oil.

Sear vegetables until browned and romaine until slightly wilted.

In a small bowl, combine garlic, anchovy and mayonnaise.

Arrange grilled vegetables with remaining ingredients on a large platter. Spoon aioli onto lettuce heads and season to taste.
Dandelion Greens & Ginger Juice
Yields approximately 2½ cups
2 small knobs fresh ginger, peeled
4 cups dandelion greens, washed and roughly chopped
4 cups lacinato (dinosaur) kale leaves, washed and roughly chopped
4 medium oranges, peeled and quartered
1 organic apple, washed and quartered
1 handful parsley, washed and chopped
½ lemon, peeled and halved
To yield juice, push ingredients into a masticating juicer beginning with the ginger, then alternating fruit and greens. Drink immediately.
Note: Juice will last up to 36 hours in a refrigerated, tightly sealed container.
Port-soaked Cherries in Chocolate Yogurt Mousse
Serves 2
3.5-ounce chocolate bar
1 cup low-fat, plain, unsweetened yogurt
½ cup milk
8-12 ounces fresh or frozen sweet cherries, pitted
¼ cup good quality, aged port
Toppings: Chocolate shavings and/or pomegranate arils
In a small saucepan (or double boiler) gently melt chocolate bar over low heat.

In a small bowl, whip yogurt and milk together until fluffy. Gently fold melted chocolate into mixture. Refrigerate bowl for 1 to 3 hours.

Meanwhile, in a saucepan, bring cherries and port to a gentle boil.

To serve, divide chilled yogurt mousse into bowls. Spoon cherries and liquid on top, then top with chocolate shavings and/or pomegranate arils.
Caramelized Banana and Walnut Oatmeal
Steel-cut oatmeal (cooked with water and sea salt)
1 teaspoon coconut oil
¼ cup pure maple syrup, plus more for drizzling
¼ teaspoon vanilla
½ teaspoon cinnamon, divided use
1 teaspoon lemon juice
2 bananas, sliced into coins
1 handful of walnuts
Optional toppings: berries, dried fruit, coconut shavings, bee pollen, hemp seeds
Cook oatmeal according to directions. Keep warm.

Meanwhile, in a small frying pan or saucepan, melt coconut oil and add maple syrup, vanilla and ¼ teaspoon cinnamon.

Squeeze lemon juice on top of bananas. Add bananas and walnuts to the bubbling syrup and cook for a few minutes, until soft.

Stir remaining cinnamon into oatmeal and spoon into bowls. Layer banana nut sauce on top. Sprinkle on toppings and drizzle on syrup.