Look Your Best
04 Sep 2020
Sweetgrass Plastic Surgery Continues to Grow
by Denise K. James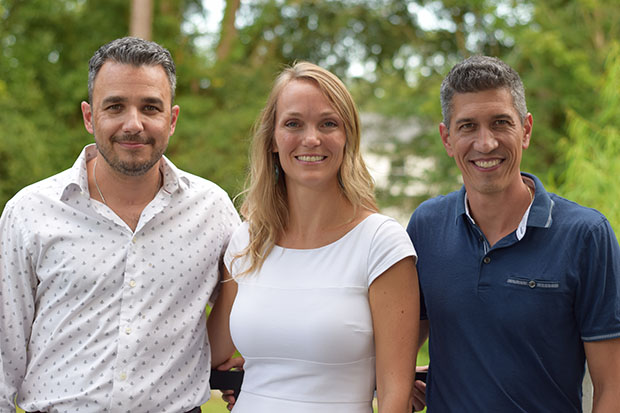 When Dr. Dennis Schimpf decided to open the first Sweetgrass Plastic Surgery location during the summer of 2013, he couldn't have known that it would grow into a busy group of practices across the Charleston metro, each trusted by locals in the art and science of cosmetic enhancement. But that's exactly what happened.
Now, a lucky seven years later, Dr. Schimpf, his partners and his entire staff are looking forward to the future, welcoming two enhanced locations and continuing their tradition of patient care, support and excellence.
Soon after the original Sweetgrass Plastic Surgery location on Daniel Island opened, a second location opened in Summerville and Dr. Schimpf said that location "became the main focus," as there were not many similar practices in that part of the Lowcountry at the time.
Because of the robust growth in the region—particularly with Boeing, Volvo and Mercedes attracting more families—the Summerville practice was "in the right place at the right time," according to the doctor. It was also the first location to include its own AAAHC fully accredited operating room.
A few years later, Sweetgrass Plastic Surgery continued to grow, adding a spa practice at Freshfields Village in Kiawah and another spa practice in addition to the existing main office on Daniel Island.
The spas are smaller, offering services such as injectables, facials, chemical peels, non-surgical body sculpting and skin tightening, laser treatments and more. According to Dr. Schimpf, patients love the spa locations for the relaxing atmosphere and the ability to shop and learn about cutting-edge products to suit their own skincare regimen.
"At the Spa environments, we start out with a skin care assessment," he said. "We also explore the new technology available—skin tightening, peels, lasers—so we have to stay ahead of what's new for patients. The spas are a great atmosphere for it. People want to see what their options are and what bang they can get for their buck. Skincare is really where technology is making headway, especially products that appeal to people in their 30s and 40s."
But perhaps the most exciting news in the Sweetgrass Plastic Surgery practice is the arrival of a brand-new, 9,000-square-foot office in West Ashley, complete with a 3,000-square-foot gym component to ensure patients undergoing surgery can prepare and maintain results through fitness.
Early next year, a second location, also with a gym, will debut in the Sweetgrass Plastic Surgery group, at the Nexton community of Summerville. Both of the new offices will have a gym and two operating rooms.
Dr. Schimpf came up with the idea for a gym when he realized many surgery patients felt self-conscious attending a corporate gym and could benefit from the Sweetgrass team seeing them through the "before" and "after" periods.
"I always played sports, and I've always valued fitness," he said. "I have patients who struggle with exercise plans—they struggle with knowing what to do, though they want to be healthy. They'd get more out of a procedure if they could get weight off first and become more active. I like the idea of our patients working with trainers. A closer tie with patients will produce better outcomes."
To get the ball rolling, Dr. Schimpf partnered with a close friend in the community, Jason Fuitem, who owns a gym and who has been in the business for decades, he said. Nutrition is going to be another part of the package; patients will be able to speak to experts about the right balance of nutrients for optimal wellness.
"One big thing people overlook is nutrition," he pointed out. "Protein and wound healing are related, and so is maintaining weight after having plastic surgery. This way, patients can get information that will help them reach their goals, and help them learn about diet, protein intake and nutrition. I think there is a lot of synergy there that will be useful."
So how does Dr. Schimpf manage to be in so many places at once, with all these locations around the Lowcountry? Simple: the Sweetgrass Plastic Surgery family has two other surgeons and three medical providers—likely more to come as the practice grows—to offer quality care for patients. Dr. Craig Blum, Dr. Ronald Bossert, Rebecca Zerwick Johnson, LeeAnn DePriest and Lauren Lewis, along with the staff, keep things running smoothly.
"I visit all of the locations, and so do the other plastic surgeons in the group," said Dr. Schimpf. "We all know how important the experience is for our patients."
To learn more about Sweetgrass Plastic Surgery and how they can help you look and feel your best, visit their website, https://www.sweetgrassplasticsurgery.com/.