Sophisticated Style
04 Sep 2020
William Murphy brings a luxury salon experience to Mt. Pleasant
By Sarah Ravits
Photos by Aleece Sophia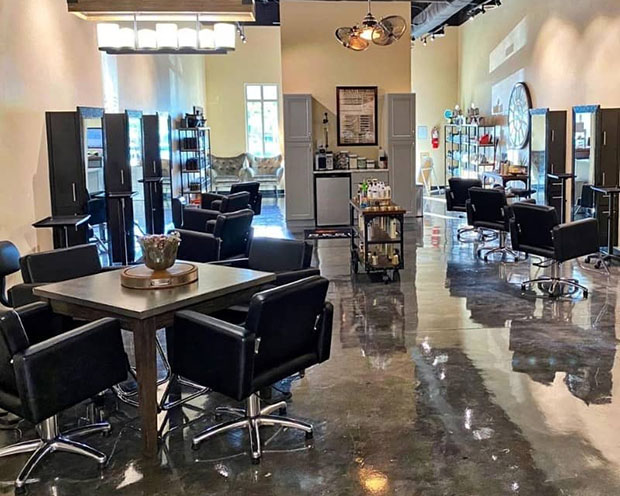 "Hair is the ultimate accessory," says William Murphy, owner, colorist and stylist at Recitals Hair Salon. "You have to wear it every day."
Murphy's career has taken him up and down the East Coast before he settled in Mount Pleasant last year.
A native of Connecticut, he jokes, "I got into this 30 years for all the wrong reasons. I had a friend of mine, who was a big rock star hairdresser in New York City... I found out I had an affinity for it, too. It has taken me everywhere, and I've had a lot of cool opportunities and great things along the way."
Prior to relocating to South Carolina a year ago with his wife, he spent time in South Florida and worked in Atlanta for many years — a market that he says has become "oversaturated."
When his son was recruited by the University of South Carolina for a football scholarship, they made the decision to move in order to be closer to him — and to tap into a new hair styling market.
He says the Charleston area is much more laid-back than previous places he's lived, but that the region has been "thirsty" for the type of luxury hairstyling experiences that he and his staff now offer. People here, "like to take it easy," he says. "But that doesn't mean you can't offer them incredible opportunities."
Murphy furthermore adds that he was not too impressed with some of the hair salons he worked at in the area before he opened Recitals, a six-chair boutique salon, in February of this year.
"I worked in a couple different shops when I got here," he says, "And I was a little disappointed. They didn't take customers seriously. They ran it like a hobby — and people deserve better than that. The perception and the value matters when someone leaves the salon."
People will generally accept what they're given at other hair salons, he says. But he wanted to encourage them to raise their standards. "I was watching the lack of training and poor decision making, and I wanted to offer a better alternative for people," he says. "It's not OK to be mediocre."
The name "Recitals" was given to the salon because "Every day is a performance, when you make your best first impression," he says.
At Recitals, he strives to style, color and cut hair with the utmost integrity and give his clientele a positive experience that will leave them feeling pampered and confident.
He says the company's mission is to provide services to children, men and women of any hair type and style, whether it's edgy or classic, straight or curly, long or short.
Murphy and his employees believe hair should be defined by its nature and its shape, and they pride themselves in the usage of the industry's top care brands to bring out the best in their clients' hairstyles. He also sells his own line of organic products.
"Our mission is to provide you with forward-thinking, sophisticated style," he says. "There's always that need for personal care, taking care of you."
After working in major markets, and working with celebrities, he says he is incorporating the best of everything at the salon and is on the pulse of what people are looking for and what they need.
Despite being open for only a few months, he believes he's received a warm welcome into the community, and that he is building a loyal clientele in just a few months.
"This has been a great market, and I'm really thankful for the reception we've been given. I have a very talented team of people, and there are bright times ahead."
Ultimately, he adds, "This is about having a good experience."

For more information, visit recitalshairsalon.com.
Check it out:
Recitals Grand Opening Event
When: Tuesday September 29, 5-9 p.m.
Where: Recitals Hair Salon, 1710 Shoremeade Rd Ste 430 in Mt Pleasant in the Indigo Square Complex.
Details: See what the buzz is all about in hair and style and enjoy an evening of beauty, beverages and gourmet cuisine for the first 50 people.