Lovin' Spoonfuls
06 Jan 2021
Small acts of kindness in the kitchen
Recipes and Photography by Kim Byer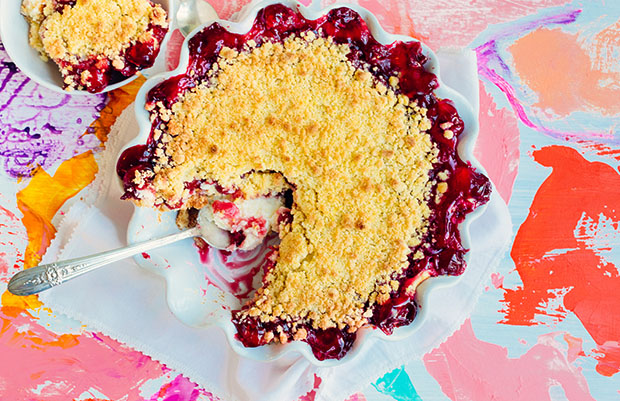 This winter our recipes celebrate cooks who lovingly take the few extra steps to serve up something truly special. Start the lovefest with our couscous—a confetti of sweet and tart flavors thrown onto your tongue. Pair it with falafel or grilled chicken for your main course and continue the celebration with a pair of Amaretto Grapefruit Brûlée. This dessert is one of those small acts of kitchen kindness where your Valentine enjoys the fruits of your grapefruit labor. Plus, according to universal law, adding flaming alcohol to any dessert creates a spontaneous attraction.
However, if you commit to any single dish this month, tie your destiny to the Lobster Mac-n-Cheese. Nothing says "I love you" like buttery lobster in a bowl of cheesy decadence. Though if either you or your loved one is -literally- faint of heart, you may want to shift your focus to our homemade meatballs soaking in a garlic-infused bath of marinara. And for our final act, close the curtains and belt out Mama Mia while you bake our best Cherry Cheese Crumble. Much like your inside voice, it's a master class of crumble pie.
Sweet-Tart Couscous with Cranberries and Citrus
Serves 8-10 as a side
1 cup couscous, uncooked + 2 cups water
2 tablespoons olive oil (divided use)
1 small yellow onion, chopped
½ cup celery, chopped
¼ cup fresh lemon juice
Zest of one lemon
½ teaspoon ground cumin
¼ teaspoon cayenne pepper
1 handful fresh parsley, chopped
½ cup dried, sweet cranberries
½ cup golden raisins
Pomegranate arils (optional)
½ cup nuts (pecan, pistachio, pine, or slivered almonds)
Place couscous, water, and 1 tablespoon of oil in a medium-sized pot and stir. Bring to a boil, then turn off heat and cover. After 5 minutes, fluff with a fork.

In a small frying pan, sauté onions and celery in a tablespoon of olive oil until softened.

In a large serving bowl, mix lemon juice and zest, cumin, and cayenne together.

Mix in the warm couscous and remaining ingredients. Serve warm.
Tip: Serve with falafel or grilled chicken skewers for a delicious main course.
Amaretto Grapefruit Brûlée
Serves 2
2-3 pink or ruby red grapefruit, segmented
Amaretto DiSarrona Liquor
Decorating sugar for sprinkling (coarse ground or colored, if desired)
Maldon or similar coarse-ground salt for topping
Pomegranate arils (optional)
Remove grapefruit segments by slicing fruit horizontally and running a very sharp knife around edges and in between membranes. Or peel grapefruit with a knife and supreme each segment. Chop fruit into smaller pieces. Fill individual ramekins to just below the rim and press fruit until there is a fairly flat surface.

Optional step for a warm dessert:

Place ramekins on a baking sheet and warm in the oven at 325°F for 15 minutes before continuing.

Spoon 1 tablespoon of amaretto into each ramekin then generously cover each ramekin with sugar. Using a

brûlée

torch, melt the sugar until browned. The amaretto will flame. A few burnt bubbles and spots should begin to form (and smell heavenly). Sprinkle with salt and pomegranate arils and serve immediately.
Special equipment: A brûlée torch (small propane torch) is used to melt the sugar. Ceramic ramekins or similar heat-proof containers work best when burning sugar with a torch. Optional method: Broil sugared grapefruit ramekins on high until bubbling and browned.
Lobster Mac-n-Cheese Slow-cooker style
Serves 3-4
8 ounces small elbow macaroni
1 cup + 1 tablespoon butter, melted (divided use)
8 ounces extra sharp cheddar cheese, grated
8 ounces Gruyere cheese, grated
6 ounces evaporated milk
1¼ cup whole milk
½ cup sour cream
2 large eggs, beaten
1 teaspoon kosher salt
½ teaspoon coarsely ground pepper
A pinch of onion powder
Fresh nutmeg (a few seconds on a fine grater)
8 ounces cooked lobster meat (thaw, if frozen)
½ cup panko breadcrumbs
Fresh chives
Cook small elbow macaroni (in lightly salted water) for 3 minutes (about ½ the cooking time of box directions). Strain and pour into large slow cooker. Cover and set slow cooker to 4 hours (High).

Add 1 cup melted butter, cheeses and milks, sour cream, eggs and seasonings. Stir until mixed. Then, leave the cooker covered the entire 4 hours—no tasting, no stirring! Leave on Warm setting until ready to serve.

15 minutes before serving: Gently push the cooked lobster meat into macaroni and cheese. In a small frying pan, melt 1 tablespoon butter with the breadcrumbs until coated, toasted, and golden brown. When the lobster has warmed for 15 minutes, top individual servings with a large spoonful of toasted breadcrumbs and a sprinkle of snipped chives. Serve immediately.
Note: This recipe was tested in a large ceramic slow cooker. Not all slow cookers perform the same. If the outer edges of the macaroni turn into a thickened brown leather of chewy cheese, your slow cooker is a keeper.
Homemade Meatballs in Marinara
Serves 5-8
Marinara
2 tablespoons olive oil
2 garlic cloves, minced
½ medium yellow onion, chopped
2 28-ounce cans of tomatoes (whole, diced or crushed)
1 heaping tablespoon tomato paste
1 teaspoon Italian seasoning (or equal combo of dried oregano, marjoram, rosemary, basil and/or thyme)
1 teaspoon kosher salt
½ teaspoon sugar
Meatballs
1-pound mild Italian sausage (removed from casings)
1-pound ground beef
¼ medium yellow onion, minced
¼ cup golden raisins, chopped
¼ cup fresh parsley, finely chopped
¼ cup Parmesan cheese, shredded
¼ cup panko breadcrumbs
1 garlic clove, minced
1 tablespoon tomato paste
1½ teaspoons finely crushed fennel seed
1 teaspoon kosher salt
½ teaspoon sugar
1 or 2 large eggs (see note in instructions)
4 tablespoons olive oil, for frying
Parmesan cheese (shredded or shaved) and chopped fresh parsley
Sauté garlic in 1 tablespoon of olive oil, stirring, until fragrant. Add onions and cook until softened. Then add tomatoes, tomato paste, and seasonings and simmer, uncovered or screened, for at least one hour, stirring occasionally. Near the end of cooking, blend the sauce with a stick blender for a few pulses, until fairly smooth. Taste and adjust seasoning.

Preheat oven to 350°F. In a large bowl, gently mix meatball ingredients together and form into 24 larger-than-a-golf-ball meatballs. Depending on how wet the mixture is, add either 1 or 2 eggs. You will want a fairly wet mixture.

In a heavy iron skillet, fry meatballs in batches using 4 tablespoons olive oil until fried outer crust forms. This will go quickly. Place meatballs onto a parchment-lined cookie sheet and cook for 30 minutes. Optionally, meatballs can cook in the marinara, but oven cooking releases and disperses most of the grease.

Ladle marinara into low bowls and add meatballs. Top with shaved Parmesan and fresh parsley before serving.
Cherry Cheese Crumble Pie
Makes one 8-inch, deep-dish pie
2 cups all-purpose flour
3/4 cup sugar
½ teaspoon baking powder
¼ teaspoon salt
6 tablespoons cold butter, cut into small cubes
1 large egg
½ cup chopped pecans
Filling
16 ounces cream cheese (room temperature)
½ cup confectioners' sugar
½ cup milk
Fresh nutmeg, optional (a few seconds on a fine grater)
21-ounce can sweet cherry pie filling
Preheat oven to 375°F. Grease the bottom and sides of a deep-dish pie pan.

In a large bowl, mix flour, sugar, baking powder, and salt together. Cut the butter into the mixture with a fork or pastry cutter, then stir in the egg. Spoon half of the crumb mixture into the bottom of the pan. Add pecans on top and press into the crust. Cook for 10-12 minutes or until crust is golden brown. Remove from oven to cool.

To make the filling, beat cream cheese, confectioners' sugar, milk and nutmeg until smooth and fluffy.

Spread the cream cheese filling over the cooled crust, then layer the cherries. Top with the remaining crumbs and bake for 45-50 minutes.

Serve warm or at room temperature. Refrigerate leftovers for up to one week.
Classic Irish Cream Coffee
1 cup heavy whipping cream
2 tablespoons confectioners' sugar
Freshly brewed coffee
1-ounce Jameson Irish Whiskey
1-ounce Baileys Irish Cream
Icing sugar, optional
Using a whisk or whisk attachment on a mixer, whip heavy cream and sugar until stiff peaks form. If you accidentally over-beat the whipped cream, add a small amount of cold cream to the mixture and whisk again.

Pour whiskey and Irish cream into mug. Add coffee to the rim. Layer a large dollop of whipped cream on top and sprinkle with icing sugar.
Tip: A tall glass mug (with handle) works best for this coffee.