Luscious Layers of Flavor
21 Sep 2014
It sounds counterintuitive, but when cooking, the simpler something is to prepare, the more difficult it is to make it delicious. Learn to perfect the craft of making soup in Holly Herrick's new book The French Cook—Soups and Stews.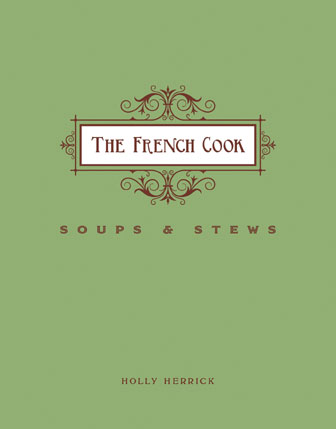 Making soup is a very tactile kind of cooking that thoroughly stimulates the senses (especially smell) and mandates frequent tasting and seasoning. Soups and stews are also quintessentially French, because they embrace and embody a tenet every good French cook knows: waste nothing!
From basic stocks to luscious recipes for classic French soups, Herrick teaches us the art of making soups and stews in a friendly way for home cooks of all skill levels. There are recipes for delicate consommés as well as a plethora of creamy soups—Corn with Bacon and Crème Fraiche, Wild Mushroom Soup, and Minty Fresh Pea. An entire chapter is devoted to the art of perfecting beautiful bisques, and features lobster, crab, and shrimp versions, along with several decadent others. Rounding out the selection are hearty stews—Boeuf Bourguignonnne, Cassoulet, Pot au Feu with Horseradish Cream Sauce, and Fruity Curried Lamb Stew. For delightful cold soups, sip on the likes of Vichychoisse with Roasted Asparagus tips, Frothy Champagne Canteloupe Soup, and Roasted Red Pepper. All are prepared in classic French style but with Herrick's creative twists on familiar French offerings.