Sculptor Matt Wilson gives new life to found objects
By JASON A. ZWIKER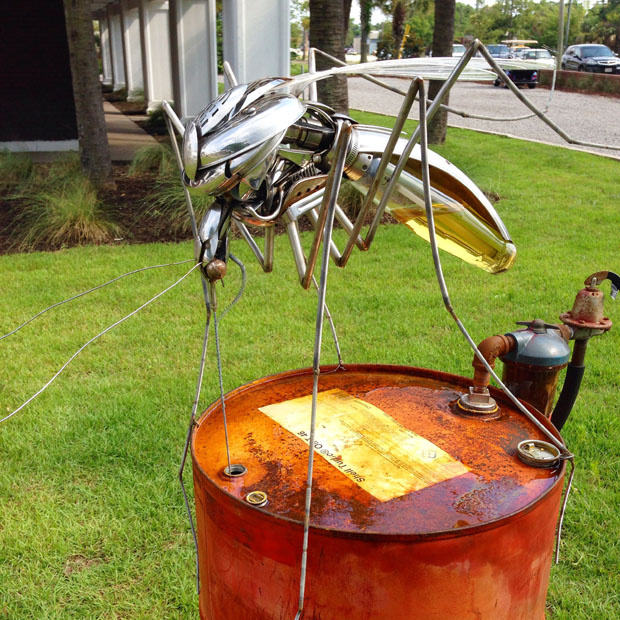 Matt Wilson was interviewing at Detyens Shipyard for a position as a welder, figuring that the experience would serve him well as an artist who loved to work with metal.
Loy Stewart, who was interviewing him for the position, took a closer look at the applicant and asked a direct question. "If you could wave a magic wand and have any job in the world, what would that job be?"
Wilson told him the truth: he'd be an artist. That answer led into a discussion of his work with found objects: piecing scrap metal, driftwood, and other materials into shapes that stir the imagination of the viewer.
Loy Stewart, chairman of the board at Detyens, and a man with a long history of helping others find the best in themselves, liked Wilson's answer very much and, as a result, Wilson is now the resident artist of Detyens Shipyard.
"My primary responsibility is to the clients of the shipyard," he explains. "Each ship owner is given a plaque or model of the ship as a thank you gift for the business."
When Wilson talks about the shipyard, it's clear that he has a great love and appreciation for the work that's done there. Every day, he gets to enjoy the experience of seeing the great ships of the world up close as they are dry-docked for maintenance.
"It's pretty amazing, the work we do," he says. And, as he hoped, it has proven the perfect environment for honing his professional skills. "I've had the opportunity to learn so much already from the machinists here on the shipyard. And I learn more every single day."
So what does he love to build when he's not building mini-ships? The answer is as wide as his imagination.
Wilson's creations are a visual delight. At first glance, you recognize the overall shape: a giant mosquito, over 15 lbs. (that's big even by South Carolina standards), sucking oil from a barrel. Then, you look closer and notice the fine details, recognizing the shapes of some of the found objects from which it was made. Stepping back again, you think about the larger ideas behind the sculpture.
"The environment and how we are interacting with it is very much a recurrent theme in my work," he says. "Using recycled materials in my work is part of that. I see a lot of materials discarded that still have use in them."
Born and raised in the upstate, Wilson studied drawing and painting at Winthrop, then came to Charleston when it was time to build his career. "I knew this was the place for me," he says. "As soon as I arrived, things began falling into place."
He found the perfect job for an emerging artist, made friends, fell in love, and started a family. Today, he and wife Katie are busy raising their son, Dillon, and working to build their future.
"I can't wait until he's old enough to help me make things," Wilson says. "I grew up making tree forts and skateboard ramps. I really think that's an important part of childhood. I still thank my parents for all the Lego and Lincoln Logs they bought me when I was growing up. Those started the learning process for me."
His creative process is deeply organic. "I love finding some new object, an odd bit of old machinery from a thrift shop, or something someone tossed out, and imagining what else it could be."
He tells the story of one night in the woods when he gathered materials – a pair of antlers, scraps of metal – while walking a trail and began to see how the shapes could be an elephant. He brought what he'd gathered to his workshop and turned them into exactly that.
A horn he found in his grandfather's attic one day sparked an idea: using the natural sound qualities of the horn to create a low-tech amplifier for his iPhone. Now, whenever he wants music when he's working, he just slips his phone into the dock he crafted at the base of the horn and physics does the rest.
Some of Wilson's favorite pieces have been commissioned sculptures for some of Charleston's coolest eateries and art-friendly spaces. He enjoys the challenge of making something both aesthetically pleasing and functional as well.
He has a knack for creating delightful avian sculptures from found objects and gifting them to various places around town. He has been an exhibitor at Southeastern Wildlife for several years running as well as the annual South Carolina Palmetto Hands Fine Craft Competition & Exhibition at North Charleston Arts.
Recently, Wilson has been busy collaborating with fine art street artist Patch Whisky, whose monsters burst big and bold from the walls of galleries and alleyways alike all across the country. The two of them have combined their powers to create an army of "spraybots" – brightly painted spray cans with psychedelic faces and tentacle-like arms and legs, some wearing gas masks, others wielding mini-buckets of paints and climbing scale-model ladders, to invade the studio space at Redux (his exhibit with Patch, together with works by Justin Runfola, ran through the month of August).
"It was a lot of fun," he says. "That's the best part of being in a community like Charleston: the incredibly creative people you meet and the ways you can work together to make things happen."
See more of Wilson's work at airtightartwork.com