Making Spirits Bright
02 Nov 2021
Toys for Tots spreads Christmas cheer to children in the community
By Monica Kreber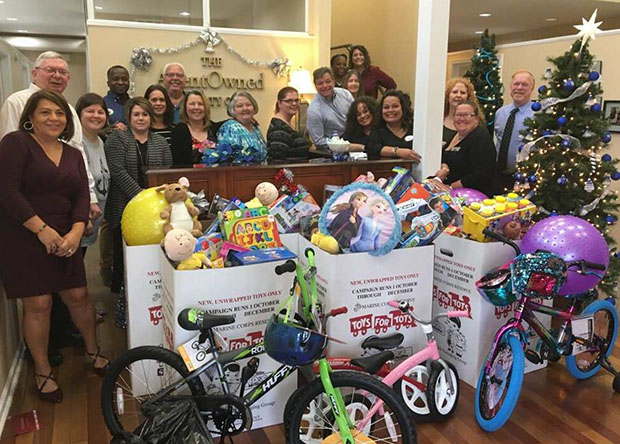 Last year, the local Charleston Marine Corps Reserve Toys for Tots program distributed 108,442 toys to children in the greater Charleston area.
This year, the Charleston chapter for Toys for Tots has a new coordinator, Sgt. Andrew Duval, who is planning and prepping for another holiday season and making spirits bright for Charleston's youngest residents.
The national Toys for Tots program began in 1947. This popular charity program collects new, unwrapped toys during October, November and December and then distributes the toys as Christmas gifts to less fortunate children in the community. Toys for Tots collects monetary donations as well.
While he is new to the coordinator role this year, Duval has a heart for volunteering and giving back to the community.
"I saw this as an opportunity to be able to do that and also to help others," he said. "Every child deserves a Christmas. I'm excited for it. I believe it's going to be a great year."
Duval is originally from Knoxville, Tennessee and moved to the Charleston area in March. He joined the Marine Corps to fulfill a wish to follow in his father's footsteps, and now speaks highly of the family and camaraderie he has built with his fellow Marines.
"You've got your brothers and your sisters that you work with, day in and day out," he said.
Duval was part of a small deployment to Norway in 2019, supporting the battalion with weapons maintenance. He re-enlisted with the Marine Corps while he was in Germany on his way back from deployment, and he subsequently was given the option of heading to the East Coast, the West Coast or overseas. He initially wanted to go to the West Coast but also wanted to stay closer to family, so he narrowed his choices down to South Carolina or Virginia. Duval said he had always heard good things about Charleston so when the opportunity came, he took it.
Duval is stationed at the Naval Weapons base as a 2111 small arms technician. He lives in Summerville with his wife of almost two years, Shelby.
When he came to Charleston, he learned the Toys For Tots chapter was searching for someone to fill the coordinator role for the organization and decided to take on the job.
In 2019, the Charleston chapter distributed around 72,000 toys to 14,000 children. Last year's collection of more than 108,000 toys went to 35,000 children.
"This year we're hoping to get more toys, so that way we kind of have some room to work with in case number of children in need goes up," Duval said.
Duval plans to be out and about helping to distribute gifts on Christmas. He works with a team of volunteers, and the chapter is also supported by its sponsors and volunteers through News 2 and Boeing, who help out on Christmas morning; Toys for Tots is always looking for more corporate sponsors.
"We've been delivering donation boxes to anyone that has requested delivery," Duval said.
This year's Toys for Tots campaign runs through December 24. Last year, the Charleston chapter had more than 200 drop-off sites, including Charleston City Hall at 80 Broad Street, and so far this year, about 60 businesses and residents have signed up for boxes. Businesses and residents can sign up to be a drop-off site for toys or even buy toys virtually at www.charleston-sc.toysfortots.org.
The principal activity for Toys for Tots is the actual toy collection and distribution, but different activities and fundraisers may be scheduled throughout the year; such events will be posted to the Toys for Tots website and Facebook page.
Duval encourages Charleston area residents to consider making a toy donation this year; toys must be brand new, unwrapped and suitable for children ages 0 to 12; donators are asked to also consider finding toys geared toward children with special needs.
"It's for a good cause and it's to help children who are less fortunate so they can still have a Christmas," he said, adding that the program has created a sense of unity among its volunteers. "It just brings everyone close together and shows there is help and assistance when you need it."