Dress like a King
02 Nov 2021
By Brian Sherman
Photos by Aleece Sophia Photography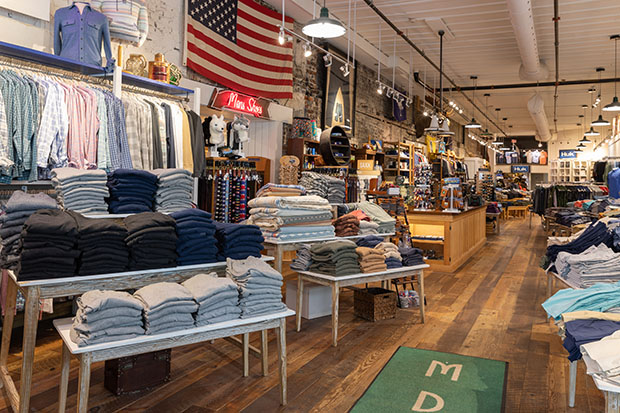 For more than a century, M. Dumas & Sons has adapted, survived and thrived, always moving forward along a path that would lead to its emergence as an iconic downtown Charleston men's clothier, a landmark visited regularly both by area residents and visitors to the Holy City.
Established by Mendel Dumas in 1917, the store originally was a uniform shop frequented by those who worked on the dock, others in the city's service industry and Naval officers stationed in Charleston. M. Dumas & Sons also was a place where avid hunters and other sportsmen could find just about anything they needed in the way of outdoor clothing.
All that changed in the late 1960s and early 1970s, when the store began offering its customers a selection of Levi's jeans.
"That started our transition into dressing everybody," said Taylor Eubanks, store manager and director of marketing.
A few decades later, in the 1990s, that transition took another leap forward when M. Dumas & Sons added the Tommy Bahama line.
"The biggest shift was when we added Tommy Bahama," Eubanks said. "That's when we started doing casual clothes and what really got things kicked off in terms of being known for 'normal' clothes. Now, once a guy comes in here, there's no reason to shop anywhere else. Most guys don't enjoy shopping, and we have everything you could possibly need under one roof."
"Everything" now includes casual items like college gameday color polos to brands not available anywhere else in the United States – items such as cashmere jackets starting at $3,000 and alligator dress shoes that might go for $13,000 or $14,000.
"We took a pretty big risk with brands and price points we've brought in, but now we can't keep them in stock," Eubanks said, noting that M. Dumas & Sons is the world's No. 1 seller of Sartorio suits and sport coats, which are handmade in Italy.
"You're not going to worry about going to a dinner party and seeing another guy wearing the same jacket," he said.
The evolution of the store, in its current location on King Street since the 1970s, continued with a major renovation in 2015 and virtual shopping, a reaction to the COVID-19 pandemic that swept across the world beginning in early 2020. E-commerce will continue to be an important aspect of the M. Dumas & Sons experience.
Through it all, the history of M. Dumas & Sons has remained a family story. Mendel's grandson, David Dumas, represents the store's third generation, though Gary Flynn now owns a part of the business. And the clothier has remained intimately connected to downtown Charleston. During the pandemic, it joined with other businesses in the 200 and 300 blocks of King Street to form the Middle King Shopping District, working together to attract customers and hold community events to survive COVID-19 together.
"The local community came together to help our neighbors the best way we can," Eubanks said.
The business' website features the wide range of clothing and accessories it offers, from polos, T-shirts, dress shirts, sport coats and formal wear to belts, scarves, sunglasses and cologne.
But a visit to www.dumasandsons.com also provides a treasure trove of information about Charleston, including where to stay, eat and shop and how to immerse yourself in the city's arts, culture and history. There's even a thought-provoking essay on the history of the tuxedo.
Eubanks points out that the 2015 renovation of the 8,500-square-foot building at 294 King was necessary to make the store more customer-friendly and keeping pace in the ever-evolving clothing business.
"As we grew, it was much more important to merchandise and present things in a very thoughtful way. The update was needed to continue pushing for the future," Eubanks said. Curated women's clothing, including quality jackets, have also been added.
Virtual shopping and virtual trunk shows allow customers to see what items will be available during the coming season (a product of the pandemic) and Eubanks said they will continue when life returns to normal.
He added that the staff at M. Dumas & Sons will never stray from the personal touch that has defined the business for more than a century.
"We're a generational clothier," he said. "I've dressed grandfather, father and son. We grow with our clients' lives. That's very special and it's getting harder and harder in retail. We have dressed the Charleston men and will continue to dress the Charleston men."
M. Dumas & Sons is located at 294 King Street, Charleston. Parking is validated at the George Street surface lot (directly behind the store) & the George Street Parking Garage. Visit www.mdumasandsons.com or call 843-723-8603.