In pursuit of the perfect oyster
By Jenny Peterson
Photos by Aleece Sophia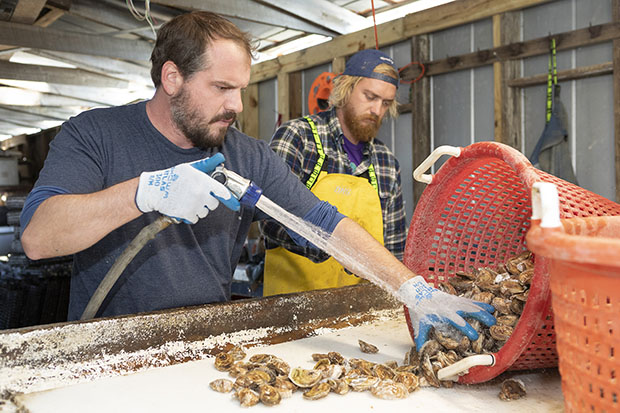 Imagine a perfectly-bred oyster—carefully groomed and in peak physical condition.
Many hands and eyes making sure the oyster is developing as planned, training it to grow into a round, seashell-like form, with briny meat inside a deep cup with a brilliant white shell.
This image is the opposite of oyster harvesters along the side of South Carolina marshes in their knee-high waders hacking away at large clusters of oysters found exposed at low tide.
But it's how one company on Wadmalaw Island is changing the game of how oysters are grown are harvested in the Lowcountry.
Barrier Island Oyster Co., a three-year-old oyster farm co-founded by a marine biologist, has figured out a new way to farm super oysters—sustainable and wholly delicious.
Rather than the oysters growing attached to and on top of one another along the shore, Barrier Island Oyster Co. oysters are singles, carefully placed in floating cages.
It's the same oyster species that are grown up and down the East Coast, just under a more watchful eye.
"The method was developed in Canada. They've been growing oysters like this in the northeast for a while," said Jared Hulteen, co-owner of Barrier Island Oyster Co. and director of operations. "We are the only ones in Charleston growing them like this."
Oyster farming is a labor-intensive method that physically shapes how the oysters look as they grow and become ready for harvest.
The entire process takes a year-and-a-half from seed to plate, much longer than traditional shoreline harvesting.
Essentially, it's a delicious science experiment.
The oysters start out as "seeds" from an approved hatchery; for Barrier Island Oyster Co., most come from a hatchery in Beaufort.
The seeds are so small, they can only be seen under a microscope. They are then placed into Barrier Island Oyster Co.'s capable hands where they start out growing in an indoor nursery tank. Once large enough, the tiny shells are moved into a 2-millimeter fine mesh bag and sent to the "farm," or open marsh.
As the oysters mature over the next year, Barrier Island Oyster Co. dockhands meticulously pull up the cages to inspect their growth and shell density.
They chip away the shell edges by hand to ensure a more perfect shape. Oysters are sifted and moved into larger mesh bags and floating cages several times during the growing process.
"It's a lot of work at the early stages of life of the oyster. Every three weeks, the oysters are pulled up," Hulteen said. "After six to eight months, they are pulled up every six weeks and brought back to the dock. When they are small, that's when we have the most influence over getting the shell shaped the way we want."
The result? Pristine single bivalves, with perfectly round shells that look more like a seashell than an oblong "blade."
The company calls them "Sea Clouds" due to their white shells. Salty and meaty, they are grown specifically to be eaten raw. They have a unique briny saltiness that can only come from a South Carolina oyster.
Each shell has ridges on it that tell its story. Much like rings on a tree, Hulteen said each ridge on the shell tells when the oyster has been lifted out of the water during its various stages of life.
"The multiple lines on the shell are from all the times they have been on the dock getting tumbled around. The lines all represent all the work we put into it," Hulteen said. "Every time there is a disruption, the shell grows rounder and more fanned out."
Hulteen, who worked at the Department of Natural Resources in oyster reef shoreline restoration before starting this venture, said this method of farming is not just sustainable, it's restorative.
"It's important for us to leave the wild oysters in place to perform their eco-system services," he said.
In addition to environmental considerations, the choice to farm oysters using this method was made with the discerning oyster eater in mind.
"Raw bars don't want clusters of oysters because the meat quality isn't as good. The shell density and quality isn't as good, and when you go to shuck them, the shells just break," Hulteen explains. "Eating South Carolina oysters is such a transcendental experience, I thought, 'how do I grow an oyster that restaurants and raw bars want?' I started researching how to do that and decided to farm them, rather than get them in the wild."
Hulteen and co-founder Josh Eboch, director of sales and marketing for Barrier Island Oyster Co., took a chance on the business.
Before starting the farm, they bought a used power boat, lovingly named the "Shellraiser," and eventually outfitted it with a large crane to lift the floating oyster cages.
In just a short time, they've have seen tremendous success.
Barrier Island Oyster Co. harvests as many as 6,000 oysters a week during peak season to sell to high-quality Charleston seafood restaurants including The Ordinary, 167 Raw, and The Ocean Room at The Sanctuary on Kiawah Island.
Last summer, they also sent several thousand oysters a month to high-end seafood restaurants and raw bars in Savannah like Husk and The Grey.
"Sea Clouds" have been served at the Riverdogs stadium and the Charleston Wine + Food Festival.
"When we started, I thought, 'One day I'd hope to be in these restaurants.' And now we are doing it," Hulteen said. "I just had an idea in my head of how I wanted them to be. You put a little seed in the water and wait 18 months and cross your fingers and it's amazing how they turn out—clean on the outside, clean on the inside and end up being the nicest shape with a deep shell cup."
The company now has six employees, including dockhand Alison Pierce, who has her graduate degree in marine science specifically for oyster growth.
No 'R' Months Needed
A unique advantage of Barrier Island Oyster Co. oysters is that given the way they are grown, they are able to be harvested and eaten year-round. Employees harvest in the cold, the rain and even in the hottest day in August.
"What we do, and what the Department of Health and Environmental Control requires, is that when it's harvested in warmer months, it goes straight to the dock and into a cooler that gets them to a temperature of 50 degrees within two hours. It's simply a matter of safe handling in order to prevent bacteria," Hulteen said.
Slow and Steady
Barrier Island Oyster Co. currently has over two hundred floating cages housing hundreds of thousands of oyster seeds at various stages of growth. They hope of those, 50 percent eventually make it to market over the next year.
Cages are deliberately sunk to the bottom of the marsh during storms, like last year's Hurricane Dorian. Storm waters tend to set the growth back.
Hulteen said they hope to grow their own oyster seeds in the future, creating their own DNR-approved hatchery to keep the growing method going.
"It's a big undertaking and you have to have pristine water quality requiring an extensive amount of tanks and filtration equipment," he said.
Until then, the biggest task is to have patience as the oysters grow.
"Oysters that have the nicest shape from the Northeast take three years to grow," Hulteen said. "The longer you have them in the water, the more you can shape them."
Once harvested and ready to send to restaurants, employees do a final inspection of each oyster, chip away any barnacles and grade them by size so that the bags of oysters are consistent and of the highest quality.
In short, each is as perfect an oyster as possible.
"If you bought them and steamed them, I wouldn't stop you, but it would be a shame," Hulteen said, inspecting the bounty of a recent harvest. "It's taken a long time for us to get them here."
For more information on the Barrier Island Oyster Company, visit barrierislandoysters.com