Meet You on the Court
03 Sep 2022
Pickleball takes over in the Lowcountry
By Adie Lee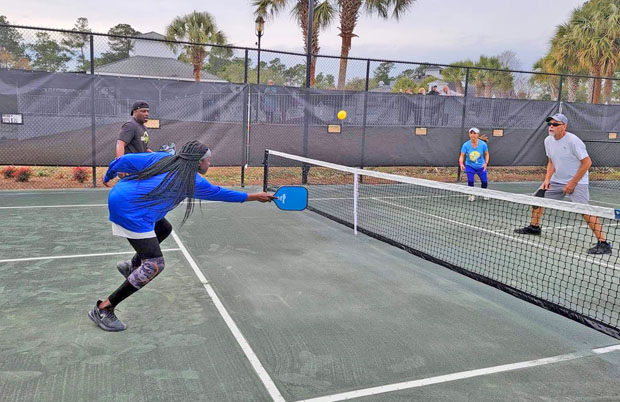 Remember seeing a Warhol for the first time? Whether you were in an art history class or a student of life, you were probably captivated, albeit slightly confused and certainly intrigued. From soup cans to the sultry stares of icons like Marilyn and Liz, it's been said there's a Warhol for everyone. According to art collector Richard Weisman, "he didn't know the difference between a football and a golf ball." In the late 1970s, Weisman commissioned the artist to create portraits of various famous sports figures like Muhammad Ali and Dorothy Hamill.
The masses are once again enthralled, but presently by sport, rather than art. If you've not been properly acquainted with America's fastest-growing sport, meet Pickleball. What sounds like a hodgepodge, is part-badminton, part-tennis and part-Ping Pong, and usually played on tennis courts marked at 20' x 44', for a compact field of play or on indoor courts marked off.
Created in 1965 just outside of Seattle by a group of vacationing neighbors who gathered wooden paddles and wiffle balls one cloudy day and shooed their stir-crazy children outside to a nearby badminton court. The adults soon joined, creating rules for an unconventional game that the entire family could play together. And before you think the name makes about as much sense as a neon portrait of the Queen of England, consider the dog. As history has it, a neighbor's pup nabbed the ball and took off with it more than a few times. His name was Pickles.
Here in the Lowcountry, Pickleball popularity continues to explode. A sign of the times? This year, both Mt. Pleasant and the Nexton community will welcome two separate experiences, both game-and-eatery concept establishments based on the sport and featuring multiple Pickleball courts.
Keep an eye out for Mt. Pleasant's Crush Yard and Pickle Bar in Summerville.
A record 4.8 million Americans report playing Pickleball in 2021, and Charleston's Des Brown is one of them.
A former MVP of the since-closed St. Andrews High School, Brown's name was synonymous with football, not racket sports. During the pandemic, he played Pickleball for the first time when the nostalgia stirred. He recalled playing ping-pong with opponents young and old at his neighborhood community center.
Inspired to share the similar camaraderie he found playing Pickleball, Brown started WePickle Charleston. He is the organization's director and lead instructor, certified by the International Pickleball Teaching Professional Association (IPTPA).
A first, "I had no idea how to play. I didn't know the rules," Brown said. He showed up and the other players taught him—not a likely scenario on the golf course or tennis courts.
The hallmark of Pickleball, which Brown hopes remains so, is sportsmanship and the genuine willingness to teach and encourage each other on the court.
Back in the 1990s, amid sideways glances and good-natured jeers, Pickleball was considered a game for senior adults. Major League Pickleball (MLP) launched in 2021, cementing the game's evolution along with competition circuits for elite level athletes. Amid the rise in local popularity, Brown noticed a serious lack in diversity. For a game focused on the fun of smacking a plastic ball around, where were all the young players?
He began to work with the Charleston County School District, county parks, home school associations and more to expose youth minorities and undeserved communities to Pickleball. Brown said, "the game provides improved coordination and vital physical activity for children, and the social interaction which is paramount to a child's happiness and development."
This April, Charleston Mayor John Tecklenburg joined Brown to support "We Got Next," the first-ever youth Pickleball tournament in the state, held at Thomas Johnson Park on James Island. Brown and his coaches at WePickle blend youth Pickleball lessons with social-emotional learning, yielding life skills like self-awareness, self-management and responsible decision-making skills. He says it takes a village to positively impact our children and he's proud to connect Charleston's communities through WePickle.
Brown says Pickleball is a fun way to stay active, regardless of age or skill level. The game is easy to learn and moves quickly. WePickle Charleston offers lessons and clinics for beginners, intermediate and advanced players.
For more about WePickle Charleston, visit https://wepicklechs.com/ or find them on Facebook/wepickle.
All ages and all experience levels are welcome on the Pickleball court. Below is a list of places that offer regular Pickleball games and lessons.
James Island |Thomas Johnson Park : Join beginners on Thursdays at 9:30 a.m. (equipment provided) or Saturdays at 9 a.m. for play open to all levels. Intermediate players are welcomed Wednesdays and Sundays from 9:30 am until noon. https://wepicklechs.com/
Mt. Pleasant | Miriam Brown Community Center (Old Village): Bring your own equipment, drop-in play is available on a first-come, first-served basis. https://www.tompsc.com/1120/Pickleball
Downtown | Pickleball Courts at General William Moultrie Playground: Courts open daily at 6:30 a.m., look online for schedule at https://www.places2play.org/place?id=9236
North Charleston | Collins Park: Drop-in play, all day on 10 dedicated Pickleball courts.
https://www.places2play.org/place?id=10043
Summerville | Cane Bay YMCA: Drop-in play available, free for members, $4 for non-members.
https://www.places2play.org/place?id=7855
Isle of Palms | Wild Dunes: Rental court fees are $15 per person for 90 minutes of play. Clinics Mondays, Wednesdays, and Fridays at 11:30 a.m. for the advanced-beginner/intermediate level, and from 12:30 p.m. for intermediate/advanced. Both cost $29 per person. Call 843-886-2113 to book.
Folly Beach| Jolly Folly Pickleball is held on Mondays, Wednesdays, Fridays and Saturdays from 8 a.m. – 10 a.m. and Mondays, Wednesdays and Fridays from 2-4 p.m. at Pirates Cove Playground. To register, visit www.cityoffollybeach.com/recreation-programs/ For questions, email codraper@aol.com