Music to Their Ears
03 Sep 2022
Jenkins Orphanage Band once ruled the streets of Charleston
By Tim Lowry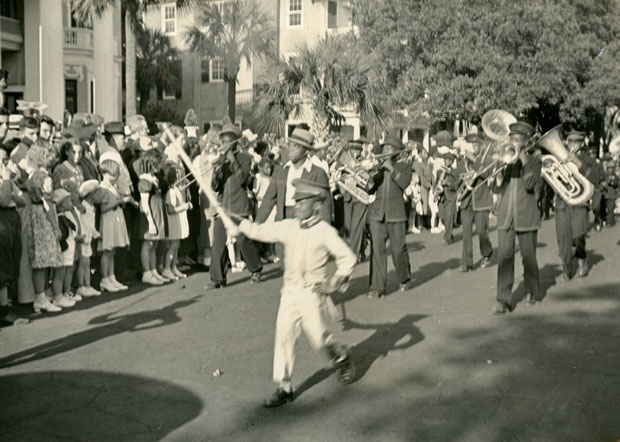 I have a collection of musical instruments that are collecting dust in a cabinet next to my piano. I play the piano occasionally, but the rest of the instruments—never. There's a cousin's clarinet from a short-lived high school band experience, a flute from I don't know where, and a guitar that once belonged to my father-in-law. There's also a mountain dulcimer that I bought over a decade ago. I learned one song— "Go Tell Aunt Rhody"— on the $300 instrument and then abandoned it to live in the cabinet with all of the other orphaned music makers. Sad!
I recently mentioned to my wife that we should donate all of those unused instruments to a local school or program. It wouldn't be the first time musical instruments had been donated to children in need . . . In 1891 Daniel Jenkins, a Charleston laborer discovered four African American boys huddled in a rail car. The boys had been abandoned and were fending for themselves as best they could.
Mr. Jenkins took them to his home and provided temporary food and shelter. While making an appeal for the boys care at a local church, Mr. Jenkins put forth the idea of founding an organization to improve the lives of destitute African-American children living on the streets of Charleston. Very quickly, a charter from the state of South Carolina was secured and property that had once been the old Marine Hospital at 20 Franklin Street downtown was converted into what became known as the Jenkins Orphanage.
The building, it is often noted, was one of several Charleston structures designed by "America's First Architect" Robert Mills. However, the great heritage of the Jenkins Orphanage would not be found in its architecture. No, indeed! The children of the Jenkins Orphanage would become world famous for the brand new and very American art form known as jazz!
The orphanage grew very rapidly. In just a few short years, Reverend Daniel Jenkins (as he came to be known) was caring for over 500 children. The rapid growth of the orphanage quickly outpaced the financial support that Reverend Jenkins had secured through both public subsidies and private donations. With a collection of donated instruments, some cast off uniforms from the Citadel Military College and the tutoring of local music teachers P. M. "Hatsie" Logan and Francis Eugene Mikell, about a dozen boys from the orphanage formed a jazz band that overcame its humble beginnings with outstanding musicality and unmatched showmanship.
Unlike school bands and youth orchestras of today, where students learn a single instrument, all the boys learned to play all of the instruments that were available to them. Undoubtedly, this gave the young musicians quite an advantage when it came to playing as a group, because they had intimate knowledge of how coronets, trumpets, trombones, tubas, clarinets, bells, triangles and drums should work together in a collaborative ensemble. The boys played popular marches and "cakewalks" but quickly learned to embellish the popular tunes with the distinctive "ragging" style that was coming out of St. Louis and New Orleans at the time.
When the band would play on the streets of Charleston, Reverend Jenkins would dress one of the smallest members of the group in a uniform that was much too large for his child size frame and encourage him to "conduct" the band with enthusiastic motions and flourishes. The musicianship and comic dancing combined to make an infectious good time that helped people loosen their purse strings and happily open their wallets when Reverend Jenkins passed the hat.
The Jenkins Orphanage musicians grew in proficiency and popularity. Eventually, multiple units were formed and tours were organized. Traveling by train up and down the East Coast, a band representing the Jenkins Orphanage would march from the rail station into a town to present their own flavor of the newly-minted American musical form known as jazz to an unsuspecting but delighted crowd. As their popularity grew, musicians from the Jenkins Orphanage were invited to play at influential venues like the Cotton Club of Harlem and march in the inaugural parades of both Presidents Theodore Roosevelt and William Howard Taft. They also made a Broadway appearance in New York City providing incidental music for DuBose Heyward's show "Porgy" which would become the basis for George Gershwin's American opera "Porgy and Bess." There were tours to Europe and multiple opportunities to play for the Queen of England.
When on tour, the band would often feature a few "geechie" tunes that showcased a particular Charleston style of harmony and rhythm accompanied by dance steps that came to be known as "The Charleston." Many of the young musicians of the Jenkins Orphanage went on to play in the bands of Duke Ellington, Count Basie, Dizzy Gillespie and Lionel Hampton. The list of names includes William "Cat" Anderson, Sylvester Briscoe, Tom Delaney, "Geechie" Fields, "Peanuts" Holland and "Speedy" Jones.
Freddie Green, a leading guitarist with Count Basie, though not actually orphaned, was a Jenkins Orphanage musician in his youth and went on to play at the inaugural ball of John F. Kennedy and receive recognition for artistic merit from President Ronald Reagan.
Reverend Daniel Jenkins died in 1937 and shortly thereafter, the orphanage, now known as the Jenkins Institute, moved to different facilities outside of the historic district. The focus of Jenkins Institute for Children and Jenkins Youth and Family Village has changed over time and jazz bands are no longer a part of the work being done there.
How I would love to hear an old building like that come alive again with the sounds of vintage jazz! More than ever, I am determined to gather up all those unused instruments I mentioned and find somewhere to donate them. I would dearly love to be part of such a jumpin', jivin' very much alivin' and happenin' kind of legacy!
Storyteller Tim Lowry is a Southern raconteur from Summerville. Learn more at www.storytellertimlowry.com.