Lowcountry Staples
15 Nov 2014
If you're hungry for a slice of history and a satisfying meal, check out some of Charleston's oldest restaurants that boast years of history and hospitality. Serving classic Charleston seafood since 1930, Henry's hands-down holds the record as the city's (and state's) longest running restaurant. At 27, beloved Carolina's made up for age with beauty and grace before closing her doors earlier this year. Opened originally by a pair of European restaurateurs in the circa 1953 Perdita's property, its kitchen introduced innovative cuisine to local diners, and was Donald Barickman's (think Magnolia's) first stint as executive chef. Many others have come and gone since the surge created by Spoleto's debut in 1975. We've rounded up 20 that have found the right mix of concept, service, and food to ride the challenges of time and tide.
By WENDY SWAT SNYDER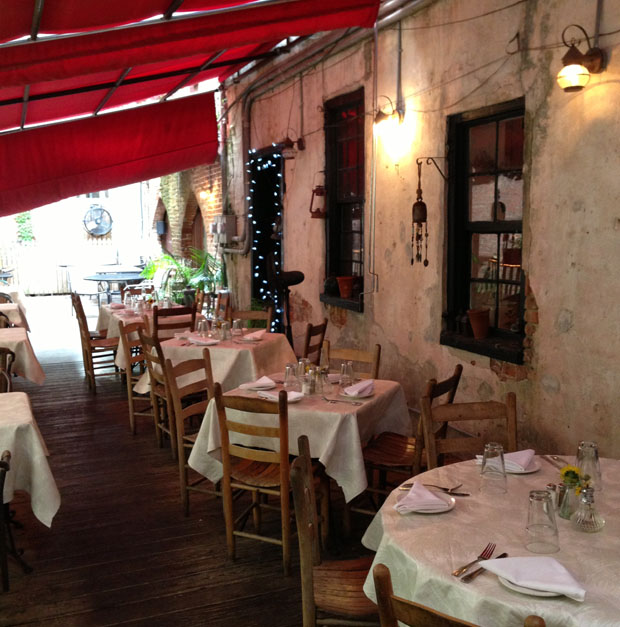 Henry's
This local landmark has held its own on historic Market Street for almost 85 years with a casual atmosphere and coastal menu that celebrates the Lowcountry—a winning combination that has been the inspiration for many that have followed over the years.
(843) 723-4363, henryshousecharleston.com
McCrady's
Two Unity Alley has been the home of famous Charleston eateries since the 18th century, when Edward McCrady opened the original tavern. Colonial leaders met there regularly for political discussions and George Washington dined in The Longroom during his Southern tour in 1791. Today, the McCrady's menu is overseen by chef/owner Sean Brock, delivering his passion for innovative techniques and local ingredients on every plate.
(843) 577-0025, mccradysrestaurant.com
Poogan's Porch
Serving up Southern comfort food since 1976 in an elegant restored Victorian house, Poogan's Porch delights locals and visitors with old fashioned hospitality and charm. The family owned restaurant boasts a 1500 bottle wine cellar created by Brad Ball, son, managing partner, and sommelier. Executive chef Daniel Doyle showcases local and regional product in classic Lowcountry dishes like pimiento cheese fritters and Calabash shrimp and oysters.
(843) 577-2337, poogansporch.com
82 Queen
A Southern Living favorite, 82 Queen has reigned over the French Quarter district for three decades. The family owned restaurant is tucked into an historic property resplendent with 11 dining areas and al fresco seating in a lush, turn of the century courtyard. Southern classics like jambalaya and a shellfish laden fettuccine rule the dinner menu.
(843) 723-7591, 82queen.com
Barbadoes Room
Spelled with an "e" in the Old English style, the Barbadoes Room has been serving guests in the historic Mill's House Hotel since 1970. The venerable dining room is known for its opulent holiday buffet and grand piano playing standards. New executive chef Jonathan Hawks comes to the Barbadoes Room from recent stints at the Ocean Room at The Sanctuary on Kiawah Island and Brays Island Plantation, where cooking wild game such as deer and elk was standard.
843-577-2400, millshouse.com
Hyman's Seafood
Hyman's Seafood has been dishing up Charleston seafood classics with a side of genuine Southern hospitality for nearly three decades. A menu that showcases fresh, top quality seafood keeps a constant line of diners spilling out the front door onto Meeting Street. Housed in a family owned, century old warehouse, the casual atmosphere and consistently tasty dishes have made Hyman's a local landmark.
(843) 723-6000, hymanseafood.com
Magnolias
Chef Donald Barickman was at the forefront of innovation when Magnolias came onto the post-Huge dining scene in 1990. Cooking modern interpretations of Southern classics, he led the culinary renaissance that garnered the city of Charleston a national reputation as a top food town. Today, he and chef Donald Drake carry on that legacy with fresh interpretation of dishes such as crispy pork belly, blackened cat fish, parmesan crusted flounder, and shrimp and grits.
(843) 577-7771, magnolias-blossom-cypress.com
Charleston Grill
Chef Michelle Weaver's inspired cuisine combines with a clubby ambiance and cool nightly jazz for an upscale experience that has dominated the Charleston food scene for almost 25 years. Located within the lofty halls of the Charleston Place hotel at the intersection of King Street and Market, Charleston Grill debuted under the supervising eye of chef Bob Waggoner, whose expertise earned the restaurant a reputation for culinary excellence. The wine program has been recognized by Wine Enthusiast as among the top in the country.
(843) 577-4522, charlestongrill.com
Hank's Seafood Restaurant
Acclaimed as one of America's best new restaurants by Esquire magazine when it opened in 1999, Hank's has been wowing with spectacular seafood presentations ever since. With a pedigree that included a stint at Le Bernardin in New York, Chef Frank McMahon became part of the start-up team with the concept to build a modern interpretation of the classic Charleston fish house prevalent in the 1940's. Set in a smartly renovated turn of the century warehouse, this bustling eatery is all about seafood—in all its incarnations.
(843) 723-3474, hanksseafoodrestaurant.com
Peninsula Grill
The restaurant of choice for Charlestonians celebrating milestone events, this Mobil Four-Star and AAA Four-Diamond-ranked establishment shows its pedigree in velvet walls and a clubby atmosphere. Located in a lush, courtyard-surrounded property near the City Market, the restaurant opened in 1997 as part of the Planters Inn. Chef Graham Dailey draws upon his experience on fishing and shrimping boats in the Gulf of Mexico, a two-year mentorship with Chef Anthony Bourdain and a degree from Le Cordon Bleu to prepare dishes that showcase the natural flavors of seasonal ingredients.
(843) 723-0700, peninsulagrill.com
Slightly North of Broad
It's been over twenty years since Slightly North of Broad opened for business in a two hundred year old building on East Bay Street. It was 1993, and owner Dick Elliott had teamed up with chef Frank Lee and general manager David Marconi to develop a new downtown restaurant from concept to finish. With one of the city's first exhibition kitchens, "SNOB" joined the ranks of new restaurants that were pioneering new culinary frontiers in Charleston.
(843) 723-3424, mavericksouthernkitchens.com/slightlynorthofbroad
39 Rue de Jean
39 Rue de Jean brought the concept of the traditional bistro to the Lowcountry when it opened in 2001.
With classic French panache, "Rue" captured the imagination of Charlestonians, and helped define the surrounding borderline neighborhood in the upper reaches of the King Street shopping district. Located in a transformed old warehouse, the eatery pleases with hearty Parisian-inspired fare, accessible wines, and handcrafted beers.
(843) 722-8881, holycityhospitality.com
The Wreck of the Richard and Charlene
Named in memory of a North Atlantic style trawler that was impaled on a nearby dock when Hurricane Hugo hit the Lowcountry, The Wreck has been holding its own on Shem Creek in the Old Village of Mount Pleasant for over 20 years. Famous for its no frills approach to dining (servers used to hand out cans of insect repellant before the place was screened), the eatery excels at preparing freshly caught seafood served fried, grilled, or boiled, with a view of the creek and attendant docks.
(843) 884-0052, wreckrc.com
Basil
Slick and very noisy, the dining room fills quickly, and there's a reason why. Diners have been lining up for Basil's authentic Thai cuisine since it opened in 2002. The wait time is taken in stride at this popular see-and-be-seen King Street landmark opened by brothers Henry and Chai Eang. The kitchen produces reasonably priced plates of dishes like spicy beef larb, curried duck, and red, green and massaman curries.
(843) 724-3490, eatatbasil.com
Circa 1886
When it opened in 2001, Circa 1886 set the standard for fine Charleston dining with refined fare and an elegant, historic ambiance. Loaded with Old World charm, the restaurant is located in the original carriage house of the Wentworth Mansion, built in 1886. The seasonal menu is paired with an equally responsive wine list. In fact, Circa 1886 holds a Forbes Four Star distinction, AAA Four Diamond rating and is consistently recognized by Wine Enthusiast as one of America's Best Wine Restaurants. Co-owner Linn Lesesne and chef Marc Collins were part of the original team that founded the Charleston Wine + Food Festival.
(843) 853-7828, circa1886.com
Fulton Five
Charlestonians have been sending their friends and out-of-town guests to Fulton Five for over 20 years. Tucked into a cozy space off King Street, a patina of age lends a rustic elegance to the eatery that feels very European, making it a romantic favorite for couples. Chef Josh Cain's ambitious menu reproduces Italian culinary classics with a contemporary twist
(843) 853-5555, fultonfive.com
Il Cortile del Re
Locals in the know have been enjoying the flavors of authentic Italian cuisine at Il Cortile del Re for close to 20 years. The name means the "courtyard of the king," the eatery is aptly named for its location. From the outside the restaurant appears to be a tiny hole-in-the-wall, but step through the front door and you'll find an Italian stone courtyard bedecked in ivy and full of romantic ambiance. The signature item on the traditional menu: wild boar.
(843) 853-1888, ilcortiledelre.com
Salt at Station 22
The original Sullivan's Island favorite, Station 22, opened in 1987—a casual beach town eatery whose walls shared island memories with framed black and white photos from "back in the day." A massive re-do has updated both the interior space and the menu, but the restaurant's core values remain intact. Salt continues to attract locals and visitors with a menu designed around contemporary Southern fare prepared with fresh, local product.
(843) 883-3355, saltstation22.com
Taste of India
One of only two restaurants featuring Indian cuisine in Charleston proper, Taste of India has been treating local taste buds since 1980, when the Bhalla family opened the small eatery in West Ashley. Featuring a solid range of traditional preparations, the dishes are cooked to order, so the heat level can be customized to taste.
(843) 556-0772, tasteofindiacharleston.com
The Mustard Seed
Casual and accessible, The Mustard Seed brought its light, bright fare to Mount Pleasant in 1994—and it was just what the town needed: a menu featuring healthy, fresh dishes with vegetarian options. Cool salads with roasted chicken or shellfish share company with roasted vegetables and stir fries. Named for the biblical parable comparing the kingdom of God to the tiny seed that produces a large plant, the family operated eatery quickly expanded from its original eight tables, and owner Sal Parco has never looked back.
(843) 849-0050, dinewithsal.com