Middleton Place Restaurant
05 May 2017
The restaurant's menu echoes dishes eaten here centuries ago
By WENDY SWAT SNYDER
Photos by JAMES STEFIUK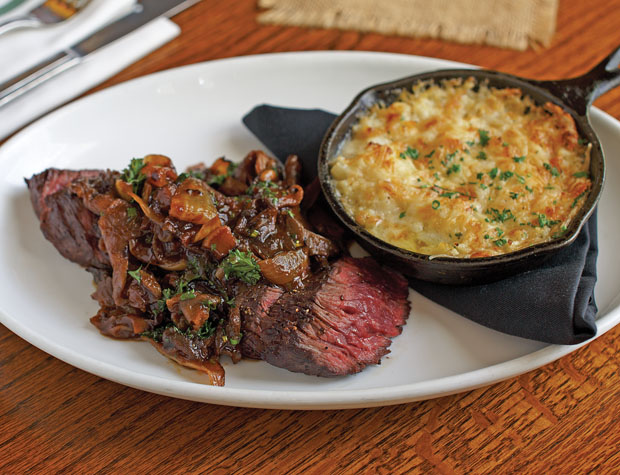 When Bravo TV's Top Chef brought its cameras to Charleston to shoot an entire season, it was exciting enough for all of the locals who love the show and the city's food scene. And when Middleton Place was chosen for an episode honoring Southern chef and James Beard Award-winning cookbook author Edna Lewis, long-overdue attention was focused on an amazing culinary legacy. While Middleton Place—a National Historic Landmark—is famous for its standing as America's oldest landscaped gardens, few know of Lewis' tenure there, and how she set the course for American farm-to-table, and the Middleton Place Restaurant.
Lauded for her elevated Southern dishes and innovative cookbooks that told the stories behind the food, Lewis had a long track record of success by the time she arrived at Middleton Place in 1985. She cooked the way she grew up eating in Freetown, Virginia, and parlayed that close-to-the-land approach into a thoughtful menu during her three years as Chef-in-Residence at the restaurant. Drawing on early receipts and records of Carolina plantation cuisine, she composed an historically accurate menu that reflected dishes the Middleton family might have eaten centuries ago.
Today, a menu showcasing authentic Lowcountry cuisine pays homage to Lewis's contributions. The restaurant also aligns with the Middleton Place mission of preservation and education for the benefit of all who come to visit the antebellum farm. The property has remained under the same family stewardship for some 320 years, and sharing its history is a major focus.
Walking the sprawling grounds overlooking the Ashley River, it's not difficult to picture Middleton Place as the 18th century farm it once was, producing lucrative cash crops, such as Carolina Gold rice. Venerable buildings, stables and a barnyard have been preserved in their original form. Nearby, vegetables thrive in a small kitchen garden replicating farm-to-table sourcing in its earliest iteration.
"We grow the crops that would have been grown here originally," explains Executive Chef and Food and Beverage Director Chris Lukic. "Turnips, collards, radishes, lettuces. We planted red corn here last summer—we pick it, we use it, and change the menu to access what we grow here as much as possible."
A larger-production, almost an acre plot on the property rotates organic crops through the seasons to supply the bulk of the kitchen's needs, and also serves as an educational resource for local students pursuing farming and culinary careers.
"We're trying to build a community for local products," notes Garden Manager Josh Adams. "We want visitors to come and learn about what we're doing, how much better the food tastes." Toward that end, Middleton Plantation has partnered with several source-local proponents including Lowcountry Local First, GrowFood Carolina, Culinary Institute of Charleston, the South Carolina Aquarium Good Catch, and Slow Food.
Depending on the time of year, cherry tomatoes, melons, patty pan squash, cucumbers, pole beans turnips and radishes in a rainbow of colors go from stalk to fork, supplying the fresh-picked flavors that Lewis always insisted on.
"Josh and I sit down and talk about what I'd like for the upcoming season," says Lukic, a graduate of New York City's French Culinary Institute, and whose credentials include stints at Rick Moonen's RM Seafood and with Wolfgang Puck in Los Angeles. "A lot of people say they're bringing you farm-to-table. For us, it's a 200-yard walk," he adds with a laugh.
Southern roots and his fine-dining experience direct the Florida native's cooking approach, combining with the straight forward style he favors to prepare "four or five components, all done well."
The quaint brick building housing the restaurant was designed by W. Bancel LaFarge in 1933, based on research done in Barbados, and was originally used as a guest house. The re-imagined dining room exudes simple elegance with white-clothed tables and walls of windows that bring the outside in with stunning views of the Mill Pond and Azalea Hillside.
Lukic and his team pay tribute to Lewis with several items showcased in the lunch menu, among them
Carolina catfish stew, pan-fried Manchester Farms quail, and greens and cornmeal dumplings.
The dinner menu offers her original shrimp and grits dish served over Anson Mills grits smothered in a gravy made all the richer with shrimp paste. Other signature dishes include the super-moist chicken that's been brined for two or three days, dredged in flour and deep fried.
Tender, pan roasted duck breast is cooked perfectly and served atop a sweet potato and sorghum purée garnished with bacon lardons—beautifully contrasting the sweet meat with salty bits of pork. Atlantic scallops are expertly charred and cooked to melt-in-your-mouth perfection. A toothsome barley berry accompaniment completes this satisfying dish.
On the lighter side, a delicate rendition of she crab soup allows the sweet Carolina blue crab to shine –the perfect balance of cream, crustacean and sherry.
Plucked from the waters of the A.C.E. Basin, earthy sweetgrass mussels from St. Jude Farms are a unique local alternative to the standard shellfish and wine broth preparations.
A hearty spin on Caesar salad combines the delightful bite of thinly shaved Brussels sprouts and spicy arugula in a piquant dressing sprinkled with salty parmesan.
Southern-inspired dishes, such as pecan pie whipped up with South Carolina nuts and the caramel-laced Charleston delicacy known as Huguenot torte, lead the dessert menu offerings. Wine pairing suggestions, such as Ferreira Tawny Port and La Fleur D'or Sauternes, respectively, enhance these final sweet bites.
Another fortunate wine pairing at this venerable institution occurs during the Garden Strolls and Wine Tastings event, ushering in springtime as the season paints the hillsides and pathways of Middleton Place with a blaze of vivid color. From mid-March through May 31, wine enthusiasts sample wines from different regions around the globe while enjoying the beauty of America's oldest landscaped gardens. Thanks to the stewardship of Middleton descendent Charles Duell and his foundation, it's a walk back through history we are fortunate to take, anytime.
Middleton Place Restaurant
4300 Ashley River Rd., Charleston
843-266-7477
middletonplace.org