Movie and Music Reviews: Maleficent
18 Sep 2014
Starring Angelina Jolie, Elle Fanning, and Sharlto Copley; Directed by Robert Stromberg; PG
By Denise K. James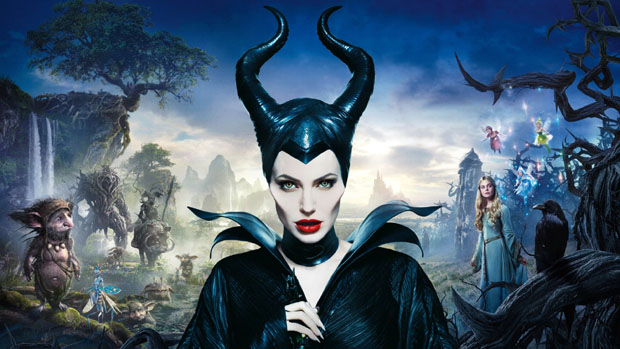 There's an old saying that three sides exist to every story ― one person's perspective, the other person's, and, of course, the truth. Whether we are getting the truth or simply the "other side" of the Sleeping Beauty tale in its fascinating retelling, Maleficent, is not easy to say. But whichever version you tend to believe, this film, directed by Robert Stromberg and starring Angelina Jolie at her finest, is sure to delight both old school and new viewers.
When I first settled into my uncomfortable theater seat and started watching, I had already identified myself as a staunchly old school fan of the classic Disney cartoon. It has always been one of my favorites, and I watched it dozens of times as a kid. And frankly, I wasn't ready to give that up. I wasn't sure I wanted to believe that one of the fiercest villains in cartoon history could have a legitimate reason she became that way. After all, childhood villains aren't supposed to be angry adults who were betrayed as youngsters and hardened themselves against the world. They should possess the supernatural kind of evil, right? That is, the kind of evil with no source.
But Maleficent has a source for her evil, and, over the course of this film, audiences will likely come to empathize with it. Perhaps, on some level, this could be viewed as dangerous. Are we to start viewing all evil acts as justified? I found myself feeling a myriad of emotions watching the bizarre retelling of this story ― everything from anger (on Maleficent's behalf!) to shock, sadness, compassion and relief. Honestly, this is the Sleeping Beauty story for grown-ups. I know for a fact I didn't feel anything this deeply while sitting on my mother's shag carpet in the 1980s, watching the old tape in the VCR.
But don't get me wrong: The kids are going to like this, too. Modern animation in all its wild wonder keeps both children and their parents reeling at each scene. There's conflict and suspense aplenty, not to mention absolutely nothing dirty in the whole movie, not even one toilet joke. That alone makes it perfect for a family flick night.
And, if you're lucky, your fellow viewers might want to discuss the meaning of Maleficent afterwards, as mine did. We all agreed that this retelling is a breath of fresh air; it relies less on old ideas about love and family and affirms that, yes, life is quite complicated. And sometimes there's more to a story than you originally thought. We never gave poor Maleficent the benefit of the doubt long enough to consider that she deserves it. Finally, she's getting it. Which is fine with me.
Lazaretto
Jack White
OK, all I had to say was Jack White, right? And you put on your dancing/running/tap dancing shoes and got ready to rock out. The title track, Lazaretto, is an energetic single that bodes well for the Ipod or wherever you keep music for feeling awake. True, these aren't the tunes that you pipe in for a quiet night of relaxing at home ― but when did anyone ever mistake Jack White for that type?
Fuego
Phish
Ah, Phish. I hear those guitar strums and I'm instantaneously transported back to that hard dorm sofa, wiggling to instrumental bliss. You too, can feel that bliss with Fuego, the band's first studio album in five years. The title track brings back everything you ever loved about Phish and then some. Also worth a listen is the track Waiting All Night. Some say the album is reminiscent of Phish's earlier work. So, if you were a fan back in the day, get ready to listen.