Natural Grain
04 Mar 2016
Born again Heartwoods transforms lost wood into exquisite art
By JASON A. ZWIKER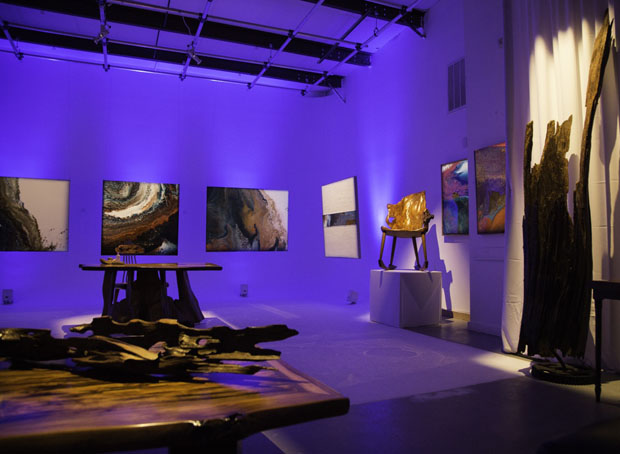 There was a time when the bottomland forests of the southeastern United States were vast and dense. Saplings fought to find the sunlight, shedding lower limbs to break through the canopy. The trees that made it were changed by the experience, made incredibly strong.
Precious few remnants of that bygone era can still be found, and those that can are mostly preserved at the bottom of rivers; way down deep where the currents run strong and the only light is the light you bring with you.
When artist and craftsman Bill Long runs his hand along the edge of virgin cypress recovered from the bottom of a Lowcountry river, there's reverence in his touch. "You can hardly count the rings," he says. "There's no comparison. This kind of strength and beauty has been lost due to modern cultivation." Nearly all of the old growth was swept away in the years between the Civil War and World War I, as forests were clear-cut in a massive wave of industrialization.
Together with Justin Herrington, Long creates objects of extraordinary beauty from these prized old growth sinker logs, recovered from rivers such as the Edisto and Santee. A 16-foot dining room table they crafted from live edge pecky cypress with black walnut inlays recently found a home in a North Carolina hunting lodge. Another one-of-a-kind table is destined for Hallie Hall animal sanctuary in Hollywood, SC. Their workshop abounds with works-in-progress: tables, benches, platters and bowls turned from rare burls, and assorted objets d'art.
These works are highly prized by collectors. For the last several years, they've shown at Southeastern Wildlife Expo and are represented by Rebekah Jacob Gallery.
The story of how it all comes together is amazing in and of itself.
"Before there were trucks or trains, logs were floated downriver from the mills," Herrington explains. "On most of the logs we pull up, you can still find the peg hole where they were lashed together." Just knowing where to start looking means digging through history; the old books, maps, and ledgers that tell the tale of where the mills stood and what paths the logs traveled. After that, Herrington's years of experience as a diver come into play.
The bottom of a Lowcountry river is not a place for the unprepared. "It's not like diving in open water," Herrington says. "The currents are powerful, it's dark, and when something snags you, you have to know how to remain calm, read the situation, and untangle yourself. If you don't stay calm, things can get very bad, very fast."
Once the wood is on land and properly dried - something that can take months to years, depending on thickness - the art begins.
There's a natural poetry in the work that Long and Herrington do. The wood itself drives the design; they don't force a shape upon it. They prefer to leave the natural edge as found. The tops of the tables they craft are smooth as silk; gorgeously finished displays of the art inherent in the grain of the wood.
For Long, the restoration of antique furniture has been the work of a lifetime. Well versed in the techniques of the great English masters – Chippendale, Hepplewhite, and Sheraton – and influenced by 20th-century sculptor-craftsman George Nakashima, Long is one of those who can tell at a glance the likely time and place in which a piece of furniture was made and, should it be in disrepair, he knows the proper techniques for putting it right.
His exquisite craftsmanship and artistry are delivered with humble whimsy. "A split in the wood just means we can stamp a butterfly on it," he says. What he jokingly refers to as 'stamping a butterfly', of course, is an expertly set hardwood inlay, perhaps of walnut or rare Santo Domingo mahogany, that seamlessly joins a natural flaw in the wood and transforms it into high art.
That's because they don't see flaws when they look at this rare wood. They see history, swept clean by 200 years in the river, silky smooth, marked with patterns that make each finished piece unique. And they simply allow that history to tell its own tale. bornagainheartwoods.com