Old Village Post House Inn
06 Mar 2017
By WENDY SWAT SNYDER » Photos by JAMES STEFIUK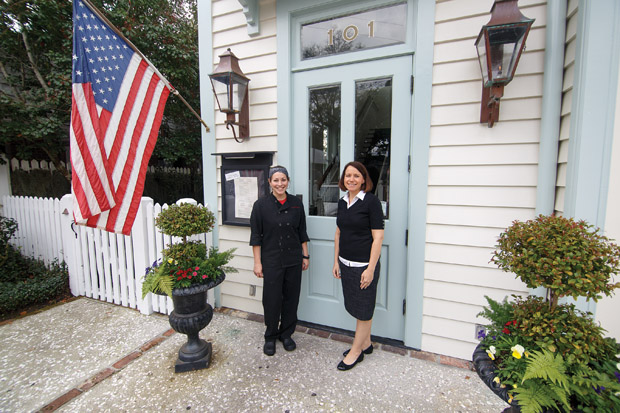 Venturing off the beaten path into the Old Village is always a pleasure. Quaint shops and vintage homes—many dating back to colonial days—transport you back in time. On this particular evening, we were there for dinner at Old Village Post House Inn. The final pieces of a six-month long renovation of the inn and restaurant had fallen into place, a new chef was leading the kitchen, and co-owner Jeanne Hall stood in the foyer, welcoming us with a generous smile and handshake. The Halls Chophouse brand of warm hospitality—now part of the local landscape—brings new personality and panache to the Town of Mount Pleasant.
The Hall family of restaurateurs—Bill and Jeanne, and sons Tommy and Billy—made their mark in Charleston's King Street dining district with the opening of Halls Chophouse in 2009. Bill Hall, a hospitality industry veteran, began his career in the hotel business spending over four decades managing properties in locations such as Washington D.C., California, Texas, Georgia, North Carolina, and South Carolina.
"When Old Village Post House came on the market, we were very excited," recalls Jeanne. "We had always thought it would be great to have a small bed and breakfast, but Bill had wanted to start with a restaurant so we opened Halls first." The couple realized their dream of owning "a little place with an attached restaurant" with the 2015 acquisition of Maverick Southern Kitchen's entire restaurant portfolio.
The Halls embarked on an extensive renovation of the historic 1888 property, enlisting designer Mary Mac Wilson of Reggie Gibson Architects to help execute their vision of a warm, inviting venue for dining, lodging and special events. The six guest rooms were freshened with new paint, poster beds, bathrooms and period décor—each with its own distinctive style. Original hardwood floors throughout the property were sanded and re-stained, and the building's clapboard exterior received a fresh coat of paint as well.
The restaurant exudes a warm ambiance with a blend of clean lines and classic details. Southern landscapes painted by artist C. Ford Riley dominate the walls. A palate of creamy whites and deep blues work with new lighting to brighten the main dining room and achieve a nautical flair. A wall of windows with cottage-y shutters allow in just the right amount of light. Inviting round tables replaced booths for a more sociable setting and rustic rope chandeliers reinforce the dockside vibe. That vibe flows through main floor hallways and into the popular tavern which was also refreshed with a yacht-club theme and lush new seating.
Pristine white-cloths, candlelight and a bud vase set the tone for the dinner table. The menu is an agreeable blend of seafood and steaks, featuring several Lowcountry classics and prime beef from Allen Brothers of Chicago. Starters include Charleston crab soup and onion soup—a steakhouse classic. Broiled ACE blade oysters from St. Jude Farms are briny bites of heaven topped with a Parmesan and herbed crust. A beautiful presentation of razor-thin beef carpaccio shines in a tangy green peppercorn dressing and a subtle touch of black truffle vinaigrette.
The menu is seasonal, with the kitchen sourcing locally as much as possible from purveyors such as Limehouse Produce and GrowFood Carolina—a consortium of small South Carolina farmers. The tavern greens salad showcases ultra-fresh baby lettuces lightly tossed with gorgonzola, cherries, candied pecans and a pomegranate vinaigrette.
Executive chef Antonia Krenza says she follows the "less is more" philosophy in her approach to cooking. She grew up in a large Italian family centered around eating, and describes her style as Mediterranean.
"I'm very conscious about how we eat," she says, adding that the dishes she's prepares are not overloaded with butters and other saturated fats.
A native New Yorker, Krenza spent her teenage years in Birmingham, Alabama, where she cultivated a strong appreciation of Southern foodways. She received a culinary diploma from Birmingham's Culinard, and honed her skills at Halls Chophouse working in various capacities, "heading up banquets, off-site catering, a little bit of everything," before moving up to the executive position.
"I'm very excited to come to Old Village Post House Inn. There's unlimited creativity here—it's such a beautiful setting, the energy is so good, and we work with local farmers," she notes, which ensures that ingredients are top quality, such as the Brussels sprouts that are delivered fresh daily.
We sampled them presented in a not-your-normal vegetable plate with a delicate creamed corn. The sprouts were cooked to a perfect "al dente," simply seasoned and plated with a touch of local Bee City honey.
We also sampled the special of the day: a beautifully seared grouper afloat in a crawfish and
shrimp etouffée, accompanied by a toothsome Carolina Gold rice pirlou. The dish showcased Krenza's Cajun-Creole influences—Birmingham style.
"We made some changes, collaboratively, to the existing menu," she notes, "and you have your own vision, as well. The community has welcomed the new items—and the menu remains very seafood driven."
Classic desserts include a decadent white chocolate crème brulee piled high with blueberries and blackberries—a refreshing mix of velvety richness and sweet-tart fruitiness. Ms. Jane's cheesecake is densely textured and topped with a raspberry lemon sauce and a dollop of Chantilly cream.
New general manager Margaret Robey assures that the restaurant's wine dinners—an Old Village mainstay—will continue as usual. The 2017 series kicks off in March and runs through October. Robey had been hosting at Slightly North of Broad when she was tapped to join the Mount Pleasant team last October.
"Margaret is great," says Jeanne. "She always told Bill if you ever do a hotel I want to be involved." Robey oversees the operations of both the restaurant and inn.
Folks "get happy" in the restaurant's lively tavern and adjacent courtyard Monday through Friday from 4:00 p.m. to 6:00 p.m. Featured items include draft beer, house wines and specialty cocktails, as well as light appetizers and the Post House cheeseburger.
Vice president of restaurant operations Joe Meloy says, "We want to become a premiere destination in Mount Pleasant." Old Village Post House is well on its way.
Old Village Post house Inn
101 Pitt St, Mt. Pleasant
843-284-7070
oldvillageposthouseinn.com