On their own terms
02 Nov 2021
Charleston's Young Life fosters independent leaders
by Pamela Jouan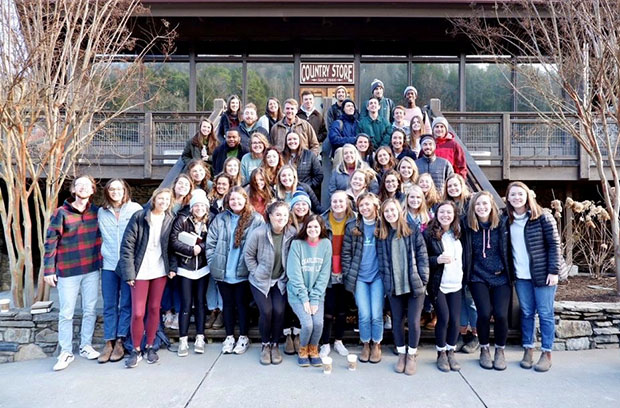 There is no membership. There are no mandatory meetings. Leaders of this special group realize today's youth is pulled in many directions due to educational, social, and athletic obligations. Their goal is simply to reach out, build relationships with kids and model positive behavior.
Part of a national non-profit headquartered in Colorado Springs, Young Life's Charleston chapter took shape about 25 years ago. Today, they have a staff of six, 75 volunteer leaders, and local outreach in eleven high schools and four middle schools, as well as a presence at The College of Charleston, The Citadel and Charleston Southern University.
Young Life has dedicated teams that go into high schools with the sole purpose of building relationships with students, sharing value and deepening their relationships with Jesus. Leaders might coach a sport, become a hallway monitor or help out during lunch. Sometimes parents initiate a need for ministry at a certain school by inquiring about it.
Reagan Carter, metro administrator for Young Life Charleston, pointed to Hanahan Middle School as a prime example of organic growth in the youth community.
"Once there is interest, we get leaders in place and go from there," she said.
Call them missionaries in disguise, Young Life leaders simply want to connect, and the best way to do that is by being a part of the community they want to reach.
Often, the youth become empowered to take on initiatives on their own.
A subset ministry called Young Lives serves teen moms, while the new Young Life Capernaum fosters relationships among kids with special needs.
Young Life Capernaum took off earlier this year when a group of five young men participated in "5 Bikes +1 Country," an ambitious bike ride across America in summer 2021 to raise funds for the new program.
They cycled 100 miles a day for 44 days straight, following the TransAmerica Bicycle Trail from Astoria, Oregon to Yorktown, Virginia. It was no easy task and they relied heavily on their own relationships with God to give them the strength to persevere.
Their fundraising efforts raised over $11,000 that helped jump-start the ministry that works with special needs youth. There are already three additional fundraising events planned for this semester.
Carter was impressed by their creativity, as well as their determination.
"All five have been involved in Young Life at some point in their lives and continue to have a heart for serving. This was their way of creating awareness for a particular need in the Charleston area," she said.
Reaching area youth
At Young Life, the goal is simply to reach out, build relationships with kids and model behavior. As metro director Neil Gardner explained: "We try to show up and be faithful, and out of that, God helps us connect the dots and allows us to engage in real conversations."
When they do meet as a group, the format is determined by those present: bible study for the believers and a broader-themed conversation for a wider variety of youth.
Fostering relationships in a time of social media is not easy. Gardner noted that it seems as if today's high school kids have forgotten how to make new friends. He's the team leader at Wando High School in Mt. Pleasant.
"Friend circles diminish as kids get older, but you can tell they still crave that interaction," Gardner said. After all, that's what makes us human. Enter Young Life leaders who facilitate those conversations. The goal is always to introduce kids to Jesus Christ and help them grow in their faith. The means are not always conventional.
Gardner reminisced about a basketball game he watched at Wando where a talented player caught his eye. Gardner met that athlete and they connected over a conversation about that very game, which promoted the athlete to learn about Young Life.
"The youth ended up coming to some meetings and sharing hardships from his past that made him question God's existence. He kept coming around to meetings and this past summer announced he was ready to trust and begin a relationship with God. He soon began modeling leadership behavior to other high school kids," Gardner said. "It's all because I happened to be at a basketball game that gave me the opportunity to start a conversation."
Impressions can run deep, and Young Life has affected the lives of many in Charleston, teaching values and engaging directly with the young community, empowering them to be the best versions of themselves and make a difference.
To learn more about Young Life Charleston, visit www.charleston.younglife.org.