One-Stop Dentistry
29 Nov 2013
New innovations allow patients to have a much more pleasant and relaxed dental experience
By NIKE KERN » Photos by ASHLEY WALKER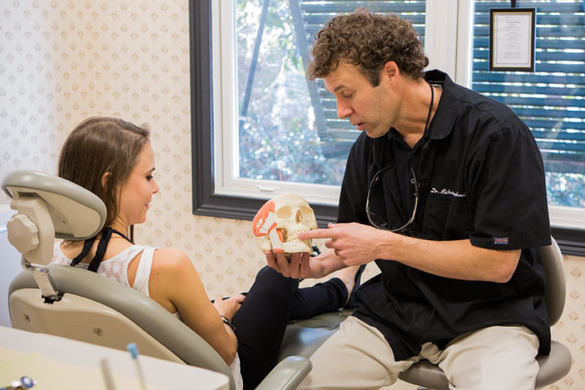 In today's ever-changing world of healthcare, boutique dental practices are a new trend where the patient is royalty and the staff are trained to exceed all expectations associated with the professional services— from initial contact on the phone, to consultation, services rendered and ultimately, follow-up. At Pleasant Family Dentistry in Mt. Pleasant, this customer service model is not only being utilized but is a template for how dentistry can be as painless and enjoyable as possible. Patients can expect the red carpet treatment here, even on Saturdays.
"We are one of a very few dental offices in the tri-county area that offers extended business hours, with late evening appointments and Saturday services," explains Richard J. Jackowski, DDS, one of three, full-time dental professionals residing at the practice. "Our patients and their needs always come first."
Patient perks begin right away, as new patients are given a welcome gift upon arrival, and greeted by a staff that's welcoming and friendly. The office atmosphere is relaxing and warm where even a spa-like bathroom retreat exudes calm. Patient appreciation days are the norm where more treats and fun giveaways such as iPads and flowers, are all part of giving back to valued patients.
Always on top of technological advances, Pleasant Family Dentistry prides itself in offering one of the area's most technologically savvy practices. With an in-house lab, digital x-rays and CEREC crown technology, a system that allows crowns to be completed in one visit, and, DIAGONdent, a painless laser detection procedure that examines under the tooth's surface, the practice remains committed to offering the most advanced dental care available today.
New to the practice is Robert V. Carimi, DDS, a seasoned dentist offering the newly sought after 'sedation dentistry.' A lot of people are so phobic about going to the dentist, that they prefer not to have any treatment. Sedation dentistry uses medication to help patients relax during dental procedures, and can be used for everything from simple teeth cleaning to invasive procedures.
"It's important for a practice to offer a full service approach to patient care," says Carimi. "We want our patients to know that they can rely on us for everything, from routine cleanings and bleachings, to even more complicated procedures such as root canals, veneers or even implants. Our goal is one-stop dentistry offering a lifetime of dental care within one practice."
Voted Best of Mt. Pleasant more than once, this practice knows where they stand with its clientele. Patients are asked to review their experience from start-to-finish on an automated email feedback system. Staff members examine the comments daily to make sure they are exceeding their goals of excellent dental care with customer service at the forefront.
"In striving for excellence, the only way we know if we're achieving our goals is to hear directly from our patients," says Carimi. "It's a win-win for everyone involved―patient, staff and dentist."
This month the customer satisfaction percentage is in the 98.8 range, indicating that a patient would happily refer a friend or family member to the practice.
Each August, the dental practice sponsors a "Day of Smiles," where services are complimentary and cleanings, fillings and extractions are available. This year the practice performed more than $21,000 of dental work in one day for those unable to afford the services.
"We are honored to be able to give back to the community in such a way," says Gregory Johnson, DDS. "It's our way of saying 'thanks' for being so good to us."
Pleasant Family Dentistry can also be seen in the community volunteering and contributing to a number of worthy causes. Over the past 20 years, the practice has been big on philanthropic giving, having contributed close to $100,000 into the tri-county area. You will also find staff members at community health fairs where they teach good dental hygiene, beginning with that first tooth and moving throughout one's lifetime.
The red carpet awaits you at Pleasant Family Dentistry. A warm welcome will greet you, top professionals will treat your dental needs, and you will find there is no need to ever worry about going to the dentist again. 843-881-8881, pleasantfamilydentistry.com