Bambu Asian Bistro
29 Nov 2013
Aesthetically beautiful, delicious, and flavorful
By WENDY SWAT SNYDER » Photos by ASHLEY WALKER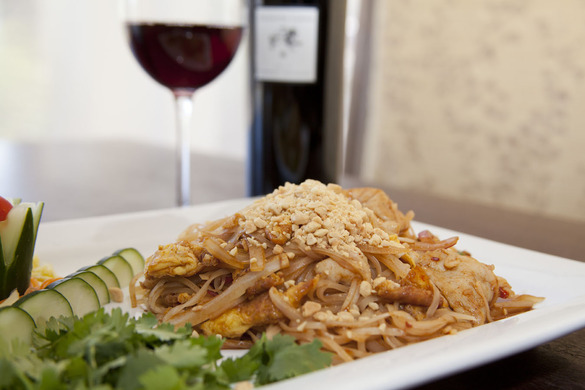 Cooler fall days and mild Lowcountry winters turn restaurants with outdoor seating into hot commodities. With a huge patio that runs the length of the eatery and a live music scene rolling out Thursday happy hour twice monthly, Bambu Asian Bistro is poised for a happy reincarnation.
New owner Jerry Lin acquired the Mount Pleasant restaurant earlier this year with a vision to transform the property into a must-go culinary destination. One change already made is the restaurant is now open for lunch, where it was dinner only service before.
"I looked at the location," recalls Lin, "and thought: it's good—I think I can improve the restaurant."
His ambitious project is two-pronged, focused on ramping up the lively vibe outside on the patio, and reviving the interior spaces with a major renovation in 2014.
Noting the scarcity of Asian establishments East of the Cooper, Lin says his team hopes to bring an authentic Japanese dining experience to the area.
"We are planning a new approach," says Lin, whose family emigrated from China to the United States when he was a teenager. "We want to expand the sushi bar—make it wider, larger, and remodel the booths in the 'tamari' style."
The re-imagined dining room will feature the traditional lower-to-the-floor table and the custom of removing footwear typical of the Japanese culture—a new experience indeed for many local diners.
"We hope this approach and a more diverse menu will make the restaurant stand out," says Lin.
Lin's culinary journey began at the age of 15, washing dishes at a Japanese restaurant in Long Island, New York. He says he worked his way up, cutting vegetables, busing tables, serving, and bartending.
"Mt. Fugi—I worked there several years," notes Lin, adding that he learned to cook there under the executive chef who had been with the traditional Japanese restaurant for thirty years. He also met his wife, Sabrina, there, who worked at the eatery as well.
When Lin's parents-in-law relocated to Charleston with plans to open an Asian restaurant, they called on the couple for help. "We helped them open Tokyo Bistro," notes Lin. "Sabrina does a little of everything—serving, bartending. We worked for them for two years and then started looking for our own business. I knew I wanted a restaurant of my own, and looked throughout the area. Finally we found Bambu."
Bambu general manager Joseph Wade, whose experience in the hospitality industry includes a stint at O-ku in downtown Charleston, says front-of-house plans are underway to upgrade the customer experience by improving the standard of service, focusing on attention to detail, and more personable, engaged service.
The back-of-house is now ruled by a staff of experts Lin brought to Charleston from New York City. "They have a lot of experience, and all of them were trained by traditional Japanese masters." He explains the distinctions among the classically trained chefs: the sushi-trained chef focuses on the preparation of dishes at the sushi bar. The kitchen-trained chef specializes in dishes from the kitchen.
"We changed most of the kitchen menu," he continues, "to reflect the many different styles of Asian cuisine. We added Thai curry, teriyaki, tempura, chicken katsu, fried rice...we'll continue to add dishes in response to customer feedback."
The sushi bar dominates the menu with a list of myriad rolls, sashimi, and nigiri. Appetizers include a squid salad, baby octopus, yellowtail jalapeno, and tuna or beef tataki. From the list of entrees: chef's signature rolls include a striped dragon roll with spicy tuna, kani, cucumber, topped with smoked salmon, shrimp, eel, and avocado. The beautifully presented sayonara roll combines creamy and crunchy in a satisfying experience consisting of tempura shrimp, cream cheese, and tempura flake, topped with tuna and avocado.
"We support local purveyors, and use as much local fish as we can get. Our emphasis is on great, fresh product and consistency."
Bambu's culturally well-rounded kitchen menu is a boon for guests, offering non-sushi options such as the beef Bambu bowl featuring sliced rib eye with ginger soy over rice. Yaki udon combines chicken, shrimp, and vegetable stir-fried noodles. Shoyu ramen showcases Japanese egg noodles in a soy base broth with sprouts, spinach, fish cake, and shrimp. A red curry of vegetables bathed in a delicately spiced sauce. The curry is available in a vegan preparation, as are several other main dishes.
The tempura green bean appetizer is plant-based as well, lightly battered and deep fried to crispy perfection, and served with a spicy mayo.
The appetizer "Six Dumplings" showcases a trio of a trio of fillings—two pork, two shrimp, and two vegetables—stuffed into crescents and finished three ways.
Plump Asian doughnuts are deep fried a golden brown and rolled in cinnamon-y sugar. Accompanied by a buttery sauce, they supply a just-right sweet touch to the meal's end.
Bambu's popular "happy hour" runs from 4:00 p.m. to 7:00 p.m. daily, from Monday through Sunday.
Drink specials include $1 Budweiser Light, $2 for other domestic bottles, and $2 Yuengling on tap. Wines by the glass are discounted $3, and hot sake is half-price. Appetizers are half-price as well, and select sushi dishes are available at two for $10.
The spacious, remodeled patio is available for parties and special events, and the restaurant's central location on Coleman Boulevard make it a convenient-to-access venue.
"We're striving to make dining at our restaurant the most authentic experience in town, so our customers come to Bambu when they want Asian food," says Lin, adding, "and we want them to feel like they're at home."
Bambu Asian Bistro
604 Coleman Blvd., Mt Pleasant
(843) 284-8229
bambuasiansushi.com