Opal Restaurant & Bar
05 Mar 2022
Downtown Élan in the heart of Mt. Pleasant
By Wendy Swat Snyder
Photos by Aleece Sophia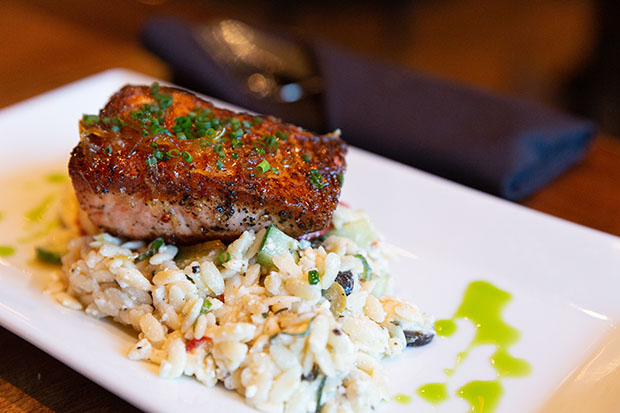 Sophisticated. Vibrant. Innovative. All the characteristics you associate with an upscale downtown eatery are on full display across the river from Charleston in Seaside Farms. Serving residents East of the Cooper and beyond, Opal Restaurant & Bar wows with a seasonal Mediterranean menu, an international charcuterie program and a strong wine list of Old and New World sips
A sister-restaurant of Langdon's (Mount Pleasant's only AAA Four Diamond restaurant), Opal delivers a neighborhood dining experience that is both refined and warm with hospitality.
Opened by executive chef/ owner Patrick Owens in 2011, Opal was the second of three properties in the still-growing Owens Dining Group. Owens went on to develop the Wood & Grain concept, his inspiration to build a casual gathering place centered around open hearth cooking, offering smoke-kissed pizzas crafted by hand and sophisticated seafood dishes. On the horizon is Tierra al Mar, featuring elevated Latin American cuisine created with ingredients sourced from Mexico.
A step inside the Opal entryway reveals a clean, open aesthetic with an urban industrial vibe and a showstopping wall of pale brick Owens says was inspired by the natural stone masonry of Tuscany.
The foyer separates the main dining room from a more intimate area anchored by a long, sleek bar and additional seating. Soaring ceilings provide plenty of space for tall windows, lots of light and several stunning seascapes by local artist John Duckworth. Warm wood beams and lemony walls contrast with edgy black banquettes. The overall effect: contemporary and chic.
And diners love it.
Like most restaurants in the country, Opal has had its share of COVID challenges. But consistency from the kitchen and staff—not to mention one of the best happy hours in town—have ensured steady patronage of a loyal group of locals. The eatery also benefits from its perch on the Isle of Palms connector, making it an easy hop for island residents and visitors year-round. Ten plus years in, with some fine tuning by chef de cuisine Ryan Camp, Opal is a neighborhood favorite.
"It took some time to figure out how to infuse flavor using only Italian and Mediterranean ingredients," says Camp. "It's much more difficult than Asian, for example. You have to extract as much as you can from every ingredient."
Camp says that one of the ways the kitchen amplifies flavor and authenticity is with specialty food product from an Italian importer of artisanal ingredients from around the world.
"We get two or three shipments a year from Manicaretti—anchovy extracts, fennel pollen that goes in our house made sausage and lemon oil that is amazing."
Camp grew up in the Lowcountry with a legacy of family restaurateurs—his grandmother opened a restaurant in Atlanta and her dad ran one as well. After college, he realized he, too, had a passion for hospitality and did stints at the Old Village Post House and Magnolias before joining the Owens group. He worked every station at Langdon's before being tapped to lead the Opal start-up team.
Camp says the initial concept for the restaurant was Italian and the Mediterranean component was added for an extra level of interest.
"I have always had an affinity for the food cultures of Calabria and northern Spain," he explains. "It's a natural choice with all the seafood you can get around here." Camp is also passionate about fishing and respecting the product by using every part to avoid waste.
An expansive charcuterie and cheese program that premiered with the restaurant was a hit, and remains so today. Richly flavored meats like smoked duck ham, speck from Italy and finochietta—a fennel spiced salami out of New York—share the board with more than a half dozen curated artisan cheeses.
Also on board since the beginning, a spicy shrimp bruschetta with chiles and garlic—a happy hour favorite—was inspired by a dish Owens discovered sailing from Florida to the Bahamas. My guest and I made quick work of it the evening we visited.
I grew up slurping down clams on Long Island, New York, so I was excited to sample the local Middle Neck clam dish—a dreamy bowl of mollusks in a broth lightly spiced by a sprinkling of house made Berkshire sausage, chiles, tomato and white wine—with reserved clam juice adding an extra kick of umami.
My guest and I fought over the housemade pappardelle, cooked perfectly al dente, with wild mushrooms—think cremini, shiitake, oyster, beech, porcini—from Mepkin Abbey, and a hint of black truffle. The kitchen sources greens and vegetables from Limehouse Produce. Most of its seafood comes from Lowcountry Shellfish.
Camp's sear technique—skin side down first, then a quick flip on the flesh side—produced an amazingly crispy exterior on the Long Island duck breast while remaining tender inside. A sauce of Limehouse blackberries, cooked down with red wine, balsamic vinegar, port and Maille mustard, sent the dish over the top. The accompanying succotash, flecked with bits of house made sausage, was the best I've ever had.
Scottish is the salmon of choice in Camp's kitchen. He says it's twice as expensive as other types, but the flavor and "amazing fat content" make it worth it. The evening's preparation of the fish featured a preserved lemon glaze with honey from Bee City Honey in Cottageville, served with a chilled savory salad of orzo, cucumbers, feta cheese and olives splashed with a zesty pepperonata vinaigrette.
Camp is thoughtful about the health aspects of his food.
"There are other ways to make an entree flavorful without overdoing the butter and cream," he contends.
We finished the evening with a delightful chocolate-Frangelico pot du crème—made in-house—topped with Bailey's whipped cream. A velvety, not-too-sweet treat that packed a real wow factor.
Opal embodies the philosophy that Camp and the entire Owens group stands behind. One that prioritizes attention to detail, consistency in creating top-notch food and relationships, from Lowcountry purveyors directly to the guests. They highlight important ingredients in a successful enterprise. No wonder Opal is a not-so-hidden neighborhood gem.
Opal Restaurant & Bar
Shoppes at Seaside Farms
1960 Riviera Dr. Suite C
Mt. Pleasant
843-654-9070; @opalmtpleasant