Game, Set, Match
05 Mar 2022
Tournament director welcomes fans back for 50th women's tennis event
By Holly Fisher
Photos by Charleston Tennis LLC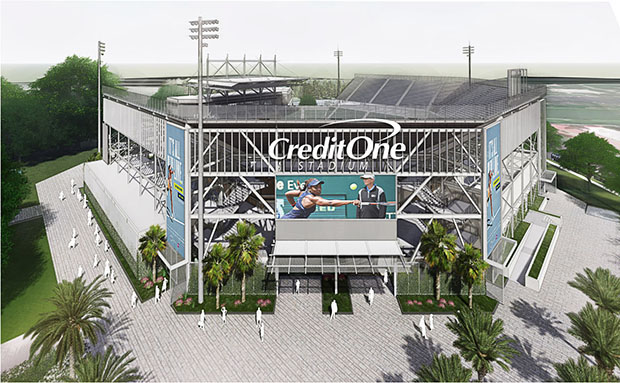 In March 2020, Bob Moran was sitting in a Daniel Island conference room watching stands and structures go up outside the window for the largest women's-only tennis tournament in North America. At that point, the then-named Volvo Car Open was just a few weeks away when news of a mysterious coronavirus started to make headlines.
In the blink of an eye, professional games were halted. The Miami Open, which leads up to the tournament on Daniel Island, was cancelled.
As the president of Charleston Tennis LLC, Moran was shocked. He and the team began to think about how they might move forward with players, but no fans. Then borders closed, and international players feared being stuck.
"It made it impossible to operate at all," he recalls. "It was a real shock to the system."
Moran huddled with Ben Navarro, owner of Charleston Tennis LLC, on a possible plan B. The result was the Credit One Bank Invitational, a summertime tournament with 16 players broadcast on the Tennis Channel. The event also raised money for Medical University of South Carolina's frontline health care workers.
In 2021, COVID-19 once again sent Moran and his team back to the drawing board. They created another made-for-TV tournament, but with a full field of more than 100 players.
The players appreciated the opportunity to take to the courts, but Moran said everyone missed the fans.
The 2022 event, slated for April 2-10, will be a welcome return to the tournament that players, fans and organizers know and love.
Unveiling a new stadium
Earlier this year, Charleston Tennis LLC announced its new partnership with Credit One Bank, now the title sponsor of the WTA 500 tennis tournament. The Credit One Stadium has also undergone major renovations and upgrades.
Moran says visitors "will be blown away as soon as they walk in the front gate." The renovations start with an enhanced front entrance with hedges, trees, walkways and a fountain and continues inside the stadium with expanded seating, new concessions and extensive space for players and performers.
Seating has expanded from 7,500 seats to 11,000, allowing the stadium to host larger special events, like concerts. Additional bathroom facilities were added.
Some pretty big musical names are already on the music docket for this spring and summer. On the heels of the tennis tournament, the Zac Brown Band will perform April 23. Also headed to the Credit One Stadium in May are Miranda Lambert and Little Big Town followed by Kenny Chesney and Phish playing two nights on May 31 and June 1. The Dave Matthews Band will headline two shows in June. Sheryl Crow is also headlining with Jason Isbell. And Thomas Rhett is on the schedule for a summer show. In August, The Black Keys and Band of Horses will take the stage.
The return of the fans
While tennis is certainly a big part of what goes on at the stadium, Moran says the team is really more about event management. He leads a small but mighty team of eight full-time staff who handle everything from ticketing and marketing to sales and operations for all the events and activities at the stadium – tennis tournaments large and small, festivals and music concerts.
The springtime showpiece is without a doubt the Credit One Charleston Open. Moran and his team are ready for what looks to be a record-setting year. By early February, ticket sales were already starting to outpace 2019, which was one of the tournament's best years.
Moran said the exposure on the Tennis Channel has bolstered ticket sales.
"For us, where we really saw a big leap is when we made the jump to the Tennis Channel," he says. "There were 23 million fans across the globe who tuned in to watch. We could bring the state, Charleston and Daniel Island to life. We could tell the stories of the players. And people were tuning in from across the country and seeing what a beautiful place Charleston is."
Now, those people are buying tickets, ready to watch some of the biggest names in women's tennis play in one of the country's most visited cities.
This year's field features many top 10 players, fan favorites and past champions. Simona Halep and Anett Kontaveit will be playing the tournament for the first time. Past champions Madison Keys, Sloane Stephens, Andrea Petkovic and Veronika Kudermetova are returning. The field also includes Grand Slam champions Garbiñe Muguruza, Simona Halep, Sloane Stephens and more.
Two decades of tennis
Moran has been with the organization for almost 22 years, serving as tournament director for the last 12. He started when it was the Family Circle Cup on Hilton Head Island and followed the tournament to Daniel Island. Key among his achievements is forging lasting relationships with the players and their coaches.
Moran personally picks up players from the airport, welcoming them to a city that often feels like home.
And for a few, Charleston really is home.
Moran's first year with the tournament, a 7-year-old Shelby Rogers was part of the ball crew. In 2010, she made her debut in the Volvo Car Open, returning to her hometown to play in the 2017 and 2019 tournaments. Emma Navarro—who grew up coming to the tournaments with her parents—has also played in the open.
Getting to watch up-and-coming players like Rogers and Navarro as well as tennis greats like Serena Williams and Maria Sharapova is exhilarating for the fans.
"For us, it's about the experience our fans have. They get to see those great moments," Moran says. "It's what we enjoy the most."
After a challenging two years, it seems only fitting the tournament will celebrate its 50th year in 2022. It's not a milestone Moran takes lightly.
"To celebrate 50 years of tennis is very special," Moran says. "Our team takes responsibility to make sure (the tournament) continues to grow and be one of the best events on the WTA tour. It's a big responsibility. This has been a shining event for a long time, and we want to continue to make it so."
BIO
Bob Moran
Credit One Charleston Open Tournament Director and president of Charleston Tennis LLC
Hometown: Walden, New York
Education: Bachelor's degree in sports management from Elon University
Hobbies: Golf, watching College of Charleston basketball and trying his hand at pickleball. He also spends as much time as possible with his girlfriend and her two kids.
The Credit One Charleston Open is set for April 2-10 in the newly renovated Credit One Stadium. For more information and tickets, visit www.creditonecharlestonopen.com.