Attending a Wedding In Style
20 Sep 2014
Summer is here and love is in the air! Now, what do I wear?
By Lisa Arnold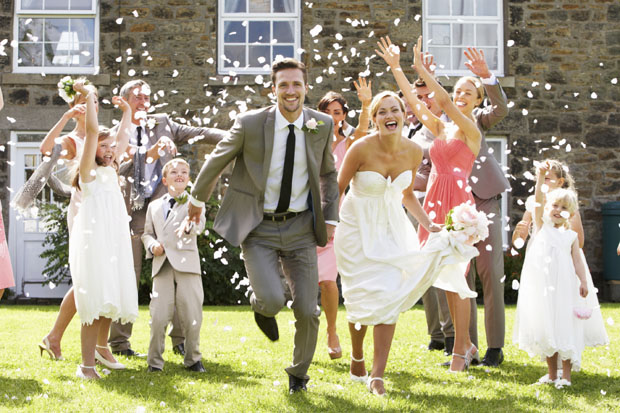 Most of us are excited about attending weddings but start to have anxiety when thinking about what to wear for that special occasion. The key is to balance respect for the occasion while wearing something spectacular. Charleston Living magazine has your guide to navigating another wedding season! Just remember to RSVP and we'll handle the rest.
Invitation
"I received an invitation to a wedding, but it does not specify a dress code. How I am supposed to dress?"
If it is not clearly specified on the invitation, deciphering the dress code can be a daunting task. Most invitations say a lot without, well, saying a lot. If the invitation is a formal engraved invitation with lots of tissue and reply cards, the event is black tie by implication even though it may not be stated. If the invitation specifies black tie, black tie optional, cocktail attire or casual, follow the request of the bride and groom. (See the Formal Fashion Dictionary below.)
Consider the crowd: Are the guests mostly friends from college, or family and friends of the family? If you speak to the bride or another female member of the bridal party, you can ask about the dress code specifically. (If you see the groom, don't ask him. Just trust me on this one.)
Nuptials
"I received an invitation to a Jewish wedding and I am not of the Jewish faith. I am unsure of what to expect at the ceremony and how I should dress. Please help!"
If you are attending the wedding ceremony itself and are unsure of any religious or cultural nuances, do some research beforehand or call someone who may know the traditions. A good guideline to follow is that if it is in a church, synagogue or mosque, modesty is a must. Cover bare shoulders with a wrap or jacket, which can be removed before the reception. This will help keep you more comfortable as most sanctuaries tend to be cool. Most weddings start right on time and sometimes a little early so be respectful of this if you are planning to attend the ceremony. Plan to arrive at least 20 minutes before the ceremony so that you can be seated without being hurried or causing stress. The bride does not want to see you in the hallway as the wedding processional lines up.
Season
"I received an invitation to a South Carolina wedding that will take place the last week of September. Can I wear a pastel colored floral print chiffon dress that I purchased over the summer? I realize that it is after Labor Day, but it is always so hot in September!
Seasonal fashion rules should be applied to weddings also. September, October, March and April tend to be daunting months in South Carolina to get dressed casually, let alone for formal affairs. The big thing to remember here is to carefully choose a combination of fabrics and colors that don't scream summer or winter. A sleeveless black, navy or gray dress in a breathable fabric would probably be your best choice. Carry your dress into the proper season by changing accessories.
Time
"I received an invitation to a 2 p.m. wedding. I've never attended a wedding at this time of day. Can I wear the same cocktail dress that I wore to an evening wedding last week?"
Although suits and dresses are both appropriate for daytime weddings, save the shine, beads and sequins for evening affairs. Afternoon weddings tend to be either semi-formal and conservative in nature or casual by time association. There is, of course, the rare high noon wedding. When you get the invite for that one, call me!
You
"My boyfriend received a wedding invitation from an old college friend that I haven't even met, but he asked me to come as his date. I asked my boyfriend what the dress code was and he said, 'Wear something sexy!' Please help."
The bride and groom will be happy that you have chosen to share their special day with them, and they will be pleased to see your boyfriend looking dapper while dancing the night away. Just remember that, well, they don't want to see quite that much of you or your date. A little décolletage or leg is great; just don't let it all hang out, if you know what I mean. Modesty is key for the ladies. As far as the gents are concerned, conformity is not only expected, it is required. If you have a question about what is too sexy, don't ask your boyfriend while trying on a dress as donning a bikini would be fine with most men. Instead, ask a trusted friend or a knowledgeable sales associate.
Location
"I just received a wedding invitation from a friend in Charleston who is getting married in July on the beach. She's having her reception at the adjacent hotel, and I was told that wedding is formal. Am I supposed to wear a full-length gown and heels still?"
The location of a wedding has a huge impact on the dress for a wedding, geographically speaking. This includes the site for both the ceremony and the reception. If that same wedding were being held at a church downtown and the reception at Charleston Place, the dress would be very different. Let me ask you this: "Do you think that the bride and groom want you sitting, shvitzing (sweating) and likely swearing?" No. The wedding party expects you and your date to be appropriately dressed for the occasion but they also want you to have a wonderful time, which you won't be doing if you are not dressed comfortably. A breezy maxi dress or knee-length chiffon dress fit the bill perfectly. I bet that you could even find a pair of jeweled flats or sandals to wear on the beach and swap them out for some high-heeled sandals for the reception.
Etiquette
"My grandmother always told me that it is inappropriate to wear white, black or red to a wedding. Are these fashion etiquette rules still applicable today?"
White is never right (unless you are the bride). This is the bride's day and you don't want to be the one to set bridezilla off or she will have your tiara-less head, darling.
Black is back (as long as it doesn't look like an Angel of Death costume). If black were not appropriate at weddings, the marriage rate in New York would be cut in half immediately and the fashion designers would protest in the streets. Just lighten up a black dress by pairing it with colorful or colorless jewelry (clear crystal or better yet, diamonds), a wrap, shoes and a bag. Please, for the love of fashion, throw away your black stockings and buy a pair of flesh-tone hose or invest in a spray tan.
Red hot or maybe not. Red can be appropriate if the cut, length and fabric are right, but it could also be grossly inappropriate. Tread lightly here, as the look you are trying to achieve is discreet glamour.
Formal Fashion Dictionary
Black Tie
This invitation is implying that you and your date should look seriously sophisticated. There is a strong suggestion of a full-length gown. If you choose to wear a shorter dress make sure that it hits at the knee or below and that it is constructed of a more formal fabric, like taffeta, with a fuller skirt. Although many people will tell you that you don't have to wear full-length to black tie anymore, length should determine fabric. If you are wearing a full-length dress you can get away with a more casual cut and fabric (jersey), if you are wearing a shorter dress it must be constructed of a more formal fabric (taffeta, silk) and the cut needs to be more formal.
Black Tie Optional
These are truly the three most useless words ever printed on anything. It means: We would like you to dress in formal attire if it is not too much of an inconvenience. Please do the right thing and wear formal attire. See above.
Cocktail
This implies fun and colorful. Garment choices can range from elegant short dresses to swanky pantsuits. Feel free to use a little creativity here; just don't get too carried away.
Casual
Please do not show up in jeans or shorts unless the invitation says "backyard barbecue" and BYOBS (bring your own bug spray) at the bottom. Wear a maxi dress, trousers with a silk blouse or a cashmere sweater with an embellished skirt. Just look like you made an effort.
Accessories and makeup are your best friends when getting dressed for an evening affair. Nothing can modulate your look (or the look of a simple black sheath dress) faster or more inexpensively.
Accessorizing
Accessories can be used to make a look more or less formal (this also includes hair and makeup). Evening bags should be constructed of satin, silk, velvet, vintage lace or exotic skins. They can also be beaded or jewel-encrusted. Shoes should also be satin, silk, lace or jewel-encrusted. Leather shoes are inappropriate for dressy affairs with the exception of metallic or patent leather.
Hair and Makeup
Evening makeup is always so much fun to apply. I like smoky eyes (with pale lips) or red lips (with soft, neutral eyes). The key is for us to see your beautiful face, not for you to look like you are entering a beauty contest. For evening, try a little something different with your hair. If you have long locks, try an updo and if you have short or medium length hair, try some hot rollers a la Hollywood.
Gents Guide
Black Tie – Men must conform to the dress code by wearing a traditional black tuxedo. In summer months, a white dinner jacket with tuxedo pants, cummerbund and bow tie are fabulous. Get creative with your cuff links or pocket-square, but otherwise go for a traditional look. If you don't own a tux there are plenty of places to rent one. If you are over 30 and don't own a tux, you should consider investing in one.
Cocktail Attire – This requires a black or navy suit and a tie with the exception of a beach wedding in which you can opt for a lighter hue. Add your personal touch and have fun with a colorful shirt and tie.
Casual – Trousers, dress shirt and sport coat are the uniform tonight. You can be a little more creative with your color choices in this setting.
In my pocketbook....
When attending weddings and evening affairs, I always carry the following items: my driver's license, $20 cash, Hollywood Fashion Tape, lipstick, Q-tips, blotting paper, one safety pin, breath mints and a beautiful handkerchief. This covers most crises with ease.
A final thought...
Turn off your cell phone, or better yet, leave it in the car.
Photos last forever (especially wedding photos as they are frequently looked at).