Outdoor Living
04 Mar 2016
Three projects that will inspire you to get outside and enjoy the backyard again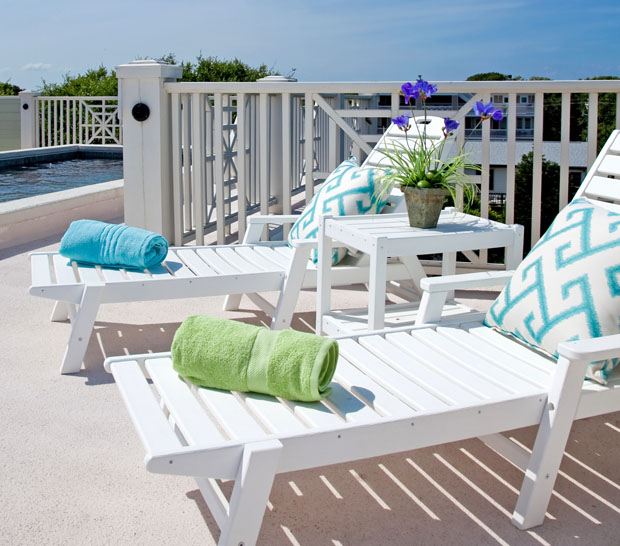 Sea Island Builders
The Awendaw home was the Summerville family's dream home and they wanted their builder, Sea Island Builders, to make the outdoors just as dreamy as the house itself.
Jason Fowler, of Sea Island Builders, says the charge was "to maximize the views and take advantage of both the sun and shade to help with energy bills."
Sea Island Builders has been around since 2004, when Fowler's father, Sam, started the business. Jason joined the firm in 2009. Sea Island is a full service design-build firm specializing in new constructions and additions, and they built the entire Awendaw home as well as the outdoor living areas.
The outdoor area was really three design areas that form one functional space.
The first was a grilling deck.
"We incorporated a grilling deck on the downwind side of prevailing summer winds, so the majority of time that the grill has been used, the smoke is taken away from the house," Fowler says.
The grilling deck features a built-in Green Egg ceramic barbecue cooker, a gas side burner and grill, a sink, and a mini-refrigerator.
"It's a highly functional (outdoor) kitchen," Fowler says.
Next to the grilling deck is a radius screened porch with an outdoor fireplace that has a television mounted above it.
"The porch is Ipe Wood (an extremely durable wood)," Fowler says. "It was stained and sealed on all sides prior to installation to help increase the stability and longevity of the wood. That's something we do that not everyone does; it's standard on all our projects."
The third part of the project is a 15.5' by 28' infinity pool running along the backside of the house. A hot tub feeds into the pool.
"There's a bench seat that goes all along the pool where it's against the deck, so they can sit and watch the marsh at sunset," Fowler says, adding that even the pool deck materials were chosen with care. The stone deck material allows for drainage, stays cool for bare feet, and doesn't show scratches from the family's dogs.
"The children have all graduated and all have professional careers, but they love their family and they love to be able to host important holidays at their house," Fowler says. "They're pretty close-knit and that outdoor area is one of their favorite places. They want to do the Fourth of July there and have their kids and their grandkids."
Sea Island Builders
2113 Middle St., Sullivan's Island
843-883-7430
seaislandbuilders.com
Backyard Retreats
By HELEN MITTERNIGHT
The Isle of Palms vacation home was a home away from home for the family that asked Backyard Retreats to make the outdoors as comfortable as the indoors.
"She wanted a place where her family could gather and have fun," says Sharon Campbell, owner and founder of Backyard Retreats. "We sat down and we spoke about it first. I like to speak with customers and find out what their intentions are, what they want to use the area for. Once I understood what she wanted, I took each space and designed it."
It can be difficult to design an outdoor space with weather and sun, as well as the lack of walls factored in, but Campbell says she relishes that challenge. She says the Mt. Pleasant firm helps owners select outdoor furniture and accessories and helps determine the best placement to make each outdoor "room" work with the activity planned for that area.
"On the front porch, she likes to sit outside and just read and enjoy the beautiful scenery," Campbell says. "But she also likes to entertain, so I put a tea cart out there so she could serve tea if she wanted to. On the back porch, she wanted a place she could entertain when she brought her girlfriends down, so I created a very feminine look on that porch."
At the top of the house, Campbell created an area where the family could go onto the rooftop deck and sunbathe or lounge.
The pool and spa area in the backyard was intended to be the focus of outdoor entertaining.
"There is a beautiful table with chairs, a bar table with chairs, as well as several chaise loungers where people can relax and lounge," Campbell says. "We wanted it to be conducive to entertaining and relaxing and to be able to seat lots of people."
This particular project was done over several months, but Campbell says project times can vary based on client needs. "If there is a time frame, like a special occasion, I like to know about that so I can meet their deadline. I like to make sure I'm aware of their needs."
Campbell says the company prides itself on using American-made products whenever possible.
In the 20 years that Backyard Retreats has been in business, Campbell says she has seen people spend more time outdoors.
"With the economy and things, people are staying home more. People love to have their families around and people will gather where it's comfortable," Campbell says. "People are definitely spending more time at home and spending more money on the outdoors, because where would you find a more beautiful place than the Lowcountry?"
Backyard Retreats
554 Johnnie Dodds Blvd., Mt. Pleasant
843-856-0049
backyardretreatssc.com
Blue Haven Pools & Spas
With spring just around the corner and warmer weather bringing ample opportunities for backyard entertainment, Charleston's homeowners are seeking new ways to upgrade their outdoor spaces. One popular option is adding a custom-built pool & spa.
We sat down with Brian Peppin, vice president at Blue Haven Pools & Spas, Charleston, to discuss his team's recent pool project in the Mount Pleasant area.
RS: So Brian, what kind of project was this?
BP: Blue Haven is nationally renowned for building custom pools and spas. This particular job was a custom freeform shape pool with some unique features and characteristics.
RS: If every Blue Haven pool is custom, what made this one different?
BP: There were several factors that made this design stand out. The pool's interior has a durable pebble finish with a color that's exclusive to Blue Haven—something many of our clients love. This Mount Pleasant client also chose custom brick paver decking, custom-cut natural stone coping, and an elevated spillover spa covered in matching stone.
RS: Do these choices reflect current design trends?
BP: Absolutely. Paver stones are huge right now. You can cut them to fit any size or shape of deck, and they're much tougher than traditional concrete decking. Natural stone is also in high demand. Many homeowners want to create an aesthetic that feels clean and organic. It's a modern way to bring a rustic feel to your backyard.
RS: Were there any particular pool features that your client wanted?
BP: Yes, they asked for two specific things: One was a wood-burning fire pit covered in natural stone that was coordinated to match the stone on the spa exterior. The other was a tanning ledge, which is a really popular pool feature these days.
RS: What exactly is a tanning ledge?
BP: A tanning ledge—or sun shelf, as it's also called—is basically a shallow platform a few inches deep that is built on one side of the pool. You can put a lounge chair on it, or lie partially submerged in the water. They're a highly functional addition to any pool, and they create that "resort-like" feel right in your own backyard.
RS: What kind of equipment do you have on this pool to maintain it?
BP: We're huge believers in automated, eco-friendly, stress-free pools. This pool has a saltwater purification system. It's a much healthier option for swimmers—no red eyes, dry skin, or harsh chlorine smell. We also used a piece of equipment that's a Blue Haven exclusive; it's the largest residential pool filter available, and that means less cleaning for pool owners. We made running the pool as simple as possible with an automated control system: This gives the homeowner the ability to control settings from inside their spa and pool or anywhere in their home with a handheld, waterproof remote.
Blue Haven Pools & Spas
7475 Peppermill Pkwy., North Charleston
843-552-6000
bluehavensc.com