Early Charleston Gardeners
04 Mar 2016
A brief look at some of Charleston's first and foremost green thumbs, gardeners who were especially instrumental in sharing their love and knowledge of plants and flowers
By SUZANNAH SMITH MILES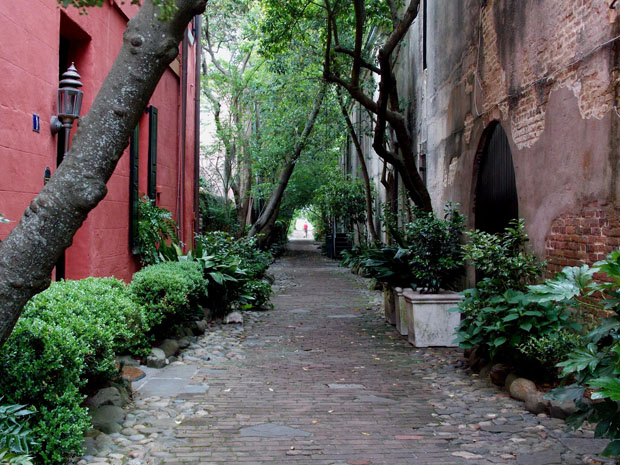 For the early Charleston gardener, it was all about experimentation; trial and error. Seeing what plants worked well in the Lowcountry soil and, more important, finding out which ones thrived. The men and women who were the first to see how the gardens grew in the Charleston's beginning years were literally sowing the seeds of future prosperity.
Throughout, the early gardeners shared a love for the innate beauty and color of flowers and plants. Soon exotics were being imported from Europe, Africa, the Mediterranean and the Far East. Yet what grew in the ground had an importance far beyond developing an attractive garden filled with the ornamentals. In the 1700s, there was no hopping over to the supermarket to pick up the ingredients for dinner, no drugstore where one could purchase remedies against the aches and agues of everyday existence. The garden was the getting-place. It provided everything from pharmaceuticals to foodstuffs.
Equally important was finding what could be grown for commercial purposes, the crops that would bring money into the colony's pocket through trade with England and Europe. Ultimately, Lowcountry soil yielded enormously profitable crops, first indigo, then rice and, finally, luxurious Sea Island cotton. All contributed to making Charleston one of the wealthiest cities in the world ― and it all came out of the ground.
HANNAH ENGLISH WILLIAMS (d. 1722)
Often described as the first woman botanist in America, little is known of Williams' origins. Her first husband, Matthew English, arrived aboard the Carolina with the first settlers in 1670 and she may have followed shortly thereafter. After his death, she married planter William Williams between 1692-4. Her 1,000-acre plantation at Stony Point on the Ashley River was generally in the same area as today's Archdale. As early as 1701 she began a regular correspondence with James Petiver, a London apothecary and Fellow of the Royal Society. She not only sent Petiver plants gathered from her Ashley River plantation, but insects, reptiles, birds, seashells – even an Indian chief's tobacco pipe and an Indian queen's "petticoat" made of Spanish moss. Wrote Petiver in a letter, "It was with noe small pleasure [that] I received ye Collections of butterflies… some amongst w'ch I never saw before." In return he named several species of butterflies in her honor.
ELIZABETH AND THOMAS LAMBOLL
Elizabeth Pitts Lamboll (1725-1770) and husband, Judge Thomas Lamboll (1694-1744), both shared a love of gardening. Elizabeth freely gave seeds and root stock and shared her methods and cultivation techniques with others. Adjoining their house on lower King Street (at today's Lamboll Street), Elizabeth planted a garden "upon the European plan," a large flower, vegetable and kitchen garden that stretched southward two blocks to the Ashley River. At their plantation on James Island they also had a grove of orange trees. The Lambolls regularly corresponded with other botanists such as Peter Collinson of the Royal Society of London and John Bartram of Philadelphia who visited their home on a number of occasions. Elizabeth was apparently a hands-on gardener, as evidenced in a letter from Collinson to Bartram, admonishing him of how "thou and Mrs. Lamboll rambled in the intense heat of a midday sun."
MARTHA DANIELL LOGAN (1701-1779)
The daughter of Governor Robert Daniell and the wife and later widow of Colonel George Logan who she married in 1719, Martha Logan also sent seeds and plant materials to Bartram and Collinson. As early as 1753 she offered the sale of "seeds, flower roots, and fruit stones" at her house near Trott's Point (today's Ansonborough/Hasell Street area). After visiting her in 1761, Bartram described Logan as "an elderly widow lady who spares no pains or cost to oblige me: her garden is her delight and she has a fine one..." In May 1768, along with seeds and roots she also offered "flowering shrubs and box edging beds, now growing in her garden." Her "Gardener's Kalender" was printed at the back of South Carolina almanacs until the end of the 1790s, the first such publication to provide implicit instructions about what plants were appropriate to the subtropical Lowcountry climate and when to plant them.
DR. ALEXANDER GARDEN (1731-1791)
This appropriately named Scottish physician-botanist came to Charleston about 1750, where he practiced medicine for 30 years. He resided in town at 98 Broad Street as well as in Goose Creek at Yeshoe Plantation (today's Otranto) where, among other crops, he grew indigo. Dr. Garden was an avid naturalist, sending both plants and animals he collected to fellow botanists in England as well as to Bartram in Philadelphia. He was considered one of the foremost botanists of his day, so much so that the "father" of scientific nomenclature, Carl Linnaeus, named the gardenia for him. While botany was his first love, his interest spread to other areas. He was the discoverer of the South Carolina striped bass, which he called "rock fish," a term still generally used. Garden, a loyalist, removed to England during the Revolutionary War. He was elected a Fellow of the Royal Society in 1773 and was a founder of the Royal Society of Edinburgh.
ANDRE MICHAUX (1747-1802)
Michaux was responsible for introducing many old world species to America, including the tea olive, crape myrtle, Chinese tallow, mimosa, camellia and gingko tree. Michaux came to Charleston in 1786 as the Royal Botanist under Louis XVI, investigating plants that could be of use to the French government in construction, medicine and agriculture. He established the French Botanic Garden (along today's Aviation Avenue near the airport), an experimental station where he grew flowers and plants to be sent back to France. The camellia was introduced to the Lowcountry when Michaux presented plants to Henry Middleton as part of the Middleton Place plantation gardens. Today, Middleton Place has over 3,500 camellias including one of the original Michaux plants, a double-red camellia called 'Reine des Fleurs,' or Queen of Flowers.
JOHN CHAMPNEYS (1743-1820)
John Champneys was a successful merchant (Champneys' Wharf was by the Custom House at the foot of Broad Street), as well as a rice planter and botanist. The 19th century historian, Dr. David Ramsay, was a contemporary of Champneys and described his rice plantation near present-day Ravenel as one of the Lowcountry's "most elaborate early gardens." It contains 26 acres, six of which are sheets of water and abound in excellent fish, ten acres in pleasure grounds are planted in every species of flowering trees, shrubs and flowers that this and the neighboring states can furnish; also with similar curious productions from Europe, Asia and Africa. Champneys had an intense interest in roses and crossed two, 'Old Blush' with 'Rosa moschata,' he created the old-world rose known as "Champney's Pink Cluster," from which the Noisette Rose was later grafted.
PHILIPPE S. NOISETTE (1772-1835)
Noisette arrived in Charleston from Santo Domingo in 1793, having fled the Haitian slave revolt with his Haitian wife, Celine. Noisette was French by birth, a member of a distinguished family of nurserymen who were gardeners to French nobles. He was offered a position as Superintendent of the S.C. Medical Society Botanical Gardens. Noisette is largely remembered for taking cuttings from the "Pink Cluster" rose developed by his friend and fellow botanist, John Champneys. With his brother Louis Noisette, who had a nursery outside of Paris, the climbing roses known as Noisette roses were propagated, known for their clusters of small pink flowers that bloom from spring to fall.
ELIZA LUCAS PINCKNEY (1739-1762)
The wife of Governor Charles Pinckney (1699-1758) and mother of statesmen Thomas and Charles Cotesworth Pinckney, at the age of sixteen she was given the responsibility of overseeing her father's three Lowcountry plantations, including one on Wappoo Creek where she began experimenting with the culture of indigo. She is credited with not only bringing in an indigo crop in 1742 which was acceptable to the standards for international trade, but perfecting a method of producing indigo cakes that produced dye of a brilliant blue color. Indigo remained a major economic force in the Carolina Lowcountry until the late 1700's.
JOHN WATSON (d. 1789)
Watson was a trained, professional gardener when he arrived in Charleston in 1755. Here he established the first nursery in South Carolina on his lands "up the path" (King Street) at Hampstead. Both a garden designer and nurseryman, Watson became enormously successful. He assisted Elinor and Henry Laurens in the development of an expansive four-acre, brick-enclosed garden that adjoined Lauren's East Bay Street town house. Here they experimented with an exotic combination of native and imported plants, including olives, capers, limes, ginger and grasses. Newspaper advertisements show the wide range of materials Watson offered at his nursery, from seeds, roots, gardening implements and "fruit trees, of all kinds" to hardwoods such as "Hazel Nuts, Nutmeg, Magnolia or Laurels fit for Avenues, any height from three to twenty," At Watson's death in 1789 his sons continued to run his nursery as "Watson's Gardens" until 1802.
ROBERT SQUIBB (d. 1806)
This respected gardener and seedsman arrived in Charleston from England in 1780 and, by 1785, he had opened one of the city's first nursery's on a large plot on upper Meeting Street (near present day Romney Street.) Later advertisements refer to his nursery at the "foot of Tradd Street." In 1787 Squibb published The Gardener's Calendar for South-Carolina, Georgia and North-Carolina, dedicated to area planters who, in his words, were responsible for "promoting and improving agricultural and other rural concerns." The catalogue-style book became immensely popular. It provided a detailed account of the work necessary to be done in both kitchen and fruit gardens, with detail instructions on what needed to be done every month in the year.
DR. JOEL ROBERTS POINSETT (1779-1851)
A statesman and diplomat, Poinsett discovered this beautiful shrub, considered only a weed, growing next to a road while he was serving as the first United States Minister (Ambassador) to Mexico in 1822-23. An avid botanist, Poinsett brought cuttings from the plant back to Charleston where he developed the popular Christmas plant we know today as the red-leafed Poinsettia. Poinsett maintained two gardens, one at his townhouse on Rutledge Street and a larger garden on the outskirts of the city. There are more than 100 varieties of Poinsettias propagated today, ranging in colors from the traditional deep red to white, pink, burgundy, and salmon.