Oyster House on Market
03 Jan 2017
By WENDY SWAT SNYDER
Photos by JAMES STEFIUK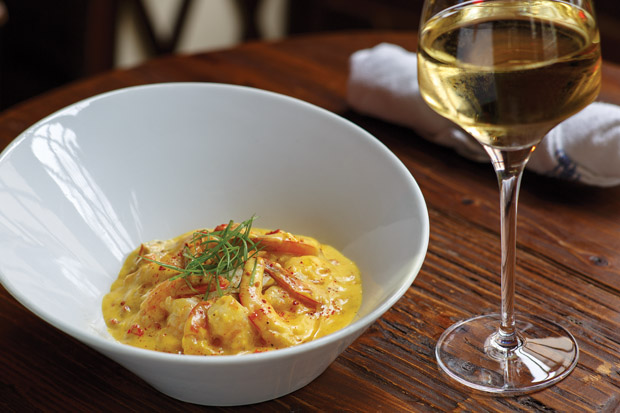 The folks at the Oyster House on Market want you to get better acquainted with the pearly bivalves on your plate, and are more than happy to get the introductions underway. A sweeping renovation and reimagined concept are taking the former A.W. Shuck's Seafood Restaurant in a new direction, and notching-up the experience for guests.
Owner John Keener says his vision for the restaurant was to create an eatery based on the classic oyster house, with upscale touches and superior food and service. A hospitality industry veteran, Keener has operated 16 different establishments and currently owns two Charleston Crab House properties in addition to the Oyster House. Over the years he has worked with Charleston restaurateurs Ronnie Boals, Bill Hall, Joe Sliker and Horst Semper in a variety of positions including server, cook, bartender and manager.
Keener purchased A.W. Shuck's from Skipper and Tommy Condon in 2014, and spent the following year operating the longtime seafood destination and identifying a niche to fill in the historic City Market. According to Oyster House general manager Ricky Colton, it was during business trips to the Boston area that a plan for his new eatery crystallized.
"Oyster bars are a huge market there," says Colton. "The plan was to keep the oyster bar side and really focus on that part of the restaurant."
A big selling point for Keener was the fact that there's not much customer interaction in most local oyster bars, which led to his idea for a concept centered around the terroir of the oysters.
"Customers love to know where their food comes from," notes Colton.
When Oyster House opened in early 2016, it showcased its new concept with the addition of O-Bar: a lively bar and dining alcove connected to the main restaurant, and with its own entrance on State Street. Executive chef Tony Palmisano, who's track record includes a stint working under Hank's Seafood founding chef Frank McMahon, came on board at that time as well.
"Seafood restaurants are ubiquitous here—there's a lot of competition," notes Palmisano. "We want to carve out our own share of the market and make us the best oyster restaurant in town."
Palmisano, who attended the New England Culinary Institute in Montpelier, Vermont, says he plans to release a new menu supportive of that goal in early 2017, and has spent the past several months in the Oyster House kitchen focusing on specials "to keep things interesting for guests."
Palmisano says his cooking style is in the comfort realm. "I started out in fine dining," he explains, "but discovered I like to prepare food that fills and comforts you like your Mom's—except with more precision and flair. And I like to manipulate the main ingredients so every bite tastes like the best you've ever had."
At the center of the new O-Bar is the restaurant's oyster specialist, Eric Slaughter, manning the bar area and chatting with customers about all things mollusk while serving up icy trays of juicy half-shells brimming with briny bivalves.
"I believe he's the key," says Colton. "At O-Bar, you have a guy shucking oysters right in front of you, and teaching you about them at the same time. Eric is taking care of you every step of the way—he loves to do the research and share the knowledge."
Slaughter educates the staff as well, and leads the restaurant's oyster program, with responsibilities that include sourcing and pricing product.
Cultivating the oyster connoisseur starts with what Slaughter calls the three S's. Sniff. Slurp. Savor.
He recommends that, to appreciate the oyster eating experience, you should hold the loaded half shelf to your nose—much as you would a glass of wine—and breathe in the delicate aroma. Next, slurp the meat from the shell, and then savor the mouth-feel as you chew, as well as the flavor, salinity and hints of other components such as flora and minerals.
"He's very passionate about it—he knows where to find the best quality oysters," notes Colton. "And he'll spend a little more money to ensure we have the freshest and best."
East Coast oysters are the restaurant's mainstay, says Palmisano, with product cycling through such as Beausoleil from New Brunswick, Canada, Warren Coves from Plymouth, Massachusetts, Sewansecott from Hog Island, Virginia, and Bluepoint from Westport, Connecticut.
The Oyster House is also the only area restaurant sourcing oysters from Sea Eagle Market, a family-owned seafood operation in Beaufort, South Carolina. During a recent visit, Palmisano and Slaughter got an advance look at "a little experiment" the owner was working on—small batches of farmed oysters maturing in a tidal bay. They went on to place an order and named the new variety "plantation cuts."
"They're some of the best I've ever tasted," says Palmisano. "They're cleaner tasting, with great salt content and sweet flesh."
On the main menu are Charleston staples such as she-crab soup, fried platters, shrimp and grits—local cuisine that is attractive to locals, and that visitors expect. Palmisano's fresh shrimp and grits preparation is cream based and flavored with tasso ham. His comforting take on lobster mac and cheese is topped with crispy pork rinds, and won him a Best Bite award at the 2016 Lowcountry Hoedown event.
In addition to the O-Bar, the restaurant's interior space includes a separate open dining room with beamed ceilings and a smaller dining area that can be closed off with barn doors for private parties. Keener brought in Ann and David Silliman, owners of A. Fairfax Design, to help plan and execute the renovation of the property. The husband and wife team kept original elements such as old exposed brick, playing up the warehouse feel with industrial finishes and earthy elements like reclaimed wood. They warmed up the space with dark woodwork and copper trim, achieving an overall vibe that is new and stylish and comforting at the same time. Outdoor seating is also an option on the balmy patio.
"My passion is serving people and making sure all are having fun!" says Keener. With a fresh look and updated point of view, Oyster House on Market is well worth getting reacquainted with.
Oyster House on Market
35 S. Market St., Charleston
(843) 723-1151
oysterhouse.menu