The wildlife art of Amanda McLenon
By JASON A. ZWIKER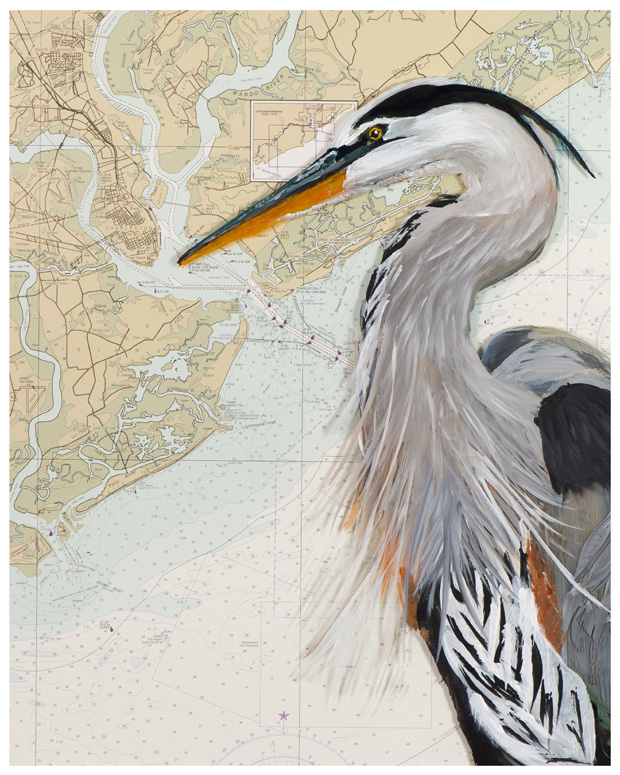 An old window, paint, and a latent talent changed her life forever: it's strange how simple things like these can sometimes come together in the most unexpected ways.
Amanda McLenon was in graduate school at the College of Charleston when she found herself painting a fish on the reverse side of an old window pane. It was just one of those random kinds of things we all do when we have some down time and need a brain break. It wasn't until she flipped it around and had a good look at it that she realized how good the painting really was.
So she kept painting.
A love of the great outdoors, especially being out on the water, was what drew her to the South Carolina Lowcountry. "I came here because I could live on a sailboat and get my degree," she says. She left her teaching job in Dexter, Michigan, applied to the Marine Biology program at CofC, and soon enough was doing exactly that.
Her artistic talent also fit quite nicely into her dream of life on the water. She completed her Master's in Marine Biology, all the while painting every chance she had, and soon enough, all the pieces just fell together as if it was meant to be.
"I am really proud of the fact that I have two Master's degrees – one in Education and one in Marine Biology – though I do not use them directly. They definitely influence all I do as an artist. Since I started my career painting, I was honored to be selected as the Lowcountry Artist of the Year in 2012 (Griffith-Reyburn Award from the Coastal Community Foundation). This was only my third-year painting when I received the award – so it definitely gave me the confidence to keep going!"
"This path to being a full-time artist just continued to present itself, and I followed."
The themes of her early work - marine life, vintage nautical maps – were a natural fit for her. This is an artist and scientist who has earned her sea legs. "I lived on a sailboat, worked on a Trans-Atlantic research cruise, and spent 53 days at sea in Antarctica," she says. "(Painting) wildlife was an obvious choice for a career biologist and, when I use nautical charts and maps, I paint what is native to that location. This is the teacher in me, I suppose. While my work is impressionistic in style, I still strive for accuracy in the natural history, behavior and anatomy."
She learned from other artists and developed a keen appreciation for how much influence art can have on people's lives and interests.
"I was very inspired by Mary Edna Fraser," she says. "Not only because she creates beautiful silk batiks of coastlines, but also because of her involvement in illustrating the effects of climate change. When I discovered her work, I realized I could still pursue my passions of marine science and education, and perhaps I could even have more of an impact, doing this work as an artist."
She's now been a full-time artist for over 5 years. Her primary focus these days is painting birds on canvas. She paints large scale, with a standing easel, and finds a great deal of peace in that.
"It's cathartic," she says. "Painting is meditative. When I am at work I am not thinking of much else. And as silly as it sounds, there is a mood to each painting, and I am truly moving with the creation of each paint stroke."
"There are days when I can't paint at all, and then there are days when I'm in the zone and just can't stop. When I'm painting something graceful and beautiful, like birds, I feel that same way myself. When their wings are spread out and the details of their feathers are exposed, the birds themselves are also very exposed. They tend to do this when it's quiet, peaceful, and they feel safe."
She and her art can often be found in Marion Square for the Charleston Farmer's Market on Saturdays, April through December, and for the 17-day Piccolo Spoleto Outdoor Art Exhibit. She also shows at the Southeastern Wildlife Exposition in the Gaillard Center.
Other times, she's traveling throughout the South Carolina Lowcountry, gathering photos of birds that she paints once she returns to her studio.
"Well, birds don't exactly sit still so you can paint them!" she laughs. www.amandamclenon.com