Paisano's Pizza Grill
08 Sep 2017
By WENDY SWAT SNYDER » Photos by JAMES STEFIUK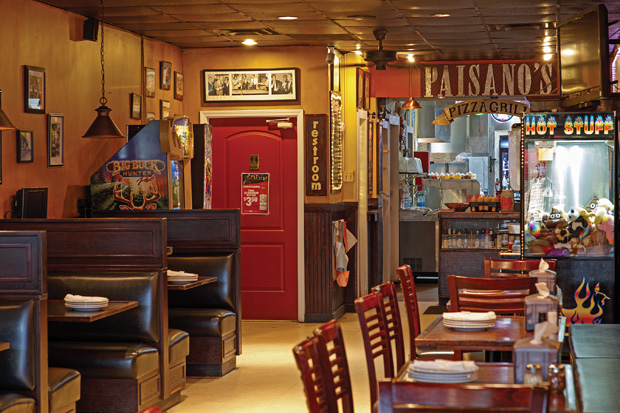 When you are longing for authentic, New York-style pizza, you do have options here in the Lowcountry. The unmistakable, no-frills vibe of the classic pizza parlor and fare that is as close to the real thing as can be made here in the South, is not out of reach of the aficionado. Nick Skover and Mark Slater have spent the past few years building their business around a good "slice" and a strong "brotherly" bond—and along the way, making Paisano's Pizza Grill Charleston's go-to for dine-in and take-out Italian treats.
Co-owners Skover and Slater opened Paisano's on James Island in 2009, embracing the community with the same spirit of friendship that marks their own longtime partnership. True paisans, they are like brothers, their close-knit ties on display as you enter the eatery: old black and white photos from both families' albums line the walls, telling a story of European immigrants' early days in America.
"A paisano is a compatriot, a best friend—we carry that theme across the restaurants," notes Skover, adding that childhood memories of good times with friends and family centered around pizza inspired the opening of a pizzeria. "It appeals to everyone. It's comfort food, so I thought it was a really cool family-oriented business to be in."
Skover has been in the hospitality industry since he was 13, and had every job from dishwasher to line cook to general manager. He left his Princeton, New Jersey, home to attend the College of Charleston and never returned, noting with his customary quick grin that "Charleston's pretty easy to fall in love with." It was at the college that he and Slater met and formed a close friendship.
In 2009 an opportunity came along for the duo to buy a local restaurant business. For Skover, the high-volume pace, what he calls the "go go go" of the industry, was a good fit, so he and Slater decided to "go for it."
"We always knew we wanted to work for ourselves," says Slater. A native New Yorker, he had been working for the owner of the James Island pizzeria when it became available for purchase, giving him hands-on experience and an inside track. The business partners purchased the property and embarked on a journey to make it their own.
"The first couple of years were hundred-hour work weeks—we were basically living at the restaurant building the menu, recipes, making everything from scratch every morning," notes Skover. "It was really important to us to try to replicate pizzas we grew up with in New York and New Jersey." The biggest challenge was reproducing the trademark flavor and consistency of the dough, absent the magic of New York City water. The partners experimented with different strategies and ingredients to create a crust as close as possible to the original.
Also challenging was producing an authentic tasting red sauce for the pies. Starting with ground tomato and puree, the partners experimented with the ratio of the two main ingredients, and substituted fresh herbs for dried in the final marinara recipe.
"It was tricky," notes Skover. "We played around with several different combinations to get the consistency and flavor we wanted."
The pizza I sampled hit the mark with a thin, crisp crust and just the right crunch and tenderness in every bite. The standout was the sauce, a perfect balance of the classic tomato-y flavor and herbs—not too sweet or spicy—very well rounded and reminiscent of old school pies.
In the back-of-house, creativity—coming up with fresh, new ideas—is just as much a part of the philosophy as day-to-day consistency. The latest addition to the menu, the Cuban Munchie Crisis, is the brainchild of one of the kitchen's cooks—some of whom have been with the restaurant since it opened.
This version of the Cuban sandwich is part of Paisano's new pulled pork program featuring sliders, nachos and a wiggly piggly pizza. It involves barbeque pulled pork, ham, pickles, Swiss cheese and a slathering of hot honey mustard stuffed inside a sub' roll and pressed on a grill, panini style. In a word: addicting.
Lisa took care of my table with a smile during my visit to Paisano's, and steered me to a well-represented selection of chicken wings that can be ordered dry-rubbed or sauced. She insisted that I sample a couple of flavors pointing out that they are top sellers and have won the Lowcountry Wingapalooza three consecutive years.
"We sell a lot of wings," Slater agrees. "We created specialty dishes especially for the competition."
The winning entries are another example of the kitchen team's innovative flair. The four dishes they prepared for the 2015 – 2017 competitions were a peanut butter and jelly wing consisting of a peanut sauce and house-made jelly hot sauce; a waffle battered chicken wing with a sweet syrup dipping sauce; a curry chicken wing with peanut dipping sauce; and a hot sauce wing with blue cheese dressing, also house-made as are all dressings and sauces.
My meal finished on a sweet note with cannoli balls hot out of the deep fryer. The powdered-sugar dusted puffs of dough are filled with cannoli cream and cooked for just two minutes for a tender bite.
The Paisano's concept has been embraced by the local community—its success leading to a second location opening in West Ashley. There, as in James Island, the focus has been community oriented.
"We let organizations like churches and schools know we are here for them," notes Skover. "We sponsor sports teams. During the summer, we arrange for kids to come in and make their own pizzas."
"We've created a thousand-dollar scholarship, rewarding recipients with entrepreneurial and leadership skills," adds Slater.
These good neighbors remain "on the go" with continually unfolding projects. On the horizon for the Paisano's partners—a new location perhaps? One can only hope to have these best buddies for a neighbor.
Paisano's Pizza Grill
1246 Camp Rd., James Island
843-762-1135
1798 Ashley River Rd., West Ashley
843-818-4969
www.paisanosji.com