Pancito & Lefty
06 Nov 2017
Mexican-style canteen cuisine is a welcome addition to upper King Street
By WENDY SWAT SNYDER
Photos by JAMES STEFIUK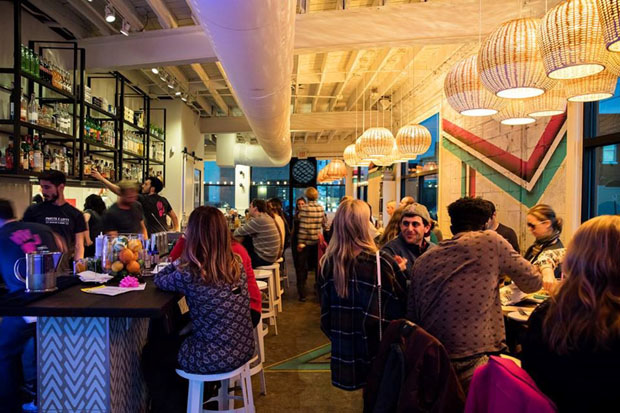 The first words that come to mind for this hot little Mexican upstart is welcome to the neighborhood! Pancito & Lefty joins the growing ranks of entrepreneurial enterprises embracing the challenges of peninsular Charleston's outlying areas, in this case, North Central. The eatery hit the ground running in the upper King Street neighborhood after a long-awaited opening in February 2017 and has made its mark on the local dining scene with authentic Latino cuisine and mezcal driven cocktails.
Owner Jimmy Poole is no stranger to pushing boundaries. During an eight year stint selling commercial real estate in his hometown of Raleigh, N.C., he invested in a rundown bowling alley and transformed it into a successful restaurant and venue. Along the way, he discovered his true passion.
"I fell in love with the idea of giving an incredible guest experience through hospitality," says Poole.
"I loved the team effort and having so many wonderful people to work with. There's a real sense of community."
He and partner David Crowley brought The Alley concept to Charleston in 2012, building out an 18,750 s.f. warehouse in an under-the-radar location on Columbus Street.
"There was nothing else around in that area," notes Poole. "We believed growth was heading in that direction." He was right. And the growth occurred more quickly than they thought, drawing crowds and accolades from the likes of Travel + Leisure.
With a solid score of two strikes—a double in bowling lingo—Poole pushed forward with plans for a Mexican cantina-style eatery in a neighborhood with a niche to fill.
"There were only a few locations that we felt were appropriate—especially in our demographic," he explains. A compact building at 708 King Street filled the bill, situated as it is near the burgeoning neighborhood of Wagener Terrace, and offering the right scale for a community-oriented casual dining spot.
Poole says he imagined a space for bringing people together in a comfortable, intimate setting to enjoy the authentic flavors he discovered during sojourns to Mexico.
"We traveled there several times to learn the culture and get a better sense of the people and place, and discovered how important family is in Mexico," says Poole. "We went to local markets and observed farm fresh products going straight from the vegetable bin to the cantinas and food stands. You sit at community tables with strangers and make friends easily. It opened our eyes."
In the heart of a residential area, the King Street property—formerly Zappo's Pizza and a one-time Studebaker dealership—was a good fit. The project unfolded with an extensive renovation to bring the now-abandoned building back online.
"We wanted to keep the historical feel of the place, but update it and create a fun, friendly atmosphere," notes Poole.
A team consisting of young, local talent came on board to turn that vision into reality. John Frick, owner of Level Building Projects—also a Pancito & Lefty business partner—transformed the structure into an open, airy space. Charleston designer Betsy Berry of B. Berry Interiors produced the cool, yet welcoming vibe the owners were looking for with a funky mix of eye-popping tropical color and industrial elements with clean white finishes. Custom woodworking was done by craftsman Dan Perrin while James Irving made the shelving and metal work shine. Painters Suzanne Allen and Becca Barnett added artistic flair to building walls and Gregg Pavonne of Limelight Custom Signs designed the eye-catching signage.
The evening I visited with a good friend in tow the meal began (of course) with a Mexican style cocktail or two—many of which are designed to reflect the tastes of the season according to general manager/ beverage director Matt Spear. The estocada coctel, a novel combination of smoky mezcal, campari and freshly squeezed beet juice was savory and a new must-have. The margarita was classic, tangy, and not overly sweet. Spear says that, in fact, all the juices used in the beverage program are freshly squeezed in house for quality and flavors guests can really taste.
Guacamole was an addicting starter starring fresh chunky avocado given just a hint of heat and served with light, perfectly seasoned house-made chips.
Their new seasonal menu has just been updated, with several new dishes showcasing seasonal ingredients. The fall salad, dubbed simply otono (meaning autumn in Spanish), featured baby greens tossed with a savory/ sweet mix of dates, Brussels sprouts, and pumpkin seeds dressed with a sprinkling of queso fresco and smoked agave vinaigrette.
A zesty seafood dish called aguachile is an Oaxacan classic featuring local shrimp "cooked" in a lime dressing made bright with fresh dill and spicy Serrano peppers and served with thinly sliced cucumbers and house-made tostado. It was beautifully executed and another instant hit.
The very fresh and perfectly sized South Carolina shrimp comes directly to the restaurant from Tarvin Seafood's docks on Shem Creek in Mount Pleasant, and you can taste it. Other local purveyors include Crosby's Seafood, Blackbird Farms, and Spade and Clover Gardens.

A tasty jigger of horchata—a milky specialty beverage made from rice and almonds (house roasted and hand ground)—afforded heat control when necessary.
Tamales combined a light corn masa cake in an authentic preparation featuring roasted chicken, rajas, and mole, all given a bright pop of acid with pickled vegetables.
The chili relleno was also a lighter, more authentic iteration—not the heavily battered Americanized version—featuring a poblano pepper stuffed with lamb (not cheese), rice, queso fresco and cilantro.
At meal's end, we were treated to a dish of churros, the traditional fried dough pastry that, to pass muster, should have a crunchy bite and light, tender inside. Check, check—with a hint of heat, and a pot of lightly sweetened crème anglaise for dipping.
The experience that evening—a labor of love. A friendly and knowledgeable staff, laid-back style and innovative fare make Pancito & Lefty a welcome addition to the Charleston dining community. A big taste of Mexico in the heart of the Lowcountry. Mas amor, por favore!
Pancito & Lefty
708 King Street, Charleston
843-996-4108
pancitoandlefty.com