Reading on the Go
06 Nov 2017
Friends turn their love of publishing into a mobile bookstore
By HOLLY FISHER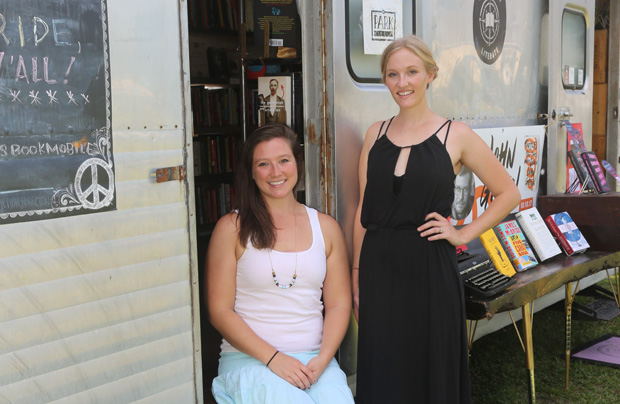 Julia Turner and Christen Thompson Lain met at the University of Denver Publishing Institute back in 2012. Both young women had publishing backgrounds and bonded over a shared love of books and bookstores.
Shortly after, Thompson Lain and her husband landed in Charleston where she took a job with The History Press. Turner soon followed, also working for the Charleston-based publisher of regional and local history books. Yet, they both believed a bookstore was in their future.
They would read articles in a digital newsletter for independent booksellers called "Shelf Awareness," highlighting all these cool ideas for local bookstores.
"We wanted to see that same kind of thing in Charleston," Turner said. "We thought, 'We should do that.'"
Keeping their day jobs, the two friends didn't have much capital to invest in their literary venture. So, they launched Itinerant Literate Books with a pop-up tent and a folding table. Soon after, they turned to crowd-funding platform Indiegogo to help raise funds for a trailer that would serve as a local bookmobile and pop-up bookstore serving Charleston County.
The small trailer—which houses about 1,200 books—welcomed its first customers on Independent Bookstore Day in April 2016.
Crash Course in Business
Since then, the women have taken their mobile bookstore to farmers markets in North Charleston and on Folly Beach, plus festivals, holiday markets and other special events. They also have a rotating schedule at various businesses, including Orange Spot Coffeehouse in Park Circle, The Park Café in downtown Charleston and Two Blokes Brewing in Mount Pleasant.
Twice a month, they partner with Junction Kitchen and Provisions in Park Circle for a book club discussion group that includes a three-course tasting menu and wines inspired by the selected book.
While these business partners know books and publishing, Turner and Thompson Lain have had to learn the ins and outs of accounting, marketing and other business tasks.
"Our background is in publishing, not retail, so it's been trial and error on how to run a store," Turner said.
Turner enlisted the help of her accountant dad, and they found a mentor through SCORE. They attended a one-day seminar on owning a bookstore as well as the American Booksellers Association Winter Institute.
And they're taking small steps to streamline their business processes. This year, Turner said, they opened publisher accounts, which allows them to return books that don't sell in a certain timeframe.
When it comes to stocking the shelves, Turner said they blend customer feedback with some of their own personal tastes and recommendations from others in the independent bookstore community. Kids have asked for more dog books plus there's a demand for graphic novels and comic books, she said.
Although they may be business partners, they have varying reading tastes—Turner enjoys the powerful yet digestible young adult genre and Latin American authors, while Thompson Lain is drawn to political nonfiction and literary fiction based in Russia.
But, Turner said, if the story sounds good, they will read anything.
Turner and Thompson Lain also will feature local authors, selling their books on consignment and inviting them to host book signings at pop-up bookstore events.
The 'Buy Local' Movement
They've both moved on to different jobs in the publishing industry, yet their dream is to open a permanent storefront they run full time, Turner said.
They have applied to be part of the Lowcountry Local First "Community Storefront Project" on Reynolds Avenue in North Charleston. Building on a foundation created by Metanoia, a community-development corporation, businesses can apply for a storefront space. The bookstore owners also are planning to go after a small business loan and are reworking their business plan.
Turner said they realize the rise of the e-book and online ordering from sites like Amazon make owning an independent bookstore a challenge. But she also sees how the "local first" movement is taking root in communities all over, including Charleston.
"Customers who love books want to support a local bookstore," Turner said. "We feel confident in independent bookstores, and we believe in them and the benefits they provide local communities."
They continue to educate customers on the importance of shopping with local businesses and supporting independent, brick-and-mortar bookstores.
"Our customers know if they want a vibrant community, they have to support local business," Turner said.
For a schedule of where to find Itinerant Literate Books around Charleston, visit itinerantliteratebooks.com.