Power in Numbers
03 Nov 2021
Executive Director of Dragon Boat Charleston leads a community of survivors
By Holly Fisher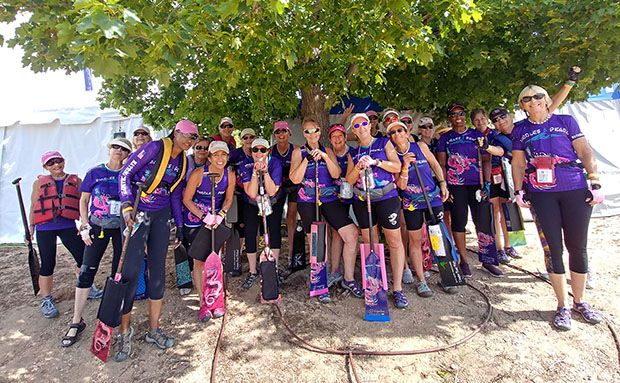 It's almost impossible to meet someone who hasn't been impacted by cancer. Whether it's a personal diagnosis or that of a family member or friend, cancer touches everyone.
Neves Richards is certainly no exception. She lost her mom and a grandmother to cancer. So when a job opportunity with Dragon Boat Charleston came along, Richards couldn't pass it up.
"One of the things that pushed me toward Dragon Boat Charleston is that I've learned life is short," she said. "People who face a cancer diagnosis have their priorities in order. I've been fortunate enough to not have a personal cancer diagnosis, but I see the value of making the most of every day and being happy."
Richards joined the largely volunteer-run nonprofit in October 2019 as the program coordinator. On Aug. 31, Richards stepped into the role of full-time executive director after Amy Brennan retired.
She's tasked with overseeing the organization's fundraising efforts, events and more than 150 members – most of whom are either battling a cancer diagnosis or are cancer survivors. The ultimate mission is to promote the physical and mental health of cancer survivors. The vehicle for doing that: dragon boating.
The Power of Paddling
Dragon boating is a 2,000-year-old sport that began in China. Today, Richards said, it's one of the fastest-growing sports in the world. Twenty paddlers sit side by side in a 48-foot long colorful boat adorned with a dragon head and tail. The team members paddle in sync to the beat of a drum, the heartbeat of the dragon.
Locally, Dragon Boat Charleston started in 2003. Cancer survivors join for free; community members can join for $125 a year.
Club members gather several times a week, departing from the Safe Harbor Charleston marina to paddle the Ashley River.
Yes, there's certainly physical benefits of dragon boating. It's a whole body workout, Richard said.
But what's even more powerful is the peer support and camaraderie. Newly-diagnosed cancer patients sit next to someone in the middle of treatment and someone who has come out the other side, beating the odds and living to tell about it.
Dragon Boat Charleston has teams of women, co-ed teams and even a program just for those with a cancer diagnosis. The PATH Program – which stands for paddle, achieve, transform, heal – is a 10-week session specifically for those with cancer. It's especially motivating for those newly diagnosed or in the midst of treatment, Richards explained.
"They are in the boat with other cancer survivors, and the power of that is amazing," she said. "They are with other people who have been through the same thing, who have walked through the same thing they have gone through. They're around other people who have been through cancer 15 or 20 years ago and that's so motivating to see they are living a healthy life and still paddling," she added.
For many participants, dragon boating serves as a break from the cancer that consumes their days.
They can, as Richard noted, "leave cancer on the dock." They can simply take in the sun setting on the Ashley River, enjoy the people sitting beside them, and even, if just for a short while, think about something other than cancer.
Medical research is even proving what Richards sees daily with Dragon Boat Charleston members: connectedness and social support positively impacts cancer survivorship.
A 2020 study out of Canada looked at the impact of prostate cancer survivors' participation in a dragon boating team. It found physical benefits, but even more so was the positive impact on the men's psychosocial wellbeing.
Another study revealed upper body exercise – including dragon boating – is safe for breast cancer survivors and can even reduce rates of recurrence.
"They are doing something that gives them a feeling of power over their body," Richards added. "And they are strong because they are a team."
The Power of Connection
"It's easy to look and see how the people of this organization lift each other up," Richards said of the Dragon Boat Charleston club. "This organization has so much heart."
Whether it's dropping off a meal, writing a card or making a phone call, the members of Dragon Boat Charleston know they have people who will step up to care for them.
While there's so much to celebrate among the members, Richards said there are also tearful moments. In the last few months, three club members have passed away – another reminder that life is short.
Holiday Fundraising
Both the celebrations and the in memoriam are motivation to keep the mission of Dragon Boat Charleston moving forward. And for most nonprofits, that's been much harder in the last 18 months.
The club typically hosts a fundraising festival each May. Because of COVID-19, the festivals in both 2020 and 2021 were canceled. To make up the lost revenue, Dragon Boat Charleston collaborated with Explore Charleston on a new fundraiser last year: Festival of Trees.
Teams that would normally have participated in the Dragon Boat Festival decorated 20 holiday trees. Each tree was decorated in memory or honor of a cancer survivor. The tree's theme is tied in some way to that person.
Richards said one of her favorite trees last year was "Life of the Party." The tree honored Brandi Collins Moore, whose friends said she was always the life of the party. They adorned the tree with silver and gold decorations, feathers and a top hat.
The Charleston Visitor Center will once again host the trees for 2021. The public can walk through the display and participate in an auction to bid on their favorite tree. After the display ends, volunteers will box up the trees and decorations for delivery to the winning bidders, who will have the festive holiday tree for their 2022 celebration. A few select trees will be available before Christmas.
Richards said last year the dragon boat club jumped into action to put together the event in just a few short weeks. Plus, it brought some holiday spirit and joy to what had been a tough year.
For their second year holding the Festival of Trees, the club will fill the Visitor Center with even more trees. They're also adding wreaths and holiday workshops around the theme of getting ready for the holidays. The workshops will include a food and floral demonstration, bow making, creative gift wrapping, and a how-to for making holiday centerpieces.
Richards also has secured sponsorships for this year's event and they are well on pace to make more than last year's $17,000 for the group.
And the Dragon Boat Festival should be back in May 2022.
"We have our fingers and paddles crossed for the festival in May," Richards said. But with so many of the participants and volunteers cancer survivors, their health and safety is a priority.
That's why the Festival of Trees is emerging as a second key fundraiser for the organization. And it adds a truly personal touch to the important work Dragon Boat Charleston is doing in the community.
"It's super powerful when you go through the Visitor Center and read all these stories," Richards said.
BIO
Family: Neves Richards and her husband, Mikell, live in Mount Pleasant. They have three children: Emmy, Hayes and Nora Clair.
Education: Bachelor's degree in parks, recreation and tourism management from Clemson University
Hometown: Charleston
Hobbies: Spending time outside, enjoying family and friends, traveling and Clemson University football
View the Festival of Trees from Nov. 15 to Jan. 4 at the Charleston Visitor Center, 375 Meeting St. in downtown Charleston. For details on the auction and holiday workshops, visit www.dragonboatcharleston.org. To participate in the event or be a sponsor, contact Richards at neves@dragonboatcharleston.org.