Events Winter 2021
03 Nov 2021
Looking to fill your social calendar? We've got the rundown on how to stay entertained this holiday season.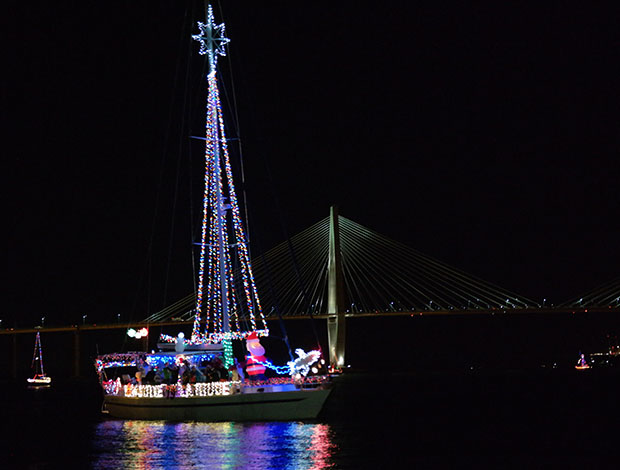 Charleston Holiday Boat Parade
Dec. 11
A Lowcountry holiday tradition, the Charleston holiday boat parade will bring lighted and festive boats from the Cooper River through the Charleston Harbor and into the Ashley River, culminating in a fireworks display over the harbor. View the procession along Charleston's waterfront—at the Battery, Waterfront Park or Mt. Pleasant Memorial Waterfront Park Pier—or decorate your own boat and join the parade. The parade begins along the shores of Mount Pleasant at 5 p.m. and viewing from the downtown peninsula starts around 7:30 p.m. Free. www.visit-historic-charleston.com/charleston-holiday-boat-parade.html
Holy City Farmer's Market
Wednesdays through Dec. 15
This pop-up event celebrates local producers and creative small businesses every Wednesday from 4-7 p.m. on the lawn at Holy City Brewing in North Charleston. Perfect for holiday shopping, connect with a small business to shop for handmade goods including home, body care, arts and crafts and more. 1021 Aragon Avenue, North Charleston. www.facebook.com/HolyCityFarmersMarket.
The Scottish Games & Highland Gathering
Nov. 5-6
The Scottish Games and Highland Gathering, set for Riverfront Park in North Charleston, features a day packed full of various activities and events that has something for everyone – Scottish style. Whether you're looking to experience Olympic-type competition of the heavy athletics sporting events or the mastery of Scottish music, the Scottish Games and Highland Gathering will offer all you're looking for and so much more. Enjoy music of over 25 bagpipe bands, Highland dancing and fiddling, Celtic rock bands, border collie demonstrations and children's games. Gates open at 8 a.m. General admission $20.00 plus fees, children ages 6-12, $5 plus fees and benefits the Scottish Society of Charleston. 1061 Everglades Ave, North Charleston.

Harvest Festival
Nov. 6
Join Charleston County Parks for a celebration of all things fall! The Harvest Festival is set for Saturday, Nov. 6 from 11 a.m. – 5 p.m. at Johns Island County Park. The Harvest Festival is known for its foot-stompin' showcase of Charleston's own bluegrass talent, with local bands playing throughout the day. Plenty of food will be available for purchase, including Southern barbecue, boiled peanuts, kettle korn, and traditional favorite festival fare, plus cold beverages. A kids area will include pumpkin painting, horse jumps and a youth archery turkey day shoot for children ages 8-17. Festival goers are also encouraged to stop by the crafters' market, which features a variety of hand-made items that make perfect holiday gifts. All activities are free with the festival admission fee. Admission is $8 per person. Kids 12 and under and Gold Pass holders are admitted free. Dogs are welcome but must remain on leash at all times. Outside alcohol and coolers are prohibited. For more information, call 843-795-4386, visit CharlestonCountyParks.com.
Chamber Music Charleston Ovation Concert Series
Nov. 8
Chamber Music Charleston's Ovation Concert Series at the historic Dock Street Theatre will welcome guest violinist Anthea Kreston and cellist Jason Duckles joining musicians of CMC to perform Brahms String Sextet in B flat Major, Op. 18 and Felicien David's Soirees d'Autumn. $5-$50. 135 Church Street, Charleston. For more information, visit https://www.chambermusiccharleston.org/dock-street-theatre/
The 32nd Annual Holiday Festival of Lights
Nov. 12 – Dec. 31
The Holiday Festival of Lights returns for another year of magic! This vibrant light show is one of Charleston's most cherished holiday events, featuring an estimated 2 million dazzling lights. The event is open every evening, rain or shine from 5:30 - 10 p.m. nightly. Families are invited to warm their hearts as they cruise along the three-mile display of glimmering lights through the park, take a train ride, visit Santa's Shoppe, check out sand sculptures, roast marshmallows and walking an enchanted trail. The festival features over 750 light displays, including the newly refurbished and rebuilt Cooper River Bridge display. In addition to the driving tour, guests can park the car and explore family attractions, shopping, dining and more. Tickets prices this year will be staggered, with "peak" and "regular" night admission between $15-$25 per car in advance. Day of admission is available for an additional charge. 871 Riverland Drive. Visit www.HolidayFestivalofLights.com to purchase advanced tickets.
Steeplechase of Charleston
Nov. 14
Join us this fall for a quintessential Southern event of world-class horse racing in Hollywood, SC, with a focus on tailgating fun and exciting world-class equestrian action.
This Charleston tradition began in 1792. The family-friendly Sunday event will feature high-stakes races with coveted titles on the line. Be sure to pack your coolers and grab your big hats and bow ties. Take a stroll through our Vendor Village filled with the best of Lowcountry artisans. Bring a tailgate spread and enjoy an afternoon of splendor. Enjoy the race from the comfort of your own tailgate or next to the luxurious VIP bar and food services. Feel the breeze of the horses from an intimate ground-level view and become a part of the race day experience. The Stono Ferry Racetrack, 5000 Old York Course Road, Hollywood. Ticket prices vary. www.steeplechaseofcharleston.com.
An Evening with The Avett Brothers
Nov. 20
The Avett Brothers are an American folk band from North Carolina that combines bluegrass, country, punk, pop melodies, folk, rock and roll, indie rock, honky tonk, and ragtime to produce a novel sound described by the San Francisco Chronicle as having the "heavy sadness of Townes Van Zandt, the light pop concision of Buddy Holly, the tuneful jangle of the Beatles, the raw energy of the Ramones." They will play at the North Charleston Performing Arts Center, 5001 Coliseum Drive, North Charleston. Ticket prices vary. Show starts at 7:30 p.m. www.northcharlestoncoliseumpac.com.
Candlelight Tours of Drayton Hall
Nov. 27; Dec. 3 & 4, 11 & 12, 17 &18
Experience Drayton Hall at night with an incredibly special audio candlelight tour of the eighteenth century historic house, the oldest untouched home open to the public in the United States This is a remarkable way to understand the house and lives which touched it - and historic Charleston - from the perspective of a non-modernized colonial home. After your tour, we invite you to enjoy a warm cup of a seasonal beverage (non-alcoholic) as you stroll back toward the Visitors Center and visit The Shop at Drayton Hall. Pre-registration is required. $45 non/$40 members. 3380 Ashley River Drive, Charleston. www.draytonhall.org/event/2021-candlelight-tours-of-drayton-hall/
Mannheim Steamroller Christmas by Chip Davis
Nov. 27
Celebrate the holiday magic of Mannheim Steamroller when they bring their annual holiday tour to fans throughout the country. This year will reunite the #1 Christmas music artist in history with its legion of long-time fans. Experience the music that has become the hallmark of the holidays and a tradition for multi-generational families. Gaillard Center, 95 Calhoun St., Charleston. Tickets starting at $49.95 plus fees. 7:30 p.m. www.gaillardcenter.org
The Elf on the Shelf: A Christmas Musical
Dec. 2
This holiday season, the beloved tradition that has captured the hearts of families everywhere returns to the live stage! The Elf on the Shelf: The Musical is the thrilling spectacle of music and dance that transports audiences to the North Pole to glimpse the magical lives of Santa's Scout Elves. Featuring an original story and score, dazzling sets and costumes, plus heartfelt moments that will bring the family together, this joyous and uplifting celebration will leave audiences captivated by the splendor of the season. Tickets Start at $34.95 plus fees. Show starts at 6 p.m. Charleston Gaillard Center, 95 Calhoun Street, www.gaillardcenter.org.
Uncorked - The Ultimate Christmas Holiday Event
Dec. 3
Boone Hall Plantation will host "Uncorked," an exclusive black tie optional Christmas holiday event at the Cotton Dock venue at Boone Hall Plantation from 7-11 p.m. The enchanting evening and fundraiser for the Rotary Club of Mt. Pleasant will include sparkling rose, prosecco, wine, specialty cocktails, gourmet passed hors d'oeuvres, food stations, and desserts provided by Cru Catering. East Coast Entertainment will provide the band Right To Party and there will be unique entertainment including cigar rolling, oyster shucking, photo booths and more. $175 per person.
1235 Long Point Rd., Mt. Pleasant. www.boonehallplantation.com.
Holiday Swing - A Charleston Jazz Tradition
Dec. 4
Maestro Robert Lewis and the Charleston Jazz Orchestra will swing you into the holiday spirit with big band arrangements of winter classics and holiday favorites at the Charleston Music Hall. Add some jazz to your holiday cheer with this Charleston Jazz tradition! Two sets, 5 p.m. and 8 p.m. $25-$62 plus fees. Student, senior and military rates available. This performance has been made possible in part by REV Federal Credit Union. 37 John Street. www.charlestonjazz.com or call the box office at 843-641-0011.

Wine under the Oaks
Dec. 5
The popular Christmas holiday event is returning to Boone Hall Plantation on Sunday, Dec. 5 from 1-5 p.m. Admission will include wine samples from a variety of wine distributors and winery partners, oysters, desserts, wine and cooking demonstrations, specialty themed tents with food sampling, complimentary Wine Under The Oaks Stoelze glass and live entertainment by Occasional Milkshake. There will be also gourmet food selections from a variety of Charleston area restaurants available for purchase, a boutique wine tent with featured wines for purchase and unique gift options by a number of specialty vendors. Tickets are $55 each and a limited number of VIP tables for $650 for a table of eight. This is a rain or shine event, all ticket sales are final. 1235 Long Point Road, Mt. Pleasant. https://www.boonehallplantation.com/special_event/wine-under-the-oaks/
Under the Street Lamp: Hip to the Holidays
Dec. 5
In this special holiday show, Under the Streetlamp celebrates the season with rocking renditions of classic hits from the American radio songbook, plus music from their fan-favorite album Hip to the Holidays. Under the Streetlamp is a musical celebration of the American Radio Songbook a flashback to a time when people would gather under a streetlamp to sing their favorite rock and roll songs, including 1950s-1970s doo-wop, Motown and rock and roll. With their unique blend of tight harmonies, slick dance moves, and a powerhouse band of world-class musicians, the guys deliver a thrilling concert, interspersed with hilarious and touching behind-the-scenes tales. Tickets start at $29. Show starts at 7:30 p.m. Charleston Gaillard Center, 95 Calhoun Street, Charleston. www.gaillardcenter.org/events/under-the-streetlamp/
The Hip Hop Nutcracker
Dec. 7
A unique and joyful holiday mashup for the whole family, The Hip Hop Nutcracker is a contemporary dance spectacle set to Tchaikovsky's timeless music. Directed and choreographed by Jennifer Weber, the production is performed by a supercharged cast of a dozen all-star dancers, a DJ, a violinist, and MC Kurtis Blow, one of Hip Hop's founding fathers who remixes and reimagines the classic tale. Tickets start at $29. Charleston Gaillard Center, 95 Calhoun Street, Charleston. www.gaillardcenter.org/events/the-hip-hop-nutcracker/
38th Annual African American Spirituals Concert at Drayton Hall
Dec. 12
The 38th Annual African American Spirituals Concert is an important holiday event performed by Ann Caldwell and The Magnolia Singers. Performed in the round in the George W. McDaniel Education Center at Drayton Hall, this traditional Charleston holiday concert is a rare opportunity to experience music that could have been heard centuries ago in the surrounding fields and praise houses. Prior to the concerts, guests will enjoy a light reception with wassail - an historic and traditional holiday libation of Charleston. This afternoon event is held at the prefect time of day at Drayton Hall, the oldest planation open to the public in the United States, and offers a unique and reverent window into Charleston's past.
Members $65, non-members $75 per person, $400 private table for six. 3380 Ashley River Road
Charleston. www.draytonhall.org
26th Annual Mt. Pleasant Christmas Light Parade
Dec. 12
Brilliantly lit floats and community groups will march up West Coleman Boulevard as the Mount Pleasant Christmas Light Parade delights thousands of parade goers. The festivities begin at 5:30 p.m. with a spectacular fireworks show, immediately followed by the start of the parade at Live Oak Dr. traveling south and ending at the intersection of W. Coleman Blvd. and Patriots Point Rd. The Ravenel Bridge off-ramp onto Coleman Blvd. closes at 5 p.m. for the parade. Attendees are asked to practice social distancing. For more information or how to participate in the parade, visit https://experiencemountpleasant.com/events/christmas-light-parade/.
A Christmas Carol Reading
Dec. 18
Charles Dickens edited his book, A Christmas Carol, into a public reading format and performed this reading himself in both Europe and America. The Traveling Literary Theater brings the same edited, 70 minute version. English stage actor, James Dyne, leads the three-person cast. Two performances will be held at 3 p.m. and 7 p.m. Tickets are $15-$20. Circular Congregational Church, 150 Meeting St., Charleston. www.travelingliterarytheater.com
The Night Before Christmas Classical Kids Concert
Dec. 20
Celebrate the magical holiday season with a special Christmas Classical Kids Concert featuring musicians of Chamber Music Charleston and special guests. Sing along to favorite holiday songs and listen as well-loved stories come to life through classical music. This performance sells out every year, so be sure to purchase your tickets early! Tickets are $12 plus fees. College of Charleston Sottile Theatre, 44 George Street, Charleston. www.chambermusiccharleston.org/classic-kid-concerts/.
Sound of Charleston Holiday edition
Dec. 26 & 30
A special holiday edition of the Sound of Charleston concert will be held in December at the Circular Congregational Church downtown with a number of holiday selections and hot cider and cookies after each show. Circular Church is festively decorated for Christmas during these candlelight performances. Performances are at 7 pm. Tickets are adults, $28; seniors, $26; students, $16; children under 7 are free.
150 Meeting Street, Charleston. Tickets can be purchased at Charleston Visitors Center, by calling the box office at 843-270-4903 or visiting at www.soundofcharleston.com.