Private Schools
07 Jul 2016
By CLAIRE VOLKMAN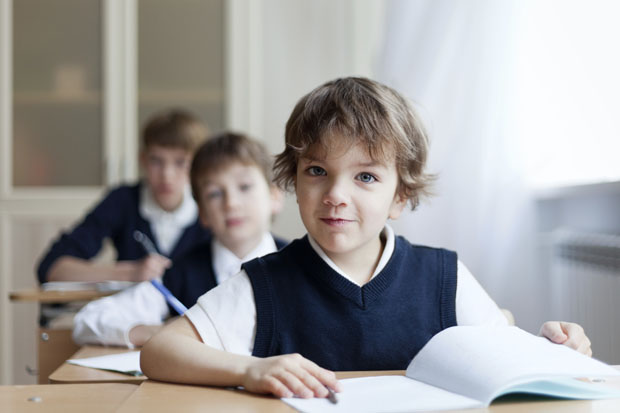 Regardless of what kind of parent you are, there's one universal truth that bonds you – you want your children to get the best education possible. And for many, that means paying the extra hundreds (or even thousands) for private school tuition – especially in Charleston. In addition to a more specialized education, studies have shown that private school students generally perform better academically on standardized tests, and also achieve high levels in reading and math than their public school counterparts. Better scores and higher grades aside, private schools also have more flexibility in the methods of their teaching, which ensures the students are learning at a pace, and in a way, that suits their personalities and strengths and weaknesses. Take Montessori education, for example, which fosters peer to peer learning, independence among the students and focuses on learning methods that work for each individual child.
Tailored learning, higher test scores and better grades are just three of the many benefits of a private school education, from pre-kindergarten on. The schools and classes tend to be much smaller (nearly half the size of public), which gives each child a stronger chance of success academically and socially. Thanks to the smaller class size, the average teacher-student ratios in most private schools is 9:1, sometimes even less than that (opposed to over 17:1 in public). Plus, there's often less bureaucracy since privately funded schools don't abide by South Carolina regulations – which means less mandated paperwork for teachers and more creative control over lessons and teaching methods.
Choosing to send your child to private school is just one piece of the larger puzzle – next comes which one to choose. In Charleston County alone, there are 48 private schools serving over 10,200 students with an average tuition of $9,300 and a 77 percent acceptance rate. Unlike public schools, where your school choice is determined only by "zone" or neighborhood, you can apply for any private school in the county – regardless of where you live.
If you're not sure which school to choose, are new to the area or are simply getting a head start on your younger child's education, we've highlighted four Charleston private schools below – ranging from a pre-k academy to a Montessori primary school all the way up to middle and high school. Constantly rated the top in the county by school boards, teachers and parents, these schools truly excel in giving their students the best education possible and are sure to provide your child with the tools he/she needs to succeed.
Monarch Academy
1210 Hospital Drive, Mount Pleasant
843-881-4769
monarchacademysc.com
Monarch Academy, located in the ever-expanding suburb of Mount Pleasant, is a private, multisensory educational daycare facility that serves children ages infant (newborn - 1 year old) to kindergarten (ages 4 – 5). The Academy is dedicated to inspiring children to reach their full potential, and this is fostered with a rich, learning environment that is built on strong bonds between teacher and student. The academy was founded by mother of three Tami Zigabarra, whose background lies in early-childhood education. After the birth of her first child, her passion for education only intensified – so she took her extensive schooling and on the job training and founded the Monarch Academy. Inspired from the variety of successful learning approaches she discovered throughout the years, she developed a truly one-of-a-kind learning approach for each and every one of her students, an approach that has made Monarch the success it is today.
The learning approach specializes in establishing an educational roadmap at the start of a child's life and focuses on these key components:
Natural life supporting environment for a relaxed calming atmosphere

Continually changing activities to stimulate creativity and academic development

Individualized lessons; phonetic and sight word teaching; symbol recognition and quantity comprehension

Art appreciation
Science and world study extensions
The school's main programs (which are aptly named for stages of a butterfly's growth and evolution) cater to newborns, preschool and kindergarten age children. Here's the breakdown of Monarch's classrooms:
The Chrysalis Room: Infants from newborn to 1 years old
The Caterpillar Room: Toddlers from 1 – 2 years-old
The Butterfly Room: Big kids from 2 – 3 years-old
The Monarch Room: Kindergarten aged kids from 4 – 5 years-old
Monarch Academy's programs begin at 8:30 am and go to 3:00 pm, with drop off starting at 7:30 am and pick up/free play lasting from 3:00 – 6:00 pm. The staff and Tami are certified lead teachers and in CPR.
Charleston Collegiate
2024 Academy Drive, Johns Island
843-559-5506
charlestoncollegiate.org
Located on a sprawling 30-acre campus underneath the grand, moss-covered oaks and rural natural beauty of Johns Island, Charleston Collegiate has been serving families from the Charleston area for over 30 years. The school, which is a nonsectarian independent academy, is organized in three sectors; Lower School (PS – 4th grade), Middle School (5th – 8th grade) and Upper School (9th – 12th grade). Thanks to the location, just 20 minutes from Downtown Charleston, the school is incredibly diverse – with a minority enrollment of almost 25%. The tuition ranges from $8,000 per year for preschool and lower school up to $17,000 per year for upper school. To offset the cost, the admission's office works on a sliding scale to offer discounts, assistance and scholarships on the tuition. The school is fully accredited by the Southern Association of Independent Schools and the Southern Associate of Colleges and Schools.
The faculty is young and passionate, and truly function as a family. "Charleston Collegiate fosters a strong community since we're small, so everyone knows each other and is always willing to pitch in. We [the faculty] wear many different hats and are always working and thinking like a team," Ashley Mulkey, Director of Admissions, said.
Charleston Collegiate's mission is to inspire and empower students to become passionate, lifelong learners and accomplish this through their four learning pillars.
Project-Based Learning – The focus of this pillar is to prepare the students for life in the real world, and it offers them the chance to explore problems and challenges through creative thinking, hands-on activities and teamwork. The content is taken outside of the classroom and is applied in real life, whether it's soaring through the air strapped into the flying Squirrel to teach physics, or measuring averages and lengths with arms and legs instead of rulers.
Financial Literacy and Entrepreneurship – Starting as young as 2nd

grade, students are introduced to financial concepts in their early years that develop and nurture their financial health, as well as their entrepreneurial spirit. From building budgets to fundraising for local families, this pillar is exceptionally important in building real-life skills for when the students leave the campus.

Creativity and the Arts – While other schools may be cutting fine arts, Charleston Collegiate is growing their program – with new creative elements being added every year. Students have the choice between making their own pottery with an in-house kiln, shooting and editing films shot on green screens, learning graphic design and media arts or participating in drama classes (which start as early as 2nd

grade).

Leadership Through Outdoor Education – This is one of the most important pillars as it promotes and encourages the students to reconnect with their natural surroundings. In addition to nature trails, tidal swamps and docks and a low-ropes course speckled across the beautiful 30-acre campus, there's also an outdoor classroom for students of all ages to learn outside.
New for the entering freshmen of 2018 – 2019 will be a brand new high school campus building alongside the current school. This new addition will feature state of the art technology, open working spaces and more.
University School of the Lowcountry
690 Coleman Blvd., Mount Pleasant
843-884-0902
uslowcountry.org
Founded by Mt. Pleasant native Jason Kreutner in 2007, the University School of the Lowcountry is a non-profit, accredited independent school serving kids in grades 3 – 12 in families throughout Charleston County. The mission of the school is simple, to foster high academic achievement and balanced growth through a challenging and individualized curriculum. The campus, which operates within the Hibben United Methodist Church, is highly supportive and community focused. Kreutner created the school because he saw a demand for independent schools for high-achieving students in the area, and used his extensive education and work experience (as a former Dean to Charleston Collegiate and Heathwood Episcopal) to create a competitive curriculum with nine primary focuses:
Humanities – A blend of history and language arts, humanities focuses on writing, reading, speaking and listening and teaches history, world geography, cultures and contemporary world issues. The lessons are presented in an interactive environment with a focus on debate, oral history and team projects.
Mathematics – This program encourages students to practice and understand mathematics in real time applications, and encourages them to use problem solving methods for equations.
Science – The teachers in this focus provide in-depth study of the core concepts of biology, physics, chemistry and environment sciences. USL science classes help students understand scientific processes and appreciate the role of science in the modern world.
Leadership & Life Skills – A key focus for USL, this portion of the curriculum focuses on the importance of leadership. Students and teachers debate issues of the day, listen to expert guest speakers and participate in field experiences outside of the classroom.
Global Language – These classes are designed to teach students the importance of learning and understanding global languages, including Spanish, Mandarin and Latin. The programs start as early as 3rd

grade, and strive for student fluency by graduation.

Physical Education / Health – Promoting physical and mental health, these classes teach the importance of fitness and diet as well as sportsmanship. USL students have PE as the first or second period of every day.
Writing – Designed to increase the proficiency of the student, teachers develop assignments that are diverse and frequent, and test the student's ability to write both creatively and scientifically. In addition, students are welcomed to enter their stories, poems and written works to the Southeast Scholastic Art & Writing Awards competition.
Art – These classes immerse students in the many facets of art, including digital design, pottery, painting, sculpting and more. In addition, the classes work in unison with the Humanities classes to cross promote important teachings.
Flex Time – This free time, so to speak, allows students to engage in pursuits geared to their individual interests and talents, whether that's global languages, art, writing or math.
Tuition varies by grade, starting with $11,150 for grades 3 – 8 and $12,300 for grades 9 – 12. The admissions office does provide financial aid and tuition assistance on a case by case basis to exemplary students who would not be able to attend otherwise.
Sundrops Montessori
4 Campuses throughout the Lowcountry
(Daniel Island, Mount Pleasant, Charleston)
sundropsmontessori.com
Developed with the Montessori influence and principles, Sundrops was opened in 1998 under the direction of Shannon Smith. Since its inception, the school has expanded to four campuses and serves children ages 6 weeks to 12 years old across Charleston. The focus is to create a stimulating, peaceful and collaborative educational environments for each child. Under the guidance of Sundrops certified Montessori staff, each child receives completely individualized learning in a multi-age classroom, which also stimulates peer to peer learning and understanding. To reflect the Montessori teachings, the classrooms are carefully designed and arranged to incorporate all five senses needed for successful learning, and the materials provided captivate children from both a tactical and sensory perspective. The programs at each of the campuses is designed with your child's unique personality and age in mind, and are broken down into four categories:
Nido- Created for ages 6 weeks to 17 months, the Nido program (which means nest in Italian) focuses on the basic needs of the infant, a safe bond between the caregiver and the child and the imperative development of the child's increasing independence. Because of this, you'll see that infants and children are free to move about the room without constraint.
Wee Casa – This program is meant for children 18 – 36 months, and feature specific classrooms for kids to explore and learn at their own level. Plus, it helps foster independence, respect for the child and caregiver, language development and outdoor play.
Casa – This environment is for the 3 to 6-year-old children, who receive an individualized learning plan created by the teacher after careful observation. Sundrops encourages parents to allow their kids to complete the three-year cycle in this classroom to see the success of the Montessori method come to fruition.
Elementary – Specifically at the Bridge campus, this program caters to kids aged 6 to 12 years. The role of the teacher now is to enable kids to discover different subjects through a "Five Great Lessons" approach. Plus, children are taught language, math, science and history in a fully interactive environment.
Tuition varies on the amount of time the child spends at Sundrops, the program they are in as well as the campus. It ranges from over $1,000 for Nido programs to $1,250 for Wee Casa programs. In addition, you can participate in half day schooling which ranges from $900 on.