Activity Guide for Your Pets
07 Jul 2016
A summer activity and safety guide for your four-legged friends
By CLAIRE VOLKMAN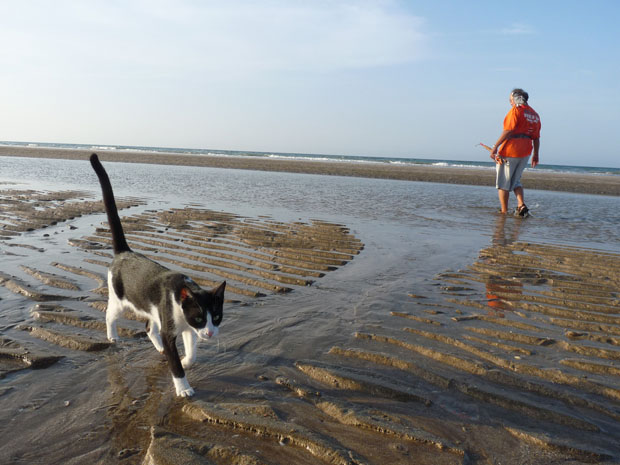 The longer days, warmer nights and extended hours for beaches and parks make summer a favorite time of the year for just about anyone in the South. However, it's not just a favorite for people – it's a favorite for pets, too, with more time to spend outside splashing in the ocean, running on trails or taking walks. However, in addition to finding the right activity in the Lowcountry for you and your four-legged friend, you also need to keep a few safety tips in mind when you're out and about with your pooch. Whether you're planning a kayak ride on the Ashley River or taking a road trip to the neighboring beaches, this activity and safety guide will keep you and your pet happy, healthy and relaxed all summer long.
Activities
There's no shortage of activities to keep you, your family and friends occupied in Charleston. From plantation visits to ample summer festivals to longer beach hours, summer is truly one of the best times to get outside. As great as it is for you, it's also great for your pet – with a variety of activities you can share with your furry best friend. This quick guide will give you the lowdown on the best outdoor, pet-friendly places to enjoy the beautiful sights and sounds of a Charleston summer.
Parks & Gardens
Although dogs are all welcome at these favorite outdoor green spaces, many of these parks require dogs to be on leashes at all times. Check the department or website for the most up to date rules and regulations.
Hampton Park: 30 Mary Murray Drive, Charleston

Features a designated dog run, beautiful paved trails & 60 acres of park space

Colonial Lake Park: Broad Street, Charleston

Quiet lake offers 10 acres of walking and running trails for dogs (on leash)

Waterfront Park: 1 Vendue Range, Charleston

Features 12 acres of waterfront walking trails for dogs (on leash)

White Point Garden: 2 Murray Blvd., Charleston

Also known as the Battery, this park boasts ample civil war statues, a pavilion and waterfront trails that are dog friendly (on leash)

James Island County Park: 871 Riverland Drive, Charleston

Open until sunset, this park has miles of paved trails for on leash walking and a designated dog park

Folly Beach Dog Park: 513 East Hudson Ave., Folly Beach

Adjacent to the beautiful beach, this park has ample space for off-leash roaming―however, dogs must be registered to enjoy

Palmetto Islands County Park: 444 Needlerush Parkway, Mount Pleasant

Nature oriented park has over 943 acres of paths and trails for on leash walking and a designated dog park

North Charleston Wannamaker County Park: 8888 University Blvd., North Charleston

Park features 2 miles of trails for on leash walking, a 5-acre lagoon and an off-leash dog park

Ackerman Dog Park: 55 Sycamore Ave., Charleston

One of 3 dog runs, it also has a large fenced in dog park for off-leash running

Drayton Hall: 3380 Ashley River Road, Charleston

Although pets are not allowed inside, they are allowed (on leash) to explore the Georgian gardens and the nature trails around the home

Inn at Middleton Place: 4290 Ashley River Road, Charleston

This stunning plantation home welcomes pets up to 50 pounds to stay in the Inn, as well as enjoy the 4.5 miles of trails, gardens and stableyards
Beaches
Due to the heavy number of tourists and visitors flocking to Charleston during the summer months, most pets are only allowed on the beach during certain hours and with a leash. These beaches below feature dog-friendly areas, but as always, check with the beach or county before visiting.
Folly Beach: Arctic Ave., Folly Beach

May 1 – September 30, dogs can be on the beach between 6pm and 10am, on a leash

October 1 – April 30, dogs can be on the beach anytime on a leash

Isle of Palms:

1 14th Ave, Isle of Palms

Dogs are welcome anytime on the beach as long as they are on a leash. Off leash, these are the rules:

April 1 – September 14, dogs can be on the beach off leash from 5am – 8am

September 15 – March 31, dogs can be on the beach off leash from 4pm – 10am
Kiawah Beachwalker Park:

8 Beachwalker Dr., Kiawah Island

Dogs are welcome anytime during the summer as long as they are on a leash

Sullivan's Island:

Pettigrew St, Sullivan's Island

Dogs are only allowed on the beach if they have a Sullivan's Island permit.

In addition, they are allowed on the beach from May 1

–

September 30 on a leash from 6pm

–

5am, off leash from 5am

–

10 am
Summer Safety
Just as people take precautions to stay safe and healthy in the summer months (with sunscreen, lighter clothing, aloe and ample water), dogs and cats need the same safety measures taken for them. To ensure your pet is safe during your park visits, hikes, beach swims, runs and picnics, there are just a few things you need to know to keep them happy and protected. Here are just a few tips we've learned from the experts.
Never Leave a Pet In the Car
It can take pets almost no time to develop heat stroke in a hot car. Even if you're just running into a store or a restaurant, a car can go from 78 degrees to 90 degrees in just a matter of minutes. If you're traveling with your pet, always leave the air conditioning on and windows unrolled. And as always, pack plenty of water and a water bowl to keep the pet hydrated.
Avoid Table Scraps
It can seem tempting to want to toss your pet some leftovers from your outdoor BBQ. Although there are certain human foods that are safe for pets to consume (see below), it's always best to consult with a vet before you decide to feed your dog or cat from the table. If you do feed your pet human snacks, watch their bowel movements to ensure the food doesn't upset their stomach.
Summer foods that are safe for pets to consume:
Cantaloupe and honeydew melon

Chicken, turkey or beef

Apples

Peas and green beans
Summer foods that are dangerous for pets to consume:
Avocados

Grapes

Onions and Garlic

Ice-cream and other dairy (unless a specified pet-friendly brand)
Keep Them Protected From Fleas, Ticks and Heartworms
It's officially the season of fleas and ticks, so before you take your pet to the dog park, beach or outside, ensure they're up to date on all of their medications. Most medicines are given by a vet. If you're worried your pet has fleas or ticks, take them to the vet immediately, as these can fester and turn into larger complications, like heart worms. Always check your pet after a visit to a wooded area or the beach to make sure no parasites snuck into their fur.
Always Have Ample Water and Shade
There's nothing worse than being dehydrated or sunburnt, and pets can feel the same discomfort if left outside too long without refuge. If you're going to be outdoors for most of the day, pack ample water for your pet so they can be fully hydrated. In addition, bring an umbrella so you can keep your pet away from the sun to avoid sunburns (yes, pets can be burnt) and heat stroke.
Keep Their Paws Cool
It may seem silly to put shoes or protective wraps on your pet's paws, but these common items can go a long way in preventing burns on your pets sensitive feet! Not only can the skin burn, but too hot surfaces can lead to overheating.
Buy a Lifejacket for Deep Swims
Although some dogs are excellent swimmers naturally (like Labradors, Golden Retrievers and English Setters), you still want to make sure they're protected in case of currents, tides or they swim out too far. Go to a pet supply store and buy a pet lifejacket just in case. This is especially important if you plan to take your dog on a boat, paddleboard or kayak.
Guard Your Garden
As beautiful as azaleas and sago palms are in your garden, these flowering blooms and blossoms can actually be fatal to both dogs and cats. The Sago bloom, for example, can be toxic and fatal with just one bite. In the past 10 years alone, over 1,400 pets have died due to accidently consuming this popular plant. To avoid any accidents, keep your gardens fenced off from pets or ensure your cat or dog is on a leash.
Sidebar
Local Spotlight
Owned and operated by local businessman Peter Nebel, Pet Supplies Plus has been the go-to pet store for many lowcountry dog, cat and bird owners. Nebel and his wife Lori have two rescue dogs―Roady, a hound from Tennessee, Sawyer, a Jack Russell mix from Puerto Rico and Ireland their Green Cheek Conure. The Nebels are involved with several local animal rescues and serve on the Board of Directors of Sinbad-Sadie Second Chance Rescue. Store Manager Angie Quiles, has been with the team since the doors opened. Quiles of course has a little zoo of her own at home. Sookie, her gentle giant Mastiff; Diamond, the Chihuahua, known as the boss of the house; Luna, her rescued Bunny; Gonzo and Mooney, her Bearded Dragons; and her latest addition, a kitten she adopted from the SPCA. Quiles also plays a big role in supporting local rescues by hosting in-store adoption events, and attends out-of-store fundraising events. Head there for your summer pet supply needs, from medications to lifejackets to custom water bowls. 843-202-0905, petsuppliesplus.com/summerville8051