Reaching The American Dream
05 May 2017
Johns Island Attorney Guides Immigrants through Legal Maze
By Holly Fisher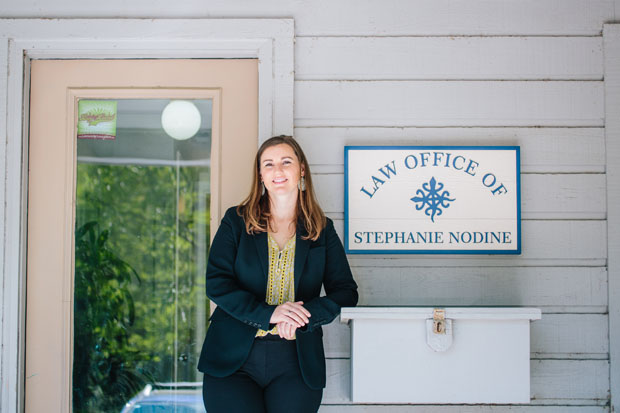 In a small office on Johns Island, Stephanie Nodine is helping people achieve the American dream. An immigration attorney, Nodine assists immigrants in navigating the red tape of visa applications, obtaining proper documentation and even the path to citizenship.
Nodine's interest in immigration law can be traced back to high school where she had a knack for learning Spanish. Her interest in language led her to pursue a degree in Spanish from Furman University. She studied abroad in Spain and spent a portion of her senior year in Mexico and Central America, where she saw first-hand the situations that drive people to come to the United States.
Nodine knew she wanted a career where she could use her Spanish language skills. A year after graduating from Furman, she was accepted to the Charleston School of Law. Initially, she expected criminal defense, but instead sought out a job with a local immigration attorney.
In 2013, she hung out her own shingle on Johns Island, focusing solely on immigration law from visas to green cards. Many of her clients are from Mexico and Central America so about 80 percent of her day she's conversing in Spanish. Others are from all over the world—Asia to Africa, Nodine said.
Many clients are those who overstayed their temporary visas or have been in the United States more than a year without the proper documentation. The penalty for those living in the country without legal permission is a 10-year ban on returning to the United States. One way to overcome that issue, Nodine explains, is by applying for a hardship waiver to show how American family members—such as parents or a spouse—left in the United States would experience hardship if the undocumented family member had to leave the United and States.
"We've been very successful with those," Nodine said.
Another area of immigration law applies to immigrants who, while in the United States, have been victims of violent, personal crime, such as armed robbery, domestic violence, human trafficking or sexual assault. Nodine helps these individuals apply for what's called U nonimmigrant status or a U visa.
Lawyer and teacher
Nodine sees the role of immigration attorneys as both defender and educator. "We have a responsibility to educate the public and the immigration community on what rights they have and what visas are available to them."
In the current political climate, you can add advocate to Nodine's roles. During Donald Trump's presidential campaign and in the early weeks of his presidency, immigration took center stage. With promises to build a wall along the Mexico-U.S. border and a crackdown on those living in the country illegally, the immigrant community around the United States has been on edge.
Nodine's office had an influx of calls as Trump signed executive orders that would change immigration policies.
"It's presented an additional challenge," Nodine said of the current political climate. "But that's part of practicing law. You roll with it and plan out strategies to protect your clients."
Trump's executive orders also haven't been as clear as past presidents', Nodine said, which makes it difficult to advise her clients. "You don't know how it all will play out," she said.
She does stress that existing laws like the U visa cannot be revoked or repealed with an executive order. Yet, current uncertainties have prompted people to get their papers in order, Nodine said. And, as a result, her office stays busy all week long.
Nodine, too, follows news reports, social media and subscribes to professional Listservs so she doesn't miss any new developments. "It could be a small piece of information that makes a difference in someone's case," she said.
Career commitment
Nodine has created a safe space for Charleston's immigrant community. She receives a lot of referrals from past clients who found her fair and realistic. Immigration law isn't always easy, and the process can last a year to 18 months—sometimes even longer.
Nodine said immigration law is extremely rewarding. She appreciates the tangible benefits of reuniting families or seeing mothers and fathers get a driver's license so they can better participate in the lives of their children.
The nature of immigration law means Nodine is intimately involved in her clients' lives. She gets to know their families, their backgrounds and their personal stories. As a result, Nodine said, her clients often become her friends. "That is invaluable to me," she said. "I don't think I would want to work in any other area of law."
She recounts a particularly meaningful case in which a family was the victim of a serious crime in the Lowcountry. Nodine actually started working with the family before she even graduated from law school, helping them apply for a U visa. Later she helped them apply for a green card and now they are almost eligible to apply for U.S. citizenship.
"It's an honor to be in someone's life like that," Nodine said.
'Mouth of a shark'
Not only is Nodine educating the immigration community about available options and the potential for policy changes, she and other immigration attorneys work to inform the public at large about what it means to be an immigrant in the United States.
The average person has no idea how complicated the process is and how limited the opportunities are to lawfully live in the United States, she said.
"People are desperately seeking a way to have lawful status, but present immigration law doesn't make it easy for them," Nodine said.
Plus, Nodine said, people born in the United States may not fully understand the situations that forced people to flee their home countries. She references a line of poetry from Kenyan-born Somali poet Warsan Shire: "No one leaves home unless home is the mouth of a shark."
Many of the people Nodine works with have known extreme poverty and violence in their home countries. "They didn't have the opportunities the United States of America has given them even being undocumented," she said.
Simply having the protection of law enforcement and realizing the police are here to protect them is an entirely new concept to immigrants who previously feared corrupt law enforcement and retaliation from their abusers.
"People will commit heinous acts and are never held accountable," Nodine said. "But this is a country where they can reach out for help."
Education: Bachelor's degree in Furman University and law degree from the Charleston School of Law
Family: Husband, Brad Hornback, who works for a consulting firm, and two rescue dogs
Hobbies: Softball, yoga and traveling the world with her husband. In September, they are visiting Cambodia.
Volunteerism: Nodine is working with a group of individuals on Johns Island to rebuild the Progressive Club, a Civil Rights-era community center.