Realizing Your Dreams
01 May 2013
An ambitious home design comes to fruition for John and Sue Carpenter
By ROB YOUNG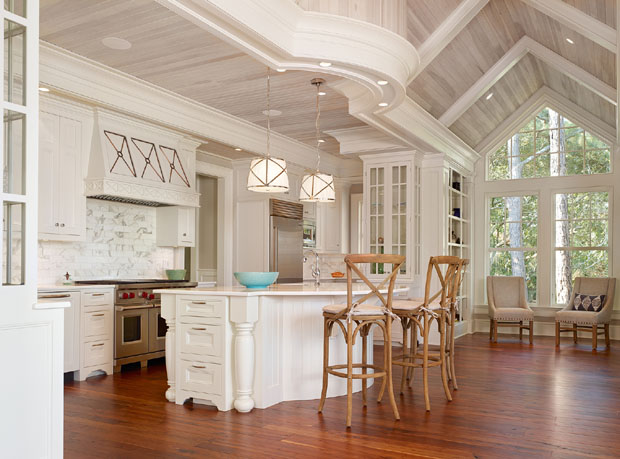 For decades, the homebuilding firm R.M. Buck Builders has enjoyed great success constructing luxury homes in downtown Charleston and on Kiawah, Johns and Seabrook islands. Their winning blueprint involves an attentive top-to-bottom program, including customization, renovation, furniture-grade cabinetry, and a property management and maintenance business. And now, they've even picked up endorsements from a pair of Carpenters.
John and Sue Carpenter, upon searching for their vacation and eventual retirement home, commissioned R.M. Buck Builders for construction of their gorgeous, 4,600 square foot home on Seabrook Island. In turn, the Carpenters received a handsome, open home that features a pool, wine room, intricately vaulted ceilings and tremendous views of the home's natural surroundings.
"We not only have what I consider an architecturally significant, quality-built home with finely appointed woodwork, but the process was so easy with R.M. Buck Builders," John Carpenter says. "Their ability to get us timely information, and to walk through the process, including the monthly accounting of what was spent and what was owed, was so easy to follow. It made the whole process very easy. I'd highly recommend them."
Project Connections
Helmed by the father and son team of Bob and Ryan Buck, the builder cleared the Carpenters' Seabrook lot in December 2010, and finished construction in May 2012. For a few years, John and Sue Carpenter held a home in the Villages on Seabrook Island, where they would sneak to during John's breaks as an executive for Caterpillar. So the decision to build a larger residence on Seabrook was easy. "We like the Lowcountry look and feel as far as Spanish moss and live oaks," John says. "You can get that same beach feel at many places in Florida but you just don't have the fauna and flora."
As it turns out, the decision to hire R.M. Buck Builders was also pretty easy. "We hit it off initially with John and Sue. We meshed well," Ryan Buck remembers. "It didn't take long to figure out whether it was going to work or not."
The Carpenters also engaged Marc Camens, the principal of Camens Architectural Group, to design the home. For R.M. Buck Builders and Camens, the project seemed like old hat. The companies enjoy a familiar, comfortable rapport, as well as shared history and trust. "We've done 38 projects with Marc, so we've got a pretty long relationship," Ryan says. "That's one of the advantages that we have from working with Marc so many times. We kind of know what he's thinking. It works really well when you have a solid connection like that."
As architects go, Camens is as cerebral as they come. He peppers his clients with forward-thinking questions, deriving a philosophical or mission statement of what the home may mean to the new owners. How do they plan on using it? How will they spend their time inside the house?
"Rather than starting out by filling out forms or preferred room sizes, Marc sat and interviewed us and made sketches for about three or four hours," Carpenter says. "He talked about how we wanted to live in the house, which is a great approach. We immediately sensed that he was able to get into our head and figure out what we were thinking and put it into a design."
The Bucks impressed the Carpenters with their workmanship, their descriptions of the project processes, their relationships with their subcontractors, as well as the structural integrity of their homes. Bob and Ryan Buck showed the Carpenters several of their builds on Kiawah and Seabrook islands, providing the couple with a first-hand view.
"With Bob and Ryan, we looked at the quality of their homes, and it really resonated with us. But it wasn't just the beauty and the layout, we wanted a very well-built home constructed by someone who understands the challenges of building on sand and in a hurricane zone," Carpenter says. "We could see that the craftsmanship was exceptional, and the skeleton as well. I have the feeling, and probably correctly so, that if a hurricane was to hit, we might be the only house left standing."
Realizing Ambition
It's part of R.M. Buck's central philosophy. "We like to connect with our clients and architects early in the process to do a design-build," Ryan says. "With the Carpenters' house, Marc developed the plans at an early stage. We looked at it, priced checked it and made sure we were all in line, and then we moved to the next level of drawings and price checked it again. It helps keep the client informed so that it's a smooth transition and smooth build."
The Carpenters appreciated the proactive approach. "I sensed early on – and really felt this way throughout the project – that they were going to give me timely cost and value elements," John Carpenter says. "If we want to add something or drop something, they'd let us know how it affected the cost of the project."
Plus, it helped the Carpenters realize their ambition: the completion of a welcoming, reverse floor plan home; a large, open kitchen and island area where people can pull up a chair, enjoy a glass of wine and conversation; and a screened-in porch area with fireplace. Cast in marble and granite throughout, the home also features a pair of spacious downstairs bedrooms. "It's so inviting when you walk in. We just feel so comfortable there," John says. "I think some people may build homes to be able to show others, and it's nice to do that. But we wanted to build something that really made us feel like we were at home."
Custom-Made Cabinetry
Of course, the Carpenters loved the cabinetry. Since 1990, R.M. Buck Builders has supplied furniture-grade, custom pieces through its subsidiary business, Island Cabinet Company. No particle boards or wood fillers here. These are hand-crafted pieces locally built on Johns Island. "We're pretty much the last builder around to offer 100 percent of the cabinetry if the client chooses to do so," Ryan says. "We don't have to build their kitchen, but it often makes sense to."
A Long-Term Relationship
Through consolidated monthly billing, RMBB Property Management provides custom weekly and bi-monthly home checks, thorough property inspections, contracted landscape maintenance and home repairs, hurricane and storm preparation and cleanup and pest control. The company's preventative and routine maintenance program also includes semi-annual power washing, annual and biannual system servicing (HVAC, plumbing, pool) and biannual property inspections for wind and water damage, dry or wet rot, and tree and landscaping health. "John Carpenter owns that house, and we're going to be there to take care of it for him," Ryan says.
It can be a valuable service, particularly for out-of-town clients or for those living there part-time. When these home owners return to their properties, they'd rather not spend the entire week or weekend cleaning up or servicing the home and grounds. "You've got some extreme elements on Seabrook Island and just in Charleston in general, and these homes don't take care of themselves. When our clients come home, they want to come back to a home that has been cared for, and serviced, washed and maintained," Ryan says. "It's really a long-term friendship that we create with all our clients."
And really, it's one that starts with trust and continues in the same way. "What we got with Bucks was not only a beautiful home, but an ongoing, great relationship," John Carpenter says. "We really felt like that we had a family that wanted to build a home that would meet our expectations. They seemed like they really cared about us versus caring about just the transaction."
The Carpenters have expressed the same sentiments to the Bucks via emails and texts. "There just so happy living there," Ryan Buck says.
It's appropriate. After all, the build – and the house, itself – has given the couple great comfort. "It was a quality, professional handover and the project was done on time," John Carpenter says. "It's so relieving and relaxing to know that this is where we're going to enjoy spending our permanent retirement."