Rethink Learning Differences
06 Mar 2017
At the end of a dead-end street, a world of possibilities unfolds for children
By LINDSAY STREET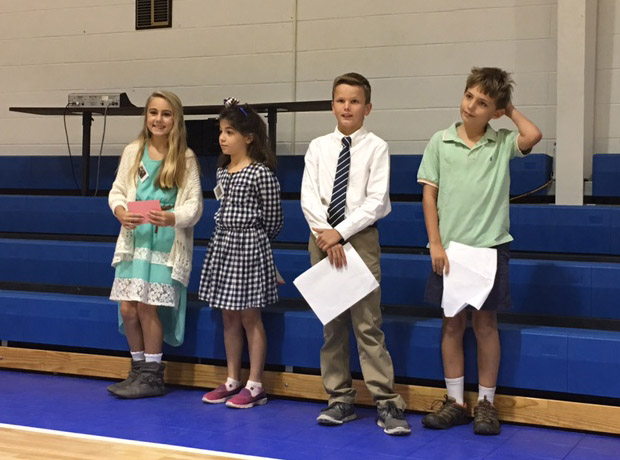 As children first enter the building with brightly painted pictures lining its hallways, they may feel like reading is impossible, that they aren't smart enough, and no one can help them.
And that's exactly why Trident Academy opened 45 years ago: to help children struggling with learning disabilities. The independent school in Mount Pleasant only takes children with a diagnosed learning disability, such as dyslexia, dysgraphia, attention deficit hyperactivity disorder and/or dyscalculia.
The school is small with only about 50 students enrolled between kindergarten through 12th grade. Tuition is high, but grants are available. Students can enroll at any time before or during the school year.
To help unlock learning for its students, Trident Academy leans heavily on a research-based, multi-sensory instructional approach called Orton-Gillingham. Trident Academy Director of Language Enrichment and Development (LEAD) Laura Bryant said the model provides a consistent approach that works well.
"That's our success," Bryant said. "It's taking the basics of language and showing the students, going from simple to complex."
Tools of the Trade
Bryant explained that Orton-Gillingham gives students "tools" for their "toolbox" in order to understand language and reading. "You can always rely on a wrench if you use it the right way," Bryant said. "We assess where each student is … and come up with a plan to teach them. It's all diagnostic and prescriptive."
Almost all students at Trident Academy have one period of one-on-one or one-on-two LEAD tutoring. The sessions specifically deal with a student's individual needs.
Bryant said it's important for students to get the help Trident provides as early as possible in their education. "The older they are, the more challenging it is because they've struggled longer," she said. "It's better to capture them younger."
Older students have gone into "survival mode," Bryant explained and the Trident teachers have to un-teach many of their "coping mechanisms." Some students may have a defeated attitude prior to coming to the academy.
"It's working through all of that to find out what they are really like," Bryant said. "Once you give them these tools—oh, it's just amazing. It's like the analogy of the flower. They start to open and blossom because they realize they are smart and capable, and they can learn like anyone else. They just have to go about it a different way."
Trident teachers use a variety of multi-sensory methods to teach concepts. For example, instead of using a pencil and paper to write a letter, a student may write that letter with a finger in shaving cream or in glittery sand.
Another multi-sensory tool is more modern: an electronic tablet. This year, the academy launched a 1:1 initiative starting in the third grade for all students to have a tablet. The goal is to eventually provide all students with a school-issued tablet or chromebook.
Ashley Bennett is the school's librarian and media specialist. Her job is to incorporate technology as a part of learning. "Technology is everything," Bennett said. "It's not just games."
The tablets are used to electronically speak typed words or type spoken words, or to provide a rough writing surface with the help of a tactile screen.
Movement is another tool that's used by Trident. Exercise is usually incorporated throughout the day, and students who have difficulty sitting still are given tools to manage their energy, such as a ball to sit on or a trip to the trampoline.
A Different Culture
Jonpaul Sticco has dyslexia and ADHD, but he isn't a student. He teaches fifth through eighth grades in reading and writing. Sticco uses his learning disabilities to connect with his students, especially during his homeroom when he often shares experiences he went through.
"I know how it feels to be in that public school," Sticco said. "A lot of us [teachers] understand what these kids have gone through previously."
Sticco said the student culture is just different at Trident Academy. "You don't get these cliques. Everyone here is in a big unit," he said. "Instead of trying to hide, they are more than willing to try… They don't pick on each other here. There's no putting others down."
It's a positive energy not lost on the students.
Violet Anderson came to Trident Academy as a second grade student. She's now in the fourth grade, and was recently elected lower school president for kindergarten through fifth grade.
"It was hard at my old school, but here, they teach and help you," Violet said. She added that she struggled with the large classroom sizes and the emphasis on spelling.
She said she really enjoys the different learning methods, such as using beads to help her with her multiplication tables. "The teachers try to help you understand everything," she said.
A Teaching Model Proven to Work
Lael Byrd is the school's registrar and outreach coordinator. She credits the school with being able to help her son overcome his learning disabilities. He spent about eight years at the school working through his dyslexia and attention deficit disorder.
"He wouldn't have been able to even read," Byrd said. "My son would not be as successful as he is if not for Trident Academy, not only business-wise, but also in his personal life."
Byrd's son currently owns two businesses.
Beyond the anecdotal evidence, there's internal data to prove that Trident Academy works. A look at 20 years of the school's test scores from 1995 through 2015 shows students who have attended the school for one year, on average:
• Increase vocabulary test scores by 115.6 percent;
• Increase comprehensive scores by 152.2 percent; and,
• Increase math scores by 286.8 percent.
The data is further broken down into which learning disability students have been diagnosed. For example, students with ADHD increased their comprehension scores by 200.9 percent; students with dyslexia increased their vocabulary scores by 619.5 percent. Students with ADHD and dyslexia increased their math scores by 436.1 percent.
So how quickly can Trident turn a student around? Bryant has a sign in her office that reads, "It depends…"
"No student is the same," she said. Most students only remain at Trident for just a few years. However, a few will spend their entire kindergarten through 12th grade career at the school. It just depends. 843-884-7046, tridentacademy.com