Rooms with a View
02 Jul 2019
Third generation Beach Construction builds beach homes and a legacy
By Rob Young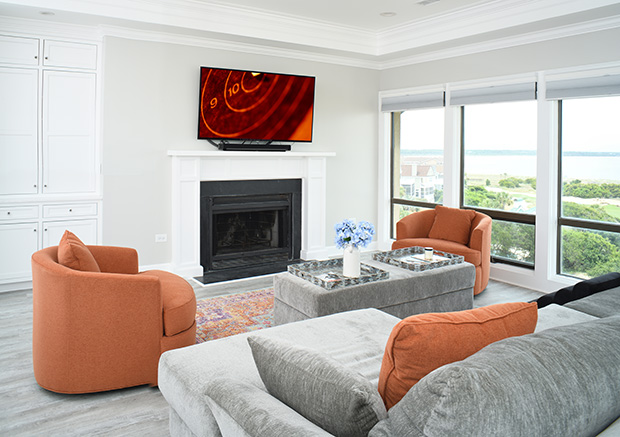 Beach Construction has left its legacy upon the Lowcountry with three generations that span their business. The Walters family withholds a unique and creative perspective throughout the industry since their inception began before Hurricane Hugo. A construction of memories flood the Walters as they have observed beachfront homes that were just summer getaways to innumerable amount of families that now live on Isle of Palms all year around.
For the owners of an Isle of Palms condominium, it's certainly served them well too. Beach Construction finished up the unit's total renovation earlier this spring, bringing new life to an outmoded residence. They replaced the wiring, sheetrock, flooring, pluming, showers, tubs, ceilings – and yep– even the kitchen sink.
Playing the Family Trade
Richard and Troy Walters, owners of Beach Construction Company, fully run the company as a team duo. Richard is a second-generation carpenter, his son, Troy, being third generation. Richard's father, Harvey, started the business in the '60s, and Richard rechristened it as Beach Construction Company in the '80s. Now 89, Harvey still serves as a terrific guide for his son and grandson, "I spoke with him recently about a set of stairs because it can be extremely difficult considering they need to be precise when laying them out" Troy says.
Headquartered on Isle of Palms, Beach Construction primarily focuses on the Isle of Palms, Sullivan's Island and Mount Pleasants specializing in custom home builds and renovation work. Beach Construction's mission statement – "building our legacy, starting by building for our customers" – hints at the company's integrity. "We want to treat our customers like family," Troy says. "It's like Richard says, when he first starts a job, you're going to love him. You may grow tired of him after a while, but when he sees you again at the grocery store, he wants to be able to shake hands with you. And he always has."
Troy, 27, joined the company eight years ago where he was able to learn from the ground up. Richard and Troy still run all of Beach's jobs; heading up crews and doing much of the work themselves. At the renovated condominium, Troy helped raise the ceiling, completed trim work and the plumbing. He also built the mantel, which he describes as his specialty. More recently, Troy returned to school as a part-time student to complete his undergraduate degree in Civil Engineering from The Citadel. "It really started with putting on the pouch, learning the trade from my dad and papa, while being completely hands-on," he says. "Until you pick up a saw and start cutting boards, you're not going to know how to do it."
Panoramic Views
After the couples move to the Ocean Club Villas located in the Isle of Palms, it wasn't long until they decided a renovation was overdue. The original dwellings were built prior to Hurricane Hugo in 1989, then renovated following the storm; which resulted in the "wear and tear" to be quite visible. "Most of the units hadn't been touched since '89 and they were noticeably outdated" says Troy Walters.
The owners had been looking at oceanfront properties for 10 years prior to committing to the beautiful oceanfront property. "We were trying to find a home that hadn't been completely renovated and wasn't over $3.5 million," the homeowner said, laughing.
Shortly after they bought the property, the construction process began in September and successfully ended in April. They chose to live in the residence for a couple of months so they could better understand what needed change. As time passed, the couple found Beach Construction through Ocean Villas' Property Management Group, as Beach Construction has completed several renovations throughout the complex.
Alternatively, the couple was under contract for another unit in Ocean Club, but during the final visit, their real estate broker mentioned another unit that had just come on the market for the first time since 1986.
Their original unit was on the fourth floor of a different building; this one was on the fifth floor, featuring 180-degree, panoramic views. "When we walked up, you could see Dewees Island,the sandbar, and miles beyond the ocean," the owner says.
The unit's balcony was a big draw too. "We were attracted to it not only because of the panoramic view of the water and beach, but it was also the fact that you didn't connect to another balcony in the building. It's very private; you're basically on your own. The balcony is over 50 feet wide, which leaves a lot of room to enjoy beach views and the oceanfront," the owner says.
Raising the Bar
They also knew immediately that it would require renovation. "It was a big decision, and the previous unit was already refurbished, completely redone with a baby grand piano," the owner says. "But we had to look at it long-term."
For instance, carpeting covered the entirety of the couple's home. Then beneath the carpeting there were cables that connected wiring or power which were completely visible to anyone in the room. Needless to say, the owners were not completely thrilled with the interior design.
The vanities were dressed in plain, subway tile, and the ship-style cabinets showed age. Troy states, "They were old and dated, but instead of trashing them, we take them out and give them to others who might find them more useful"
Bulkheads lined the ceiling as they erected strictly for aesthetic purposes. "That's one of the things we did to make major improvements," Troy recalls. "We removed the bulkheads and raised the ceiling 12 inches. It made one of the biggest differences. It totally enhanced the view of the unit."
However, raising the ceiling of a dwelling can be particularly tricky. "It really depends on how the building walls are framed. Ceiling joists aren't wood, so you have to be careful or you can fall through it," Troy says. "First the sheetrock has to come off so you can see what you're doing and you have to keep everything level to run the framing properly. This is critical because you can see imperfections."
In sum, it's created a more welcoming feel. "The biggest thing was removing the walls," the owner says. "It's now much more open, particularly with the ceilings and sliding glass doors or windows. It's one big vista that opens up to a panoramic view."
Project Principles
Among the keys to the project, there was one in particular that stuck out: Beach Construction's responsiveness to their clients. "When I would call Richard or Troy, they would pick up, or if they were busy, they'd respond with a text stating that one of them will call as soon as they can," the owner says. It was an interactive, professional relationship all the way through."
The Walters' honesty also impressed the owners. "They were always real with me," he says. "When you go into a renovation, you never who what you're going to get into. It's not cheap by any means. Tearing apart the unit is fine. But to take it to the next level and make it where we wanted to be was important. It may have taken a little longer, but everything was totally transparent".
"We have new appliances, electronic components, TVs, lighting," he continues. "Everything here is transitional with light, gray floors and a clean, uncluttered feeling. Beach Construction really helped us bring the home to a state-of-the-art residence."
Beach Construction
843-364-8808
beachconstruction.net