The Tastes of Summer
02 Jul 2019
Whether you're craving dessert or a light bite, we've found six summer dishes that are sure to please everyone
By Amanda Oliver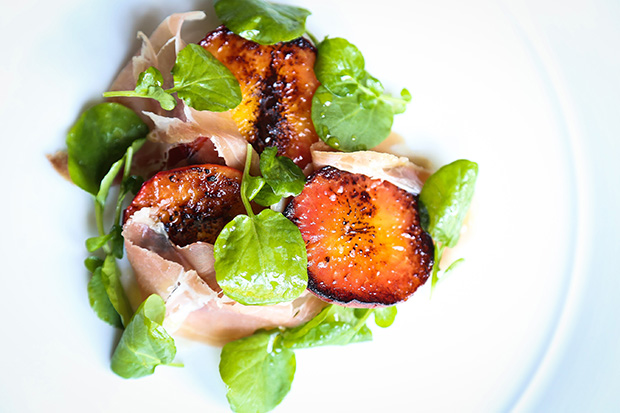 The Establishment
28 Broad St, Charleston
www.establishmentchs.com
While Georgia might officially be named the Peach State, "South Carolina actually produces far more peaches," asserts The Establishment's Executive Chef Matt Canter. It was from this nugget of truth that Chef Canter decided to make The Establishment's new summer dish focus on our most popular fruit.
He starts the base of the dish by halving South Carolina-grown peaches that are then "roasted in a little bit of brown butter to bring out their sweetness." Chef Canter then places the peaches on a bed of watercress greens. "Next, we top them with Ubriaco di Raboso cheese and thinly-shaved ham which is sourced from Goodnight Brothers in North Carolina," he said.
"My entire food philosophy is to make sure that a dish's flavors don't compete with each other. It's all about balancing between the five types of tastes: sweet, sour, salty, bitter, and umami," Chef Canter explains.
He goes on, "When you take a bite of this, you've got the sweetness from the peaches, the creamy texture of the cheese, the more grassy bitterness of the watercress and then the saltiness of the thinly shaved ham."
It wasn't just the fresh fruits of the Palmetto state that attracted Chef Canter to Charleston. "There are a lot of passionate chefs here and the vibe of the city is unique," he says. What drew him to The Establishment was the ability to "create a new rendition of a destination seafood restaurant."
"There are a number of great raw bars and we didn't want to reinvent the wheel," Chef Canter said. "Instead, we wanted to combine the abundance of amazing fresh local foods with a balanced approach to their preparation."
That effort is clearly working and this summer peach dish, located under their "Taste" section on the menu, is sure to be a summer success!
Carmella's
198 E Bay St #100, Charleston
www.carmellasdessertbar.com
Named after owner Brian Solari's grandmother, Carmella's restaurant is the culmination of the family's focus on food spanning multiple generations.
"Growing up in a family that loved to cook meant that I started learning very young. I learned recipes in my grandmother's kitchen that were passed down over countless generations," Solari recounts.
Working in the food and beverage industry his entire life, Solari picked up on a void in the Charleston food scene: desserts. While bartending and managing the front-of-house at different restaurants, he was repeatedly asked by patrons for recommendations for a dessert place. It was then he realized how he could turn his lifelong education in food into the perfect solution.
Luckily, Solari's uncle, Dennis Raffa, is a fairly well-known pastry chef, and once Solari approached him with his idea for a dessert cafe, his uncle was able to give him an in-depth education on everything from gelatos and sorbettos to cakes and pastries. Keeping it in the family, his wife, Tiffany Solari, runs Carmella's with him.
Their level of dedication and education means Solari doesn't cut corners, especially when building the latest summer creation. "We spent a year-and-a-half perfecting the recipe for the waffles in our 'Caramel Chunk,'" Solari said. "Using authentic and thick Liège-style waffles, we layer on our house-made whip cream, chocolate sauce, pralines, and, of course, our house-made salted caramel gelato."
As we all know, some of the best memories are made sharing a dessert or sitting around the table with family and friends. So if you need to cool off with some delicious gelato during the unrelenting Charleston summer heat, but also want a comfortable and familiar atmosphere, then Carmellas will hit the spot!
Pink Cactus
100 A Spring St, Charleston
www.pinkcactuschs.com
Not all restaurants consistently honor their culinary inspiration the way Pink Cactus does. To eat at Pink Cactus is as much about delighting your taste buds as it is about getting an education in Oaxacan culture and cuisine.
"The more I learned about Oaxaca, which is considered the mecca of food within Mexico, the more fascinated I became," said Pink Cactus owner Brooke Warden. "One of the most important pieces to the food is that there are their seven classic moles made from different dried chiles."
Even though some of the chiles used are rare and hard to source, Warden is so committed to honoring the Oaxacan traditions that she actually travels to the region herself to bring the chiles back.
Another element of Oaxacan cuisine is their heirloom corn, which Warden sources directly from a co-op in Mexico.
"We use a long-held tradition called nixtamalization, where you soak the corn in a solution to break down the fibers before grinding it into a flour called masa. It's a very similar process to how we make hominy grits here in South Carolina," Warden said.
"Since we have to produce masa on a larger scale, we use an industrial grinder with volcanic stone to create our masa in house," said Warden.
The kitchen staff arrives at 5:30 a.m. daily to make the masa base used for everything from tostadas, tamales and more.
It's this level of detail and honoring tradition that inspired Chef Ivan Aguilar create their newest summer dish. "Growing up in Monterrey, Mexico, it was always green in the summer. I wanted to combine that with paying homage to a chef I had worked for. He made a cucumber gazpacho that I was obsessed with, so I used elements of both of these things for our dish," Aguilar said.
To create the monochromatic and modern plating that Chef Aguilar sought, he also added numerous summer vegetables such as pole beans, jalapenos, radishes, and green onions. Combining cucumber aguachile (meaning "chile water") inspired by the gazpacho along with the aioli and vegetables, Chef Aguilar layers it all on top of a house made tostada.
If you're looking for a summer dish that's inspiring for both its flavor and its story, then Pink Cactus should be your first choice!
Black Wood Smokehouse
90 Folly Road, Charleston
www.blackwoodsmokehouse.com
Chef Joseph Jacobson, a fourth generation Charlestonian who runs Black Wood Smokehouse with his wife Allison Jacobson, built the restaurant's menu to focus on locally-sourced proteins, produce, and fruit. This theme carries through to a standout summer dish that highlights locally-sourced produce.
"We first wanted to showcase delicious Johns Island tomatoes, so we cut thick slices to use as our base for a tomato salad. Then we added toasted pine nuts, fresh cracked pepper, crumbled Cotija cheese, Malden sea salt, arugula, and pickled onion," Chef Jacobson said.
The Johns Island tomatoes weren't the only locally sourced ingredients.
"We also used fresh Edisto basil as well," Jacobson said.
What really sets this dish apart is the smoked cherry tomato vinaigrette. The ability to include this unique element to the plate is possible thanks to the way Black Wood Smokehouse is set up. "Though everyone knows we proudly offer delicious BBQ, we're more than just that. We're also a smokehouse" explains Allison Jacobson.
"Since we smoke everything in house, we can be innovative and creative in terms of our ingredients," she said. "We smoke not just meat, but cheeses, beets—even our ketchup that we serve."
It's no secret that South Carolina is known for its barbeque. Yet it can be easy to forget how important smoked proteins and vegetables are to the overall genre.
That's why Black Wood Smokehouse's move to create a tomato-focused summer dish that pays homage to the BBQ smoking tradition make it both familiar and unique.
Oyster House
35 S Market St, Charleston
www.oysterhouse.menu
Summers in Charleston are nothing if not scorching during the months of July and August. This reality is part of what led Chef Tony Palmisano to create the Oyster House's new popular chilled summer dish.
"Right now, poke bowls are exploding across the Charleston food scene, but we wanted to do it with a twist," Chef Tony said. "We wanted a dish that was both light and refreshing, but which also had some fun to it."
That's how he came up with the Oyster House's Sesame Seared Ahi Tuna dish. Known for its use of local seafood, its raw bar, as well as its location in the heart of the city, Oyster House enjoys putting their own spin on popular food trends.
"We start with seared yellowfin tuna and we keep the cucumber as an element to give it a bit of a crunch similar to a traditional poke bowl. But we also roll the tuna in sesame seeds before searing it and use a ginger soy glaze made with pineapple juice, ginger, and soy sauce," details Chef Tony.
"Adding some punch to the dish is the wasabi cream, which gives this appetizer that wasabi bite that people love with their tuna. Finally, we top it off with some crispy wonton strips and a bit of sriracha."
Chef Tony expertly blends these textures, colors, and flavors for the chilled dish, making it one of the most popular appetizers on their summer menu.
The Oyster House's summer dish is the perfect antidote for the Lowcountry's heat and humidity, a refreshing reprieve at the end of a summer day.
BLU Beach Bar and Grill
1 Center Street, Folly Beach
843-588-6464
tidesfollybeach.com/dining/blu-folly-beach
When you're serving seafood from an oceanfront locale, you know you need to make it spectacular. Thankfully, that's exactly what Chef Glen Benskin at BLU Beach Bar and Grill has done.
While many places in Charleston tend to favor more traditional Southern fare, BLU and Chef Benskin were looking to take this upgraded restaurant to the next level. "We wanted a dish that would be both distinctive and move us forward in a new direction," Chef Benskin proclaimed.
"Not only did we want something that would speak to our new focus but we also wanted something that would feel light and fresh," he shared. "That's where we came up with the idea for our Coconut Curry Shrimp."
Chef Benskin goes on, "Combining red curry with coconut broth, we create our sauce before cooking the shrimp and placing it all on top of warm jasmine rice."
Though Chef Benskin has only been at BLU for a year and a half, he's well-versed in cooking seafood and crafting interesting dishes. "After training both in my native Barbados and the Culinary Institute of America in New York, I've worked up and down the East Coast for the past 18 years, in places like Hilton Head, Savannah, Daufuskie Island, and more."
"I'm now taking all of that experience and knowledge and using it to set BLU apart both from its previous menu and offerings, as well as from other local Folly restaurants." Chef Benskin continues, "We want a menu that truly reflects our individuality with dishes that are outside of the Folly Beach norm."
So if you're seeking ocean views to compliment your nuanced palate this summer, then BLU Beach Bar and Grill will be your new favorite spot!
Saveurs Du Monde Café
1960 Long Grove Dr, Mt Pleasant & 536 Belle Station Blvd, Mount Pleasant,
Known for its decadent and authentic French pastries, baked goods and breads, Savuers Du Monde Café works its fresh and homemade ingredients into every breakfast and lunch dish.
"Our croissants are baked by French chefs and we fly ingredients from France to guarantee quality baked goods," said William Maitrepierre, executive director and owner. "Everything is done from scratch."
While their quiches are always a popular item, chef Jerome Guillez has done a unique take on a beloved dish for the hot summer months.
It's a new twist and refreshing take on avocado toast, with a dizzying combination of flavors on each mouth-watering layer.
"The whole La Saveurs Café concept is about simple ingredients and simple dishes with a wow factor and make them extraordinary," Maitrepierre said.
The "elevated avocado toast," is not your average breakfast or lunch craving—right down to the elevated presentation.
For this summer dish, country farm bread is made from scratch with a touch more sourdough than a regular baguette.
"The chef mashes fresh avocados and adds key lime juice and puts a thick layer of it on the bread," Maitrepierre said.
Chef Jerome then uses a pastry chef bag to put three large dollops of house-made dill cream cheese and places fresh sliced strawberries on top. Halved cherry tomatoes make up the next layer along with thinly-sliced red onion.
"This item is served all day long; diners love it for breakfast, lunch or a snack," Maitrepierre said. "It's something refreshing the different than your average avocado toast. It's a combination of flavors and you get a bite that brings everything to another level."
The avocado toast is served with fresh cut fruit or a fresh salad, letting diners experience the decadence of French cuisine in a lighter way.
Sit back, relax and enjoy the summer months with a trip around the world…and maybe save room for a sweet crepe for dessert.