Spreading the Good News
29 Aug 2016
No one ever thought Dean Stephens would leave Texas. Why would he? But a single call changed his life and brought him all the way to South Carolina.
By TERI ERRICO GRIFFIS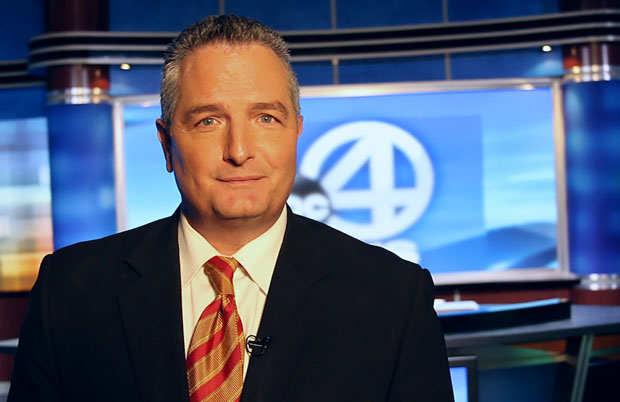 No one ever thought Dean Stephens would leave Texas. Why would he? Raised there, he graduated college and got his first big break in the state where everything's bigger. But a single call changed his life and brought him all the way to South Carolina, where for the past 26 years he's been one of ABC News 4's most beloved reporters. Today he has roots, a family, and a community he is honored to support. He is the voice of those with stories to tell. And it's his greatest joy.
Always motivated by his passion for sports, Stephens graduated from the University of Texas in the late '80s and soon became Sports Anchor at an ABC affiliate in Abilene. Life was pretty perfect, but a new adventure beckoned. In 1990, a friend in the business called Stephens saying there was an opening for a weekend sports reporter in Charleston. "I'd never been anywhere close to the Carolinas, but I sent a résumé tape and got some interest," Stephens recalls. He was offered the job without even being flown out for an interview. "I was single and my car had just enough tread on the tires to make it. So I packed up my little Honda and drove out."
For the next four years, Stephens covered sports on the weekends and local stories throughout the week. In 1994 he was promoted to Sports Director and then in 2002 he became ABC's News Anchor where he's won the trust and adoration of the Lowcountry ever since. And to think it all started with a conversation at a bar.
Anchors Away
While in college, Stephens worked part-time at a local establishment. During his shift one day, in walked Drew Speier, a local Texas Sports Reporter whom he admired. Stephens introduced himself. "I wanted to do what he did and Drew gave me his phone number and said to give him a call. So I gave him a call," he reminisces. "We chatted for a while, he introduced me to some people, and right then I decided this is what I want to do."
Meeting Speier was the Anchor's first break in the industry. "He motivated me, was my mentor and showed me the ropes. He said basically, if you do everything I tell you to do, I promise to help you get a job," Stephens says. He did as he was told and Speier stood by his word.
While Stephens' first love was sports, after he met his wife Caroline—Manager of MUSC's Patient Family Center Care—and began his family, his priorities changed. Stephens was working every weekend with high school football on Fridays, college sports on Saturdays and Panther football on Sundays. "I started noticing I was missing more and more time with my sons and my beautiful wife," he admits. "I watched a lot of people come and go in this business. People who lost relationships with wives and kids because it's very demanding."
This lifestyle, he knew, was crazy and Stephens recalls the moment his compass changed direction. He was at a Gamecocks post-game conference waiting for Lou Holtz to come out. "On the right side of the room were these old grizzly sports writers who'd probably done this for 50 years. And I remember thinking, 'I don't want to be that guy,'" he says. "Then to my left were all these young and up and coming, good-looking, in-shape kids who had their cameras and were just jumping into the business, and I thought, 'And I used to be that guy.'"
When the anchor position at ABC News 4 opened, it gave Stephens the ideal outlet to try something different and spend more time with his family. His sports career had been fulfilling, covering everything from Olympic events to Atlanta Braves play-offs, and even meeting the Dream Team. He had, and still has, no regrets.
And the Winner Is…
Today, Stephens has won more than 20 career awards, but if you ask his greatest accomplishment, he'll tell you it's his family. He is the proud father to three sons: Jack, 19, a sophomore at Charleston Southern, Charlie, 14, a freshman at Wando High School, and Sam, 11, a sixth grader at Laing Middle school.
Stephens also finds great joy in mentoring others like Speier did him. One incredible instance is a young man who introduced himself to Stephens at a River Dogs game years ago. He told the Anchor he wanted to follow a similar career path and asked for help. Stephens proudly paid it forward and today, that young man recently won his eighth White House Press award as photography editor of the year. "If you have the chance to influence and help someone in their life, that's more meaningful than, 'Hey, look at my award.' Those are the big awards," Stephens says.
For decades he has enjoyed sharing others' inspirational stories, but the most memorable one he's ever told was his own. Eleven years ago, when his son Sam was just 11 months old, he was in a terrible accident that doctors feared fatal for the infant. "To be honest when our son was injured in the accident, to watch the community come and support us and wrap their arms around us was amazing. We learned about the power of prayer, the strength of family and how awesome MUSC is," Stephens recalls. "People do amazing things and sometimes I think we get so hung up on murders and crime news that we miss that part."
That's why his mission is to remind us of that goodness. "There's a story behind everybody and I want to be able to tell those stories because out of them comes inspiration, hope, tragedy and yet success," Stephens says, noting that on a recent Friday night, ABC opened with a report on a local senior prom. "As in they had a prom for seniors at a senior center. And their escorts were police officers," he explains with a grin. "We led our news cast with it, and it was awesome to say, you know, on this Friday night, we're going to start with something that makes you smile." Because to this local Anchor, the news is meant to serve the public, not the other way around.
This ah-ha moment came while working as a sports reporter at the Daytona 500. "I was walking into [Dale Earnhardt Sr.'s] garage and there was a big chain link fence that kept the general public out. They were about 10-people deep, their fingers pressed into the chain link fence, because they just wanted to see Dale. And I'm standing right there." Stephens pauses. "It dawned on me then that I can go places these people can't go. So I can do one of two things: I can abuse it or I can treat it like an honor and respect it."
Stephens' commitment and passion to his job, to the Lowcountry and his family is unmistakable in the way he speaks of them all. "I've been here 26 years. You get married in the community, you make a decision to stay here, you raise your kids here and it becomes a part of you," he smiles. "No one ever thought I'd leave Texas and now no one ever thinks I'll leave South Carolina. I think they're right."