Saffron Cafe and Bakery
27 Mar 2014
By WENDY SWAT SNYDER » Photos by ASHLEY WALKER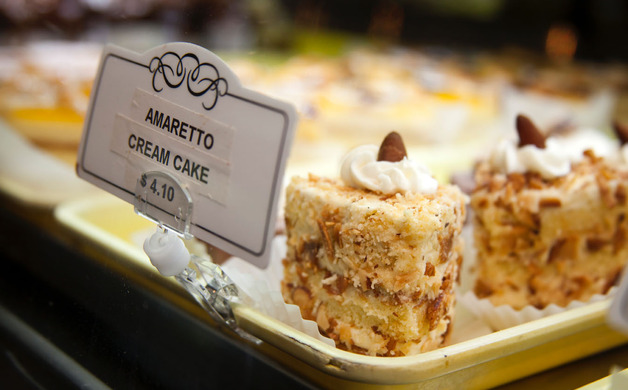 It's been almost thirty years since Saffron Cafe & Bakery opened its doors on, what was then, a somewhat transitional stretch of East Bay Street. Difficult as it is to imagine, it was a time when only a handful of restaurants populated the city, and Charleston had no culinary scene. Now a city landmark, Saffron has expanded both its menu and its horizons.
The year was 1986, and the new eatery—located a stone's throw from the Gaillard Auditorium—became a popular destination for hungry patrons on their way to or coming from an event. Saffron's bakery/cafe concept was unique to the Lowcountry and an instant success.
Owner Shahram Aghapour began his culinary journey in Boston, where he worked his way through college cooking at an Italian restaurant. He found his way to Charleston on a trip south, searching for a warmer place to call home.
"I wanted to move from the cold of Massachusetts," he recalls, "and was just passing through on the way to Florida. I spent the night in town—the Spoleto Festival was going on, the city was bustling—and I fell in love." Aghapour relocated to South Carolina where he met his wife, Diane. Together, they built a home in the downtown area that they still live in today.
He quickly established himself as a restaurateur in the city—experimenting with a couple of different dining concepts. Aghapour soon had an epiphany while working alongside a French pastry chef in one of his kitchens. He recognized the absence of authentic European pastries in the region and decided to fill the niche. Hence, Saffron Cafe and Bakery was born, and would become known as much for its decadent desserts as its savory dishes.
Aghapour's sister Shari, a master pastry chef, eventually joined the culinary team and today, with almost 18 pastry chefs and a dozen bakers in two locations, Saffron is supplying artisanal breads and baked goods to inns, hotels, and restaurants throughout the area.
And, in an effort to promote local vendors, in the spring of 2014 Harris Teeter will begin carrying several Saffron baked goods. Fans will be able to purchase breads, breakfast pastries, and cookies at 12 grocery store locations throughout the area.
Aghapour shared the "secret" behind his hearty, beautifully crusted loaves: an old-school process of fermentation involving a slurry of water and flour that is barreled for 24 hours until it bubbles. This natural yeast is added to bread dough that, in turn, is allowed to ferment for several hours, slowly rising as it does so, creating a thick crust.
Saffron takes pride in its sourcing of high quality products—many of which are organic—and house-made sauces and dressings. A small farm near Charlotte provides free range chicken, beef, and lamb. The staff makes every effort to accommodate patrons with dietary restrictions, and the menu contains dishes that are gluten-free, vegetarian, and vegan. Several pastries are prepared vegan as well.
Local dishes such as she-crab soup have become permanent fixtures on the menu, making Saffron a fusion of food from around the globe. Fresh and well-seasoned starters include falafel, hummus, and an amazing eggplant mirza, each served with pita wedges—the falafel has deep-fried crunch and a pillow-y chick pea interior—all great dishes to share.
The Mediterranean salad features field greens, feta, chickpeas, cucumbers, beets, tomato, a boiled egg and stuffed grape leaves served with Italian dressing. Substitute almonds for the egg and feta and this vegetarian dish becomes vegan.
Salads suitable for a light meal include a choice of either grilled ginger shrimp or chicken with crisp rice noodles and almonds, served on a bed of greens with sesame-ginger dressing.
Saffron chicken—a Middle Eastern "pot roast"—is a specialty consisting of chunks of dark meat chicken gently braised and in a lemony broth with vegetables and herbs. The heart-warming dish arrives in a small bowl more the consistency of a thick soup, and is served with saffron basmati rice.
Other Middle Eastern specialties include Fasenjoon: a fusion of walnuts and pomegranate juice with free range chicken, grilled vegetables and basmati rice.
Smoky kabobs include the Koobideh: traditional ground lamb skewered and charbroiled with vegetables, and served with saffron basmati rice. The Cornish hen offering is lemon and saffron infused and grilled with vegetables. A kabob featuring jumbo marinated shrimp is also available.
A curry of shrimp sauteed with fresh spicy herbs, onion and garlic becomes vegetarian by substituting tofu for seafood, and adding broccoli, zucchini, carrots, onions, peppers, and fresh cream over saffron basmati rice.
Aghapour showcases his training in an Italian kitchen with dishes such as beef carbonara, seafood fettucine, and pasta margherita.
Desserts may be enjoyed in traditional Middle Eastern fashion—accompanied by a strong tea brewed in a large samovar, and customized with more or less steaming hot water poured to individual taste. The light and crunchy bamieh is a little nugget of pas de choux that is deep fried and coated with a sweet syrup, and a perfect pairing with the tea. The must-have French Napoleon is a less sweet option—with alternating layers of fine, flaky pastry and cream.
The cafe's recent remodel included an outdoor patio, a game court, and a wood-burning oven which brought back the famed whole-wheat pizza for which a Saffron sister restaurant had been known. Middle Eastern hookah pipes filled with water and apple-flavored tobacco are a popular pass time many patrons enjoy on the patio.
The Saffron Café & Bakery family gives back to the community in a variety of ways, including supporting non-profit organizations associated with schools and hospitals. The restaurant features happy hour specials and serves a pizza and salad buffet every weekday from 11 a.m. to 3 p.m.
Saffron Café & Bakery
333 East Bay Street, Charleston
843-722-5588
eatatsaffron.com