School Lunch Makeovers
01 Sep 2012
Start the kids off right this school year with these easy and healthy lunch ideas.
By EDNA COX RICE, RD, CSG, LD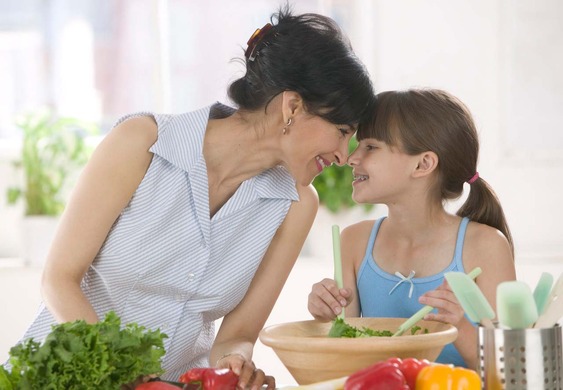 This new school year, get ready for fun and healthier foods. The U.S. Department of Agriculture (USDA) raised the nutritional standards for the National School Lunch and School Breakfast programs for the first time in fifteen years. Fat and salt laden foods will be replaced with fresh fruits, vegetables, and whole grains. The overhaul is part of the Healthy, Hunger-Free Kids Act of 2010, in an effort to combat childhood hunger and obesity.
Because the school meal programs feed about 32 million kids in public and private schools, the USDA is committed to working with schools and communities to help improve meals so they can be consistent with Dietary Guidelines for Americans.
School lunches are getting a makeover. One of the primary changes is more color on the plate. Two vegetables and at least one fruit will be served at lunch. Whole grains are encouraged, like breads, cereals, and pastas, and whole grain must be listed as the first ingredient. Whole milk will no longer be available - low fat or fat free milk only will be served. Age appropriate portions and calories will be limited based on age. Elementary schools will serve up to 650 calories daily; middle schools 700 calories; and high schools up to 850 calories daily. These standards are based on the Dietary Guidelines for Americans developed by the Institute of Medicine.
Fit foods start this school year for the lunch program. Changes will be phased in over the next three years. Standards will be upgraded for the breakfast program which feeds approximately 11 million kids each year. During the process, vending machine fare will be overhauled to offer fit and healthy options.
Parents play a key role in not only making healthy choices for kids but teaching them to make choices for themselves. Nutrition information is often confusing. Having healthier foods available can be a first step in the learning process. So, mom or dad, if you're too busy to pack a healthy lunch or snack for your kid to take along, the school meal program is improving with fun and healthy choices.
Try These Simple Changes
| | | |
| --- | --- | --- |
| Pack This: | Not This: | Why? |
| | | |
| » 3 oz. Carrot Chips | 2 oz. Potato Chips | Saves 1,325 calories and 95g fat per week; adds 10g fiber and 270% daily value for Vitamin A. |
| » Sliced Apples | Fruit Roll | Cuts refined sugar by 50g per week and adds 10g fiber per week. |
| » 100% Whole Wheat Bread | White Bread | Adds 20g fiber per week. |
Healthy Snack Recipes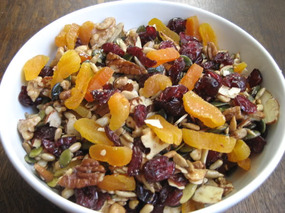 Trail Mix
½ Cup dried fruit (include 2-3 varieties)
½ Cup multigrain cereal
¼ Cup nuts
1/8 Cup chocolate

1. Mix all together and divide into snack bags.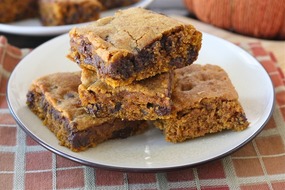 Chocolaty Pumpkin Bars
This treat is kid-pleasing, delicious and nutritious! Thanks to the pumpkin, each serving has almost half a day's worth of immune-boosting vitamin A. The nuts add heart-healthy fat and protein to each bite.
Servings: 30 Calories: 140g Total Fat: 5g
1 Cup all-purpose flour
1 Cup whole wheat flour
1 Cup pecans, finely chopped
¾ Cup granulated sugar
2 Tsp baking powder
1 Tsp ground cinnamon
½ Tsp salt
4 Large eggs, beaten
1 Can 100% pure pumpkin (15oz.)
½ Cup canola oil
¼ Cup 1% low-fat milk
½ Cup mini semi-sweet chocolate chips
1. Preheat oven to 350°. Lightly oil or coat a 15 x 10 x 1 inch rimmed baking or jelly roll pan and set aside.
2. Whisk together all dry ingredients.
3. In a separate bowl whisk together all other ingredients. Stir in chocolate chips.
Spread the batter evenly in the coated pan and bake for 25 minutes. Let cool for 10 minutes.