Scrumptious Summerville Kitchen Tour 2013
29 Sep 2013
When a dedicated selection committee has been responsible for ten exceptional groups of distinctive homes—most of them wonderfully historic—there is both the challenge and the excitement of finding yet another perfect route for the 11th Annual Scrumptious Summerville Kitchen Tour. When past homeowners have been so gracious and the homes so well received, the expectations for the approaching route are even higher.
By BOB INGRAM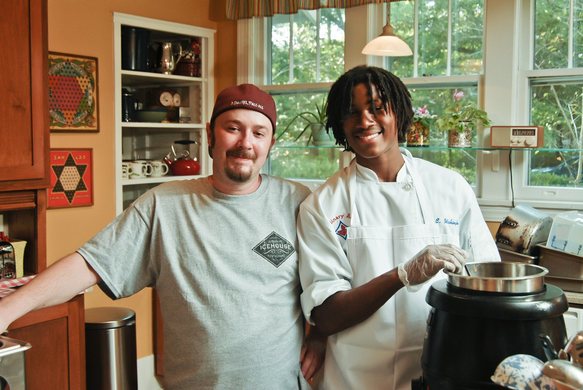 Few people are up to such a challenge. Fortunately, a team of hard-working volunteers has mastered that task for the past decade. During this time, the Scrumptious Summerville Kitchen Tour has attracted ever-increasing numbers of guests from not only Summerville but also throughout the Lowcountry and beyond.
Proceeds from the event go completely to Children In Crisis, Inc., a 501(c)(3) organization which operates Dorchester Children's Center, the only Child Advocacy Center in Dorchester County serving abused and neglected children and their families. They are extremely proud to have provided services for over 6,000 children since opening their doors in December of 2003. These services include forensic interviews, forensic medical examinations, and child and family therapy sessions.
This year the homes selection committee has helped create a tour route with an exciting new dimension by finding residences in an area that is a centerpiece of Summerville history—the location of the renowned Pine Forest Inn.
The heat of Lowcountry summers can often be long and difficult, especially along the tidal marshes. In the late 1800's dreaded marsh vapors sent wealthy coastal dwellers inland to the aromatic pine forests, seeking accommodations appropriate to their elevated status in society. In 1891, the Pine Forest Inn, grande dame of the inns of Summerville, opened its doors to elite guests seeking all the glory and splendor the early 1900's could offer.
The Pine Forest Inn was a rambling three-story Victorian wood building that contained 200 guest rooms capable of serving more than 250 guests, ballrooms, private parlors, wine and smoking rooms, and a resident 100-member orchestra. There was a separate dining room for those staff and servants who accompanied guests. The 22 acre complex also included state-of-the art utilities, such as its own power plant, telegraph office, and long-distance telephone service. There was also its own dairy and artesian water source.
The recreational amenities included two 18-hole golf courses, 2,000 acres of hunting grounds, stables, tennis courts, covered Olympic-size swimming pool, and fishing areas. Guests strolled 12 acres of beautifully landscaped grounds, including a Lover's Lane. Manicured walkways also connected guests to the adjacent Pinehurst Tea Farm, providing an enjoyable outing to sip a cup of Dr. Shepard's award-winning tea. Billiards and a separate casino offered indoor pastimes.
The Inn soon became the favorite stop for the moneyed crowd who enjoyed golf, hunting, and horseracing, along with a garden-like setting in Summerville. Opulence, luxury, and leisure became the hallmarks of the Pine Forest Inn, ushering in "the Golden Age of Summerville". Eight trains provided daily passenger service to and from Charleston.
The main building stood in a grove of pines and live oaks. Though the actual Inn is now gone, many of these trees remain today in the residential area known as President Circle, in honor of Theodore Roosevelt and William Howard Taft. Both Presidents were guests at the Inn several times. The homes on this year's tour are located primarily within President Circle. This includes the homes at 98, 101, 105, 108, 113,115, 116, 117,124, and126 President Circle; plus 216, 230, and 246 Marion Avenue; and147 Linwood Lane.
Also tucked away among the oaks and pines were individual cottages for those desiring seclusion; several of these continue as private residences today. Though hardly a cottage, the home at 216 Marion Avenue, also popularly known as Little Monticello, is one of the more fascinating homes along the tour route, and certainly the most historic. Thomas Salisbury, the last owner of the Inn, built it for his second wife. Marie Janz Salisbury had often mentioned how much she loved Thomas Jefferson's Monticello near Charlottesville, Virginia, so Salisbury had his architect create a similar exterior design as a surprise gift. Located at the edge of the Inn's grounds, it allowed Salisbury to be close to both his work and his wife and children.
Among the original remnants that will be highlighted along the Kitchen Tour route are the resort's entrance gates, the Lover's Lane, and several carriage hitching posts. Locations will also be identified where the stables, swimming pool, and cistern once were. Several local historic groups will be present to provide additional artifacts, photographs, and information to help guests visualize the grandeur of the Pine Forest Inn at the height of its prominence.
Another main attraction of the Kitchen Tour has always been the unique kitchens in each of the homes and the area chefs and bakers who graciously provide gourmet tastings for the guests. The cuisine of the Pine Forest Inn was renowned for its blue ribbon standard, and this year's guest chefs continue those distinguished offerings. These include a variety of returning restaurants that have been popular in previous years; several prominent Charleston-area restaurants; and a number of new and interesting participants.
The Tour route and various displays are an easy walk around President Circle. The Scrumptious Summerville Kitchen Tour will share Lowcountry hospitality at its best—distinctive homes, captivating cottages, and charming gardens in historic Summerville. Add special dishes prepared by both prominent and emerging chefs & bakers from throughout the area; the fragrant beauty of fresh creations by area florists; historical overviews; performances by a variety of talented musicians; local artists' works; and it becomes a feast for all the senses.
Individual tickets for the tour area are $50, and are available in advance online through www.scrumptioussummerville.com or by calling (843) 875-1551. Special lodging packages are also available via our website.
Sponsorship opportunities are available starting at $300.00. Event sponsors will receive an invitation to both the Sponsor's Gala on Friday, October 4th to be held at the Dorchester Shrine Club, with a theme of Chocolate Indulgence, as well as tickets to the Kitchen Tour. A major portion of the sponsorship price is tax deductible. For more information, please visit our website or call Bob Ingram at (843) 875-1551. All major credit cards are accepted. Individuals and businesses may inquire about sponsorships via our website at www.scrumptioussummerville.com.