Seaside Stunner
07 Nov 2019
Sea Island Builders creates homes and relationships
By Rob Young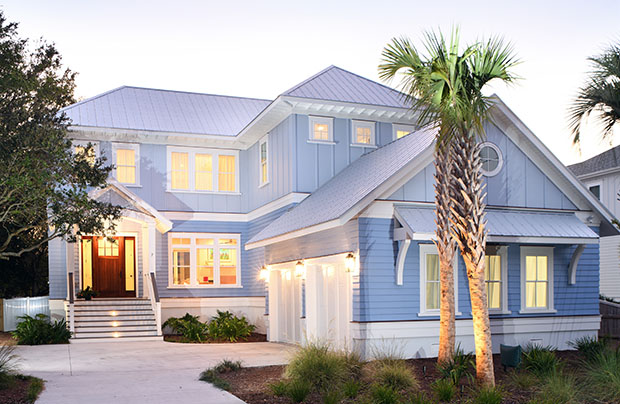 The couple still fondly remember their Friday updates.
Sea Island Builders, a full-service, design-build company on Sullivan's Island, makes a practice of submitting weekly status reports to its clients. The summaries denote progress, challenges and milestones, often accompanied by photos of the home and site. It's a marked advantage, particularly for homeowners or prospects living hundreds of miles away. For one Philadelphia couple, Sea Island Builders represented something more: stewardship.
"We miss those Friday updates actually," say the homeowners, of their recent build on the Isle of Palms. "It made us feel like real part of the project. They kept our wants and needs in mind."
The end product adheres to the philosophy. Only a block from the beach, the home's rich finishes and convenient design serve the 3,600 square foot home well.
A design-build approach
Sea Island Builders, founded in 2004, boasts an impressive resume, as its portfolio reflects numerous waterfront properties, imaginative renovation and restorations.
"It's a family owned and run company. We complete between six to eight projects a year, and we maintain a small, ongoing list to provide our clients the best attention," says Robin Lyles, Sea Island Builders' marketing manager. "This way, we can always have someone available. If anything comes up, they have a direct line to us; they do not have to go through channels of people. We can solve their problem quickly and determine how we need to proceed. We value feedback too. We want to know how we can improve and expound on our successes."
Sea Island Builders uses a design-build approach, whereas one team works together with the homeowners to develop and provide design and construction services. It creates a consolidated process flow.
"We have a very good process in place that helps us provide clients with a great experience," says Jason Fowler, a licensed home builder and pre-construction manager at Sea Island Builders. "We focus on taking ownership of the project early and providing our clients with a positive experience from the land or site search to design and construction. We assemble one team early on to give our clients a better idea of budget, timeline and design. We want to provide the information up front, so our clients are not surprised."
But that doesn't necessarily mean Sea Island is beholden to an in-house approach. The firm adheres to its clients' wishes.
"We try to fit people with the best architect for the job," Fowler continues. "We get a good sense of what they may want, their build requirements, and suggest others who may be the best fit. Sometimes they may want to buy stock plans, and we'll work with those too. If it's a large project, we may need to bring in a larger team. We look at each project on a case-by-case basis to deliver quality, budget and schedule."
A personalized approach
The Philadelphia couple ultimately decided to adopt the design-build option.
"In the long run, it just works more efficiently and saves a great deal of money. Rather than going back to an outside architect, we could work with the builder and architect directly," says the homeowner. "We really liked the design of the houses they had done, and the personalized approach with each client. They don't take on a lot of projects at a time, and we had a feeling that we were going to become a family and work well together."
The couple, which maintains a home near Washington, D.C. as well, chose Charleston because of the weather (naturally) and its amenities.
"We initially considered several places where the weather is more pleasant than the Northeast," one of the homeowners says. "We wanted a change of scenery, proximity to health care, air travel, cultural events and fine restaurants. That was our criteria. We thought about a lot of places, but Charleston checked the boxes for everything we were looking for."
Within the Charleston vicinity, they were quickly drawn to Isle of Palms.
"We rented in Isle of Palms several times and it meets our daily needs. It's in great proximity to downtown Charleston," the homeowner says. "It's a welcome respite from the daily grind. Our ultimate goal is probably going to be to retire down here."
The couple first reached out to Sea Island Builders following a perfunctory search of other home builders. Their hunt for a new home or site had stalled.
"When we became involved, they were in the rut of missing out on opportunities. They were losing during the bidding process," Fowler says. "We recommended they try a different real estate agent, someone more knowledgeable about the particular areas. We recommended someone familiar with those types of properties and helped them find one that better fit their requirements."
Sea Island Builders and the homeowners pored over imagery, gauging the couple's enthusiasms to best determine their propensities.
"They brought us pictures to share their inspirations. They had a two-toned house in mind, and a particular siding they sought. They wanted a coastal cottage with a northern vernacular, so to speak," Fowler recalls. "They wanted a residence where they could age in place, so we put a master bedroom on both floors, and an elevator rising to the second floor."
Brilliant environs
The couple's favorite features within the residence allow for a gracious foundation, one rooted in family, including visits from their children and grandchildren.
"It's so welcoming to the family the way it was designed. My favorite room is the dining room with its vaulted ceilings and atmosphere," the homeowner says. "My husband's favorite is probably the cozy den, which looks different from the rest of the home. We used three different wood designs overall in the ceiling. Then there's my reading nook at the top of the stairs, which allows for a little peace and quiet when the house is full."
Overall, the home is set up well for entertaining. It's a family spot where porch guests can easily interact with others by the pool.
The kitchen and dining areas are open spaces, but the home does not feel cavernous. The spaces are well delineated, marked by attractive finishes.
"The outdoor area flows well into the living and kitchen areas. We enjoy the accessibility onto the porch. It was a well-designed plan with our grandchildren in mind," the homeowner says. "We just really wanted a family place that the kids would enjoy."
'A welcoming, happy, fun place'
The couple loves color and it shows. The house is dressed in shades of pink and orange. "We're not muted color people," the homeowner says, laughing. "We wanted a welcoming, happy, fun place. It's not a formal look at all.
Then the trim and high-end finishes tie it together. The woodwork is masterful.
"You see that the minute you walk in the door. It looks great," the homeowner says. There's nothing we would have changed."
The same goes for their relationship with Sea Island.
"They're just so personal. They had a timeline and they met every aspect of it. I like to feel like I'm part of the project, not an outsider, and they were so patient with us," the homeowner says. "They made us feel like part of the project."
Builder resources
Architect: Anita King, Sea Island Builders, 843-883-7430
Builders: Sea Island Builders, 843-883-7430
Doors & Windows: Southern Lumber, 843-744-6281
Plumbing fixtures & lighting: Ferguson Enterprise, 843-747-6301
Tile: Buckhannon Tile & Design, 843-881-8911