Not Just for Kids
07 Nov 2019
Jill Shortreed on the balloon business
by Sarah Ravits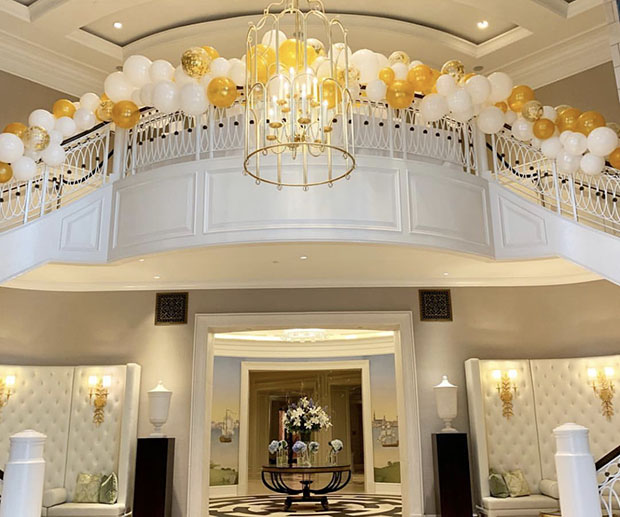 As a busy mother of five children, Jill Shortreed, who worked for several years in corporate banking in New York and New Jersey, constantly found herself organizing parties and celebrations in order to observe various milestones and—literally—elevate the most lighthearted events for her family.
With an entrepreneurial spirit, Shortreed decided she wanted to do something new — something that made a little more sense for her busy life.
So she opened up a small "party shop" as she describes it, back in New Jersey. She oversaw multiple levels of planning and decor for a variety of celebrations which led to an expansion with the company serving the Northeast.
When her husband's job uprooted the family to Charleston, Shortreed wanted to bring the balloons along — while re-evaluating and streamlining the business plan.
"We decided to reopen here," she says. "We reopened solely as a balloon shop."
Since the family-owned business's relocation, Charleston Balloon Company has become a go-to business for people of all ages to find the perfect celebration accents. It's composed of three divisions, says Shortreed.
For one, there's a retail aspect: Customers can walk into a brick-and-mortar building, select a balloon off the shelf, "get them inflated, and head out," she says. Secondly, her company offers decor and design experience for gatherings of all sizes, including corporate events, high-end private parties, fundraisers, birthday parties, parades, festivals, school events, sweet 16s and weddings, among others.
"We do full-scale event decorating," she says.
They also provide balloon deliveries for all sorts of occasions, including birthdays, anniversaries and get-well-soon wishes.
Shortreed says the company, in anticipation of the upcoming holiday season, is always booking new clients.
"We do a ton of midnight balloon drops on New Year's Eve, and school events for Christmas, along with corporate holiday parties," she says regarding this time of year.
She notes that trending colors and styles this time of year include gold, silver and chrome.
"We do everything from small kids parties, to something really grand." They also provide balloons for engagement photo shoots and major concerts, to name just a few other examples.
Shortreed travels frequently, as other party shops often request her expertise as an industry educator.
Another aspect of the business is Shortreed's commitment to sustainability.
The Charleston Balloon Company recycles its products whenever possible.
"We are environmentally conscious as a company," says Shortreed. "If somebody needs balloons and they want to be super environmental, we have balloons with cotton strings."
She says they also discourage balloon releases into the open skies, and they remind customers that they can bring balloons back to the store once they have served their purpose.
Foil balloons, she notes, are recyclable, and latex balloons are 100 percent biodegradable options. They also offer and encourage customers to use rice paper confetti, which is biodegradable.
Another point of celebration for the Charleston Balloon Company is its status as the largest balloon boutique in North America and one of the top 10 in the world, says Shortreed. There is an extensive selection at the West Ashley shop at 1646 Ashley Hall Road.
"We have an extensive stock, and thousands and thousands of balloons in the shop. Anybody could walk in here at anytime and get what they want."
You can follow them on Instagram @charlestonballoon or visit them online at charlestonballooncompany.com