Chipper Dog BBQ gains a following of hungry fans
By Alli Stienke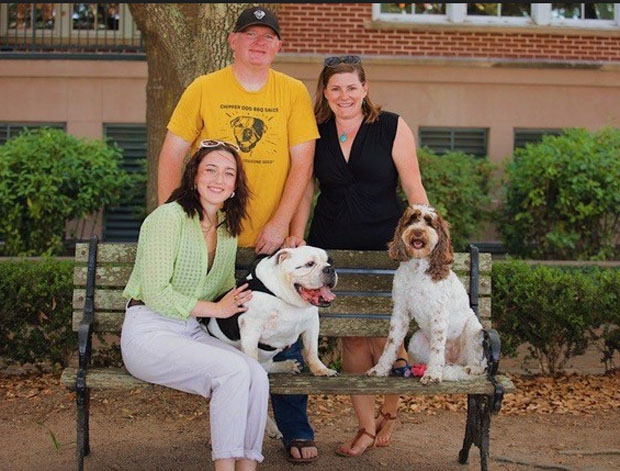 Have you ever heard that great barbecue begins with sauce? Well, that's exactly how Brandon Close, owner of Chipper Dog BBQ, began operating when he first started barbecuing in the early 2000s.
"I had a factory job back then, and on my days off my friends and I would get together to watch football," Close explained. "I would bring my BBQ along with a bottle of sauce—even back then in Illinois, I was making mustard BBQ."
When he moved to Charleston in 2015, he took a part-time job at a local BBQ joint to supplement his hours doing appliance repair.
"They trained me to be their pitmaster and I was off and running in the food and beverage industry," Close recalled. "I held a few pitmaster positions before moving into fine dining."
At the time the COVID-19 pandemic first hit, Close was managing a beach club on Kiawah Island when the restaurant world completely changed.
That seemed like the right time for him to take a leap and share his passion for BBQ with others and Chipper Dog BBQ was born.
"Named after my best friend and loyal business partner, Chipper is an Olde English Bulldog. His favorite pastimes includes being in the kitchen and eating," Close said.
The initial sauce, Olde Yella, has changed quite a bit since the early days, but still packs the same punch, perfect for pork sandwiches or as a dip for pretzels.
"I saw how people reacted to my sauce and that was my proof of concept. I knew I had something," Close said.
Over the past couple of years, Close has worked with his team to develop well-thought-out, well-tested products with a balance of flavors.
They begin the process with their base—currently, mustard and tomato sauce. Next, they'll test what type of acid to include, trying various kinds of vinegar and citrus juices until they find the best one. Sweetener comes next. This is where the team will test out brown and white sugar — sometimes a mix—and honey or agave.
Close notes that they'll also sometimes use fruit juice depending on how sweet they want the sauce.
"Once we have those three prime ingredients determined, we start layering flavors and adding the spice to get that well-balanced taste," he said.
Close and his team aren't afraid to continue to tweak the sauce, which often takes more than one time to get it just the way they want it. The secret is nailing down the three ingredients that make up the base, acid and sweetener first so that they can make a bigger batch, and then get creative to test other options.
As Close has learned first-hand, running a small business is not for the faint of heart. One of the biggest challenges he faces, like many other owners, is issues with the supply chain. Also, making a product in a space where people are extremely loyal to certain brands can be challenging. But, as Close says, "You have to remember when you launch a new product that it is going to take a while to grow a fan base; but it is amazing when you see your product become the one people love and have brand loyalty to."
After nailing down their products and gaining brand loyalty, Close grew his fan base and Chipper Dog BBQ was sold at a few retailers, including Once More Chance Scuba in West Ashley, Storey Farms on Johns Island and Piggly Wiggly in West Ashley, to name a few. With such success in brick and mortars, Chipper Dog then started partnering with Perfect 10 Distributors to help them continue those partnerships and distribute their products.
"They have three warehouses across the southeast and have stores out in Virginia and Tennessee, so it opened up multiple new territories for our product," Close said. Since then, Chipper Dog has partnered with B and B Pecans to help distribute their product to Publix, Harris Teeter, and Lowes Foods. Chipper Dog is available in approximately 175 stores with "Old Yella" and "Olde Red" sauces and "leg shakin' rub." Products can also be purchased online.
Participating in the Charleston City Market has given Chipper Dog BBQ a bigger customer base—fans from all over the world—and improved daily sales, which has accelerated growth and allowed Close to take the business on full-time.
Close doesn't take his success for granted.
"It sounds cliché, but I credit our success to lots of hard work, taking every opportunity that comes our way—creative marketing, great products and treating people right," Close expressed. "From our employees to our customers, to our vendors and stores, we want to make sure Chipper Dog is giving you the respect and curiosity you deserve."
To learn more, visit www.chipperdogbbq.com.