Life and Femininity
04 Jan 2023
Artist Raven Roxanne's dreamy pieces convey growth, beauty and the human condition
By Liesel Schmidt
Photos by Lizzy Rollins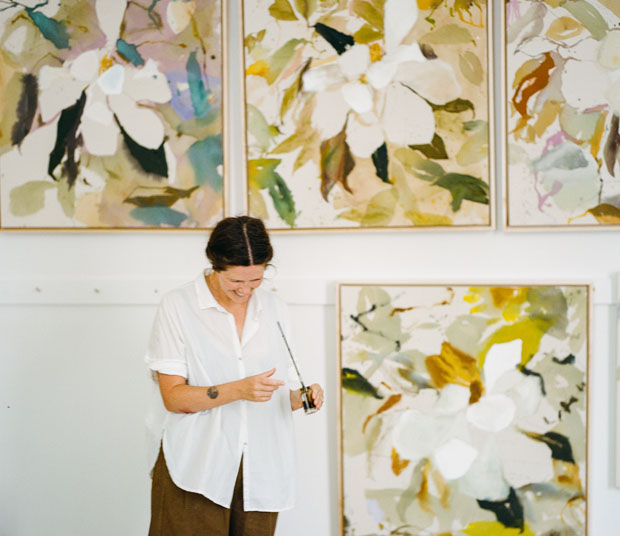 When you watch Raven Roxanne paint, you get the feeling you're watching some secret conversation between her and the canvas, as through she's privy to some whispered directive telling her how and what to do. There are no rules, no strictures of classic technique that she's following, only intuition.
Paint, water, pastels…she uses the tools of her trade to create loose, interpretive pieces that possess incredible movement and vibrancy—even when the colors she chooses are muted. There's life and femininity to her work, an interpretive representation of concepts that leaves you staring in captivated awe at how such seemingly random strokes could achieve what she does.
From her abstract nests and florals to her figurative work, Raven is an artist that follows the dictates of the paint, allowing it to move as it will rather than control it. Using water-based materials on paper or raw canvas, there's purity in her pieces and a style that is all her own—or, as she describes that style, "loose, colorful and feminine."
Who she is as an artist is deeply rooted, instilled in her from childhood and nurtured by parents who were themselves artists and the owners of a very unique and eclectic gallery filled with alternative art on Florida's Emerald Coast. Growing up in that environment, art was something she knew to be inherent to life, rather than a distraction from it. "Humans need to connect with each other and express themselves," she says. "Art offers both."
Naturally, Raven's own studio practice began at an early age, and she later pursued her Bachelor of Fine Arts in painting from Auburn University. It wasn't until ten years ago, however, that she pursued her art as a career. Having left Atlanta to move to Charleston—both because of her love for the water and also because of her husband's family ties in the area—Raven found her path back to creating her pieces and dedicating herself to her craft.
"I don't know that I can say whether life has shaped my art or that art has shaped my life, because my life and my art are one thing," she says. "I don't think I would be a happy human if I was not doing my work."
In her work, Raven tries to convey the message to "Make time to play and enjoy the world around you"—a missive that she seems to write into every piece simply through her clear lack of following any sort of rules. Her work is play. Her work is joy. She finds inspiration in nature and in people, and that inspiration deeply affects what results on the canvas—even if only referentially.
Raven's style, along with her use of color and—sometimes literally—of the movement of that color, are what have made her such a dynamic artist, and one whose career is taking off. Her body of works includes pieces on canvas, raw paper, Lucite and even prints on silk scarves as well as stationary and a children's storybook called Raven's Nest inspired by her "Nest" series of paintings.
The story Raven has so cleverly penned in the pages of the book follows a little girl and her playful dog as they build a nest of their own with found objects from the beach, weaving a tale whose underlying lesson is that, whatever emotions they may encounter—from fear and sadness to excitement and elation—are all to be explored.
"I wish I had known that as a child," says Raven. "That it's important to feel, and that things that are imperfect can be truly beautiful. My storybook has a very long story about how it came to life, but essentially I had an idea to make one, and I told a friend my idea at a cocktail party. We met up a couple of weeks later to further discuss the dream and ended collaborating on a project. My book, along with other children's books, came to life a couple months later."
Another facet of Raven's work is her jewelry collaboration with artisan Jane Pope.
"My first job out of college was with a jewelry artist, and I always thought I would make jewelry," Raven notes. "After sharing a studio with Jane for years, it felt like a natural collaboration."
That meeting of the minds has resulted in a collection inspired by Raven's "Falling Tulips" series. Comprising of four pairs of earrings and three necklaces, the collection shows tulips in the changing stages of growth and imperfection, representing a theme which seems to be the underlying message in much of Raven's work: That there is beauty in change, imperfection and growth.
To learn more about Raven and her work, visit ravenroxanne.com or follow on Instagram @ravenroxanne